13 Indian nationals test positive for Zika virus in Singapore
Sep 1: India's foreign ministry on Thursday confirmed that 13 nationals in Signapore have tested positive for Zika virus. The virus is transmitted to people through the bite of female mosquitoes. Zika virus have been causing a major alarm in the Americas. "According to our mission in Singapore 13 Indian nationals have tested positive for Zika in Singapore," Reuters quoted Vikas Swarup, spokesman for the Ministry of External Affairs.
Malaysia confirmed its first case of Zika infection on Thursday. A 58 year-old woman who visited Singapore on Aug 19 tested positive. The woman tested positive for the virus after she experienced rashes and fever for a week after her return from Singapore. The woman's daughter who works in Singapore has also been infected with the virus. As per United States health officials, Zika virus in pregnant women can cause microcephaly, which can result in the birth defect of the child marked by small head size. It can lead to severe developmental problems in babies. (ALSO READ: Malaysia reports 1st Zika case imported from Singapore)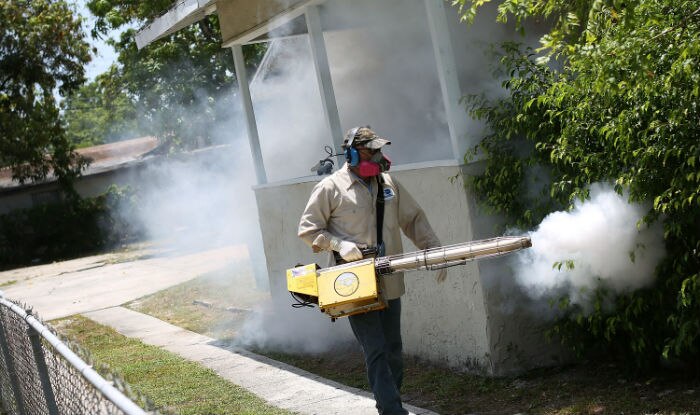 Fever, rash, joint pain and red eyes are the main symptoms of the virus. People infected with the virus also experienced mild fever, conjunctivitis, muscle and joint pain and fatigue. The best form of prevention is protection against mosquito bites. Symptoms are similar to those of dengue or chikungunya, which are transmitted by the same type of mosquito. (ALSO READ: 115 Zika cases in Singapore, first pregnant woman diagnosed)
The World Health Organization (WHO) has declared a public health emergency for Zika virus and said that it would take at least 18 months to start trials of the preventative shots. The Pan American Health Organization (PAHO) said the virus is likely reach all countries where Aedes mosquitoes are found. A vaccine is not expected to be available widespread use for at least two or three years. Brazil registered 91,387 likely cases of the Zika virus from February until April 2.
As per the US Centers for Disease Control and Prevention (CDC), 58 countries have reported Zika outbreaks, most of them in the Americas. Brazil has been the country most affected.