2G verdict: Kanimozhi's phone does not stop ringing, Raja ensures lunch for all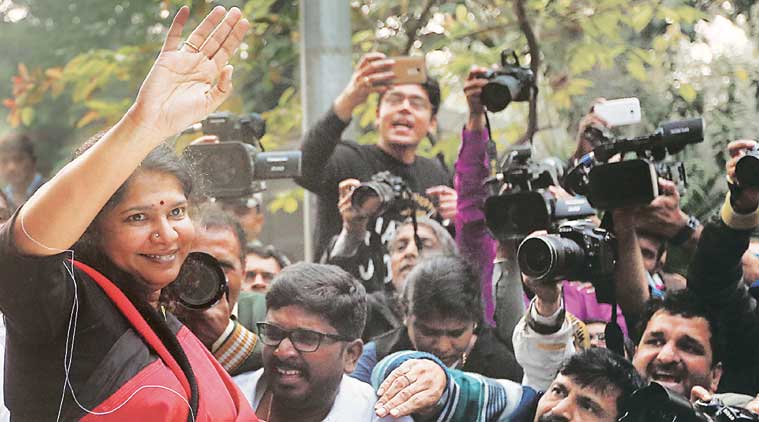 DMK MP Kanimozhi outside the Patiala House Courts in New Delhi on Thursday. (Express Photo: Tashi Tobgyal)
THE FOOD from Tamil Nadu House was insufficient, and the biryani was stuck in traffic. Twenty minutes past three on Thursday, the man who was the face of corruption under the UPA regime was concerned about hungry stomachs.
In the morning, a CBI court acquitted DMK leaders A Raja, Kanimozhi and all other accused in the 2G spectrum case. Soon after the verdict, Kanimozhi, DMK chief Karunanidhi's daughter, was fielding calls from a host of political heavyweights — from former PM Manmohan Singh and Congress chief Rahul Gandhi to Rajya Sabha Leader of the Opposition Ghulam Nabi Azad, and Sharad Pawar's daughter and NCP MP Supriya Sule.
Read | 2G spectrum case verdict: All acquitted, CBI indicted
Raja, meanwhile, had made his way to Gulmohar Park, to ask how long the 500 plates of biryani will take to reach his supporters gathered at his house there, many in crisp white shirts and some in white dhotis who had taken over a section of the lawn. The parcel was stuck somewhere near the AIIMS signal, he was told. "That's why I told you to order at least 1000 plates," he scolded party loyalist, Rajkumar.
"Those who have eaten, start vacating the park," he called out. "I keep trying to send you home, and you keep coming back," he chided.
Then, sitting on a red park bench, Raja fielded phone calls. Some on his own phone, others handed to him by party workers. He spoke in Tamil, repeating the word "Nandri (thank you)" over and over.
Read | Decoding the 2G spectrum verdict: Charge by charge, how case collapsed
Later, Raja issued a statement, saying, "All my actions as Telecom Minister had been for the benefit of the masses, to make wireless service more economical and widely available…"
Former Telecom Minister A Raja outside New Delhi's Patiala House court after his acquittal in the 2G spectrum case Thursday. (Express Photo: Abhinav Saha)
The statement spoke about his "courage and confidence to step into the witness box" for cross-examination by the CBI. "The learned trial judge has repeatedly observed that my evidence was cogent, credible and consistent with the official records, in contrast with the evidence of the prosecution witnesses whose evidence has been rejected as untrustworthy," it said.
"The learned Judge has held that it is not just a case of the prosecution failing to prove its allegations, but a case where the prosecution case itself was false, which was my submission from the very first day."
Also Read | The scam that wasn't : CAG, BJP need to apologise
At the courtroom earlier, supporters came from different districts of Tamil Nadu to burst crackers and "bring the roof down" in "magizhchi" (happiness). WhatsApp took the news back home to Tamil Nadu. Many came from Raja's home district of Perambalur, many others from Ariyalur, Kanyakumari, Mettupalayam and the list went on. The men who came from Tiruppur, all staunch DMK party supporters they said, compared Raja's acquittal with "Lord Ram returning after his exile in the forest. Just like Ram was banished for doing no wrong, so was Anna (elder brother) Raja."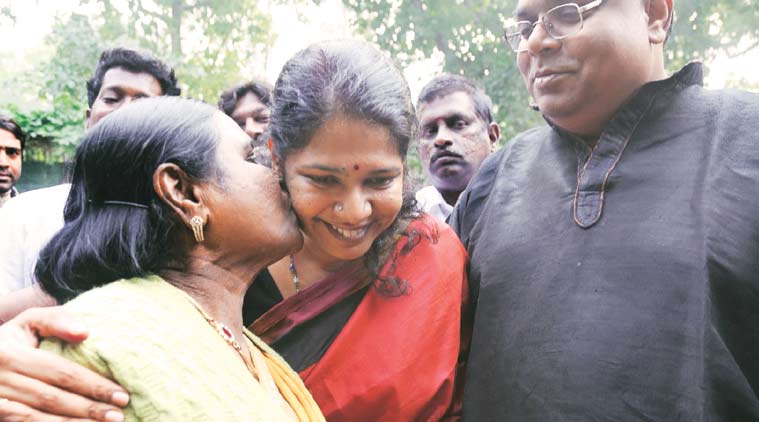 Kanimozhi with her mother Rajathi Ammal and husband G Aravindan outside Patiala House court after the verdict in the 2G case Thursday. (Express Photo: Renuka Puri)
The men defended Raja's request for privacy, to be "left alone" by the media. "He was tortured for years, made the scapegoat. They (media) exaggerated the lies, it is time to equally give space to the truth," said V K Rajendran, who will return by Tamil Nadu Express on Thursday night. "All the poor have come today, on their own will. Not the rich." Some supporters, however, claimed it was Raja who booked their flight tickets.
Journalists from Hindi, English and Tamil media, exchanged notes outside his Gulmohar Park residence which simply states that him and his wife are advocates. The guard next door said Raja had been living there for at least three years and this was the first time such a large gathering had congregated here. "He wants to read the 1,500-page judgement fully before he comments," was the line offered by his lawyer, personal assistant or any party worker in the know who stepped out of the gate.
Also Read: Who was 'real' 2G elephant, asks Raja? Not me
Among the visitors were three women from R K Puram, all Kanimozhi loyalists who decided to come express their happiness. "I went to the Kali Amman Kovil (temple) to pray for him this morning," says R. Kasturi. "I knew he will be freed this year."
As for Kanimozhi, the day began on a tense note as her mother Rajathi Ammal flew in from Chennai for the big day. The Rajya Sabha MP's husband G Aravindhan, who is settled in Singapore, too was by her side. Breakfast with family was followed by the trip to the Patiala House court. But the nervousness soon vanished and celebrations broke out as the CBI court's verdict emerged.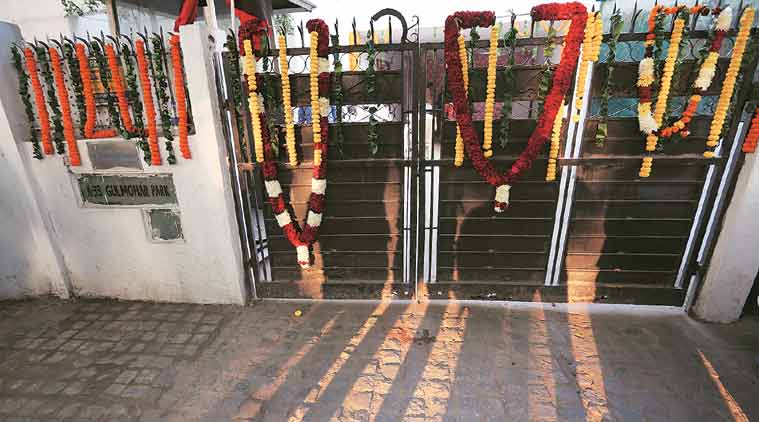 Gates of former Telecom minister A Raja's decked-up Delhi residence. (Express Photo: Gajendra Yadav)
Among the callers were her brother and DMK working president M K Stalin, Tamil Nadu Congress chief S Thirunavukkarasar, and Congress deputy leader in the Rajya Sabha Anand Sharma.
"I have always believed that I would see the light at the end of the tunnel. I have been waiting these last six years for this day. The last six years have been harrowing to say the least," Kanimozhi said.
As the day ended and the unending stream of party workers stopped, she finally stepped out for a quiet dinner with her family.
For all the latest India News, download Indian Express App