A super series for Kidambi Srikanth, Praneeth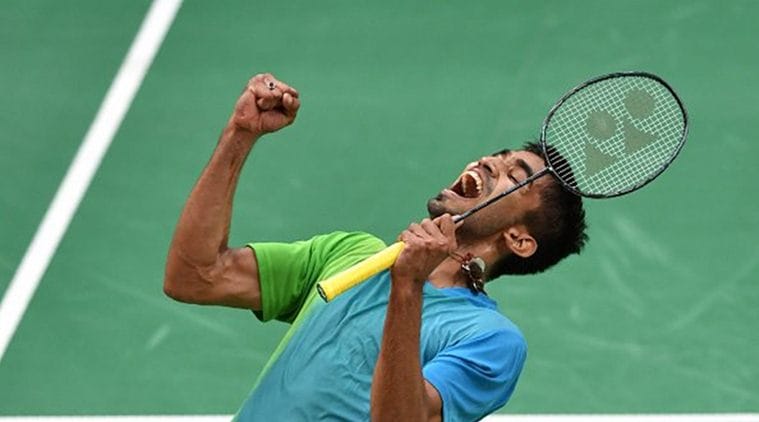 K Srikanth notched up a dominating 21-14 21-16 win over All England Championship runner-up Shi Yuqi.
The hard questions were beginning to grate on his nerves. Worse still, it was showing on court when what ought to have been strolls would end up as trudges to hurtful defeats. Kidambi Srikanth was a proven winner— his first title had come in China and there was another in India too just to prove the first wasn't a flash in the pan.
But men's singles in the era of Lin Dan and Lee Chong Wei—bookended by the peerless Taufik Hidayat and monstrous Chen Long— was never built to be a stomping ground for young men. Srikanth (23) would join the long queue of aspirants, hoping to not end up just a pretender. He would snap at the tough posers—like a spurt of a dormant volcano—when asked about where the titles had gone missing, and Thursday was another such instance.
It was muggy in Singapore, and Srikanth was 17-20 down in the decider— inching towards what was going to be the day's longest match at the Stadium Walk arena clocked at 1 hour-21 minutes. The rankings were out, and India had five men's singles shuttlers in the Top 30—unprecedented—though Srikanth wasn't the top ranked one (that was Ajay Jayaram at No 14). He wasn't even second —at 27, Sameer Verma at 28)—Srikanth was India's No 4, having slipped in the last one year, though not through the cracks. At 17-20 down, he started at a make-or-break and rattled off the next three points against Ihsan Moulana Mostafa to level at 20-all. He would drive the knife in further – picking the two points having bulldozed and battles through 3 match points.
It had been a draining affair, and then came the question, trying to summarise a flagging career. He would refuse to answer the tough poser – saying he would answer all on the court the next day, and then walk away. On Friday, K Srikanth – India's finest singles player (not the most talented or the most resilient, but the one who knows how to win a Super Series title), went a step further to drown Chinese Shi Yuqi, seeded 5th, winning 21-14, 21-16 in half the time he had taken on Thursday.
Following the match which took him into a SS semis after a long time, he would line up to answer the tough verbal ones. "I think I came back really well today. Yuqi has been playing well and had good performances in the last couple of months, so really happy to pull off this match in straight sets," he told BWF soon after the match.
Srikanth is one of the world's foremost attacking players, and it was his offense that worked clinically well for him on the day. "Attack was the first plan and I didn't need to change it," he said. That attack relies primarily on his court movement, and he strided beautifully against the Chinese in the quarters. "I'm feeling confident about my movements which are quicker than the last two months," he'd add. He'll need an encore if he wants to make this work against Indonesian Anthony Ginting, ranked No 26. "If I play 100 pc I have a chance," Srikanth said.
Praneeth's flutter
Joining him in the semis, and making it a swell day for Indians was B Sai Praneeth, who got the better of his Thai doppleganger Tanongsak Saensomboonsuk. Both are exciting players with unconventional strokes —and as a corollary mercurial in their ways; prone to not winning when they look like they would.
Sai Praneeth is all wrist and change of pace —with no assurances of results and an infuriating habit of not killing off the endgames. There's a long history of valiant three-set losses here, that add to coach Gopichand's frustrations. So just as well, he cornered the Friday one in three. "It's very good feeling playing semis first time," he would chuckle and tell BWF. "I've been playing all three-setters here but I'm getting better with each passing round," he would say.
"Happy but not excited," he would spell out to The Indian Express after winning 15-21, 21-14, 21-19 to make his maiden SS semis. On Friday, Sai Praneeth would run into some vicious drift, and the shuttles moving faster than yesterday. Initially the shuttles would hit the frame or fall limp at the net. His pushes failed to find contact in the opener, though the long rallies – he's an impetuous attacking player who naturally abhors long rallies – would help him discipline himself and find rhythm.
One side of the court was visibly easier to negotiate and he would rally back in the middle set to push the battle into the decider. But he would make the most of the easier side. He trailed 8-11 to level at 12, and then again 13-16 before he'd tell himself that enough had been enough already. "When trailing in the 3rd I covered ground to 8-all, then I was irritated to give lead again because of simple mistakes," he would say. Just giving is away had been his script all these years. Not today. "When I got to the advantage side, I played patiently," he recalled. Then it was Tanongsak's turn to rush and make a mess of it trying to hurry points. The Indian playing the patient game finally put one away and was rewarded. He next plays Korean Lee Dong Keun.
One of the last things discussed by Akhilesh Dasgupta, the badminton federation president, who passed away this week, was thrashing out a list of men's singles players who could be included in the TOPS list while preparing for the next Olympics, with national coach P Gopichand. It bothered him that though India had an enviable crop of talented, hardworking singles blokes, they were still struggling on the last mile – falling short of winning Super Series titles consistently like Saina Nehwal and PV Sindhu had been.
Indians K Srikanth and B Sai Praneeth stepped up— as if on cue. The proof of course will be in the pudding—a Singaporean title on Sunday. PV Sindhu went down to Carolina Marin in straight sets – 21-11, 21-15.
For all the latest Sports News, download Indian Express App now