All flag bearers at Rio Olympics opening ceremony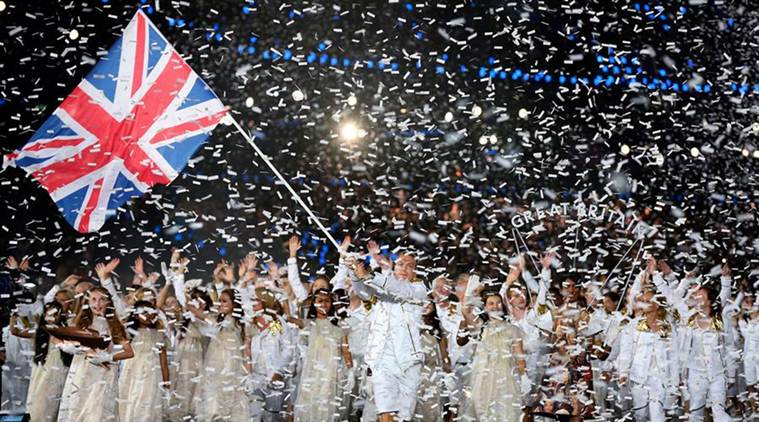 Sir Chris Hoy was host nation Great Britain's flag bearer at the 2012 London Olympics. This time, Andy Murray has that honour. (Source: Reuters)
At each opening ceremony of an Olympic Games – Summer or Winter, an interesting and a moment of pride for the athletes is the parade. It involves the country's designated flag bearer holding the flag at the top of the group and the rest of the contingent following closely behind – soaking in all the adulation of their peers, the audience and the people back home.
For the flag bearers, it's a moment for their work towards their country to be appreciated at the grandest sporting event. For India, shooter Abhinav Bindra will be the flag bearer in his fifth Olympics with names of Yogeshwar Dutt, Leander Paes and Vijender Singh also considered at one stage.
ALSO READ | When is Rio Olympics opening ceremony 2016, what time does it start, live streaming online and live TV coverage
Other big names to be flag bearers at the Rio Olympics opening ceremony 2016 include Michael Phelps for the US and Andy Murray for the Great Britain. In total, 207 countries are taking part in the Olympics and will parade their athletes at the opening ceremony excluding the refugees and independent athletes.
Afghanistan – Kamia Yousufi
Andorra – Laura Salles
Angola – Luísa Kiala
Argentina – Luis Scola
Armenia – Vahan Mkhitaryan
Australia – Anna Meares
Austria – Liu Jia
Bangaldesh – Siddikiur Rahman
Belarus – Vasil Kiryienka
Belize – Brandon Jones
Benin – Yemi Apithy
Bolivia -Angela Castro
Brazil – Yane Marques
British Virgin Islands – Ashley Kelly
Bulgaria – Ivet Lalova
Cambodia – Sorn Seavmey
Cameroon – Wilfried Ntsengue
Canada – Rosannagh MacLennan
Chile – Érika Olivera
China – Lei Sheng
Cook Islands – Ella Nicholas
Costa Rica – Nery Brenes
Croatia – Josip Pavić
Cuba- Mijaín López
Denmark – Caroline Wozniacki
Equador- Andres Chocho
Finland – Tuuli Petaja-Siren
France – Teddy Rinner
Gambia – Gina Bass
Gautemala – Ana Sofía Gómez
Germany – Timo Boll
Great Britain – Andy Murray
Greece – Sofia Bekatorou
Hungary – Áron Szilagyi
India – Abhinav Bindra
Indonesia – Maria Natalia Londa
Iran – Zahra Nemati
Ireland – Paddy Barnes
Israel – Neta Rivkin
Italy – Federica Pellegrini
Jamaica – Shelly-Ann Fraser-Pryce
Japan – Keisuke Ushiro
Kosovo- Majlinda Kelmendi
Lebanon – Nacif Elias
Malaysia – Lee Chong Wei
Maldives – Aminath Shajan
Malta – Andrew Chetcuti
Mauritius – Kate Foo Kune
Mexico – Daniela Campuzano
Montennegro – Bojana Popović
Namibia – Jonas Junia
Nepal – Phupu Lhamu Khatri
Nigeria – John Obi Mikel
Pakistan – Shah Hussain Shah
Panama – Alonso Edward
Philippines – Ian Lariba
Poland – Karol Bielecki
Portugal – Joao Rodrigues
Puerto Rico – Jaime Espinal
Romania – Cătălina Ponor
Russian Federation – Sergey Tetyukhin
San Marino – Arianna Perilli
Serbia – Ivana Anđusic Maksimovic
Singapore – Derek Wong Zi Liang
South Africa – Wayde van Niekerk
South Korea – Gu Bon-gil
Spain – Rafael Nadal
Sri Lanka – Anuradha Cooray
Thailand – Ratchanok Intanon
Tonga – Pita Taufatofua
Tuvalu – Etimoni Timuani
UAE – Nada Al-Bedwawi
Ukraine- Mykola Milchev
Uruguay – Dolores Moreira
USA – Michael Phelps
Venezuela – Ruben Limardo
Zimbabwe – Kirsty Coventry