Ari Bayuaji and his cabinet of curiosities
Artist Ari Bayuaji's latest solo exhibition, "A Cabinet of Curiosities," is deeply inspired by his homeland of Indonesia, while also blending in cultural references from other countries to produce works with great symbolic meaning.
Ari got the idea for the exhibition's title from the cabinet of curiosities popular in 16th century Europe to keep small collections of extraordinary objects from the "new world."
"I want my artwork to spark viewer's curiosity. I don't just want to show new contemporary artwork that is constructed from unusual materials. I think it's also a great opportunity to introduce Indonesian art and culture in a very contemporary way," he says.
Born in Indonesia, Ari made Montreal his second home, setting up a studio there following his fine arts study at Concordia University in 2005. While he has a studio in Canada and another in Bali, his artistic journey also takes him to different parts of the world where he takes up artist residencies and participates in exhibitions.
His latest exhibition, which runs until Jan. 24, was jointly organized by the Montreal Museum of Fine Arts and Montreal Art Council, making him the first Indonesian artist to hold a solo exhibition at the major institution in Canada.
Ari says that throughout the exhibition, he has received many questions about the materials he used and on Indonesian cultures. "There are so many things that people in Canada do not know about Indonesia."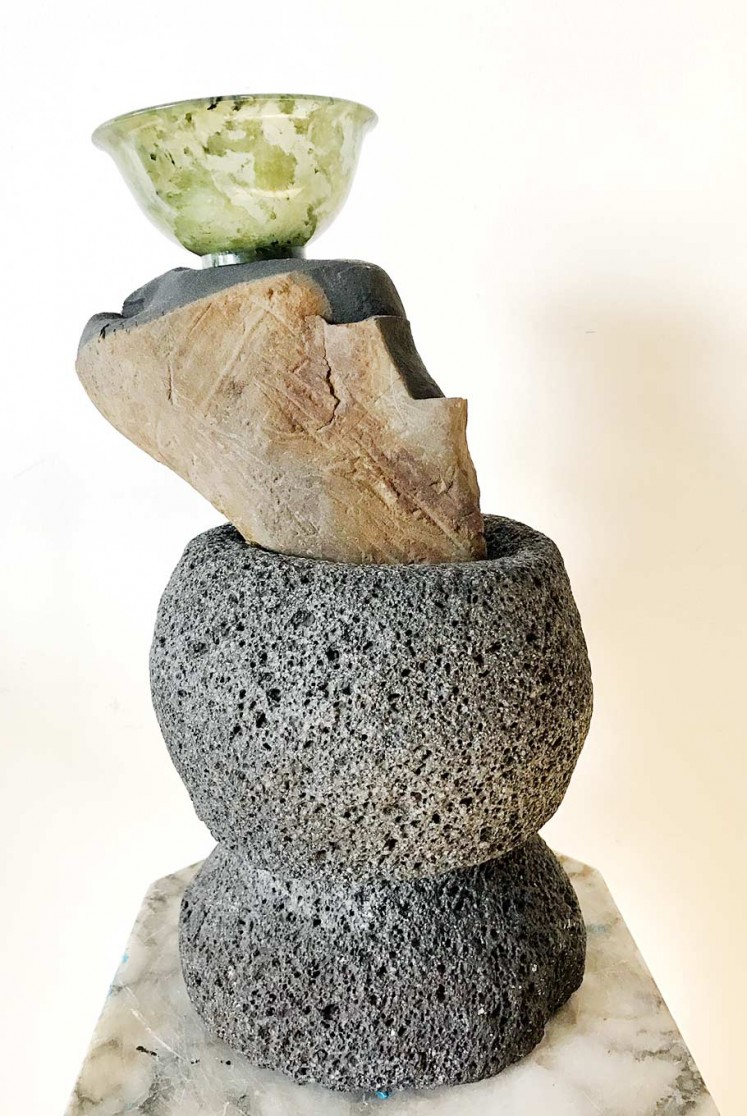 Scholar Stones #1 by Ari Bayuaji (Ari Bayuaji/File)
He constructed the 25 pieces on display from different materials, many of which were rare and old objects used in Indonesian households, such as volcanic stone mortars from Bali, ceramic incense holders used by the Chinese-Indonesian community in several areas of Java, wooden tools from Kalimantan, in addition to metal jewelry from Sumatra and Lombok, West Nusa Tenggara (NTB).
"My Indonesian roots have a very big impact on my artistic vision and also in my creative process. I have been combining the material I brought from Indonesia with other ready-made objects that I found or bought in Montreal," he explained.
"It is still very important to me to use my Indonesian cultural background in my creative process because it is the foundation of my art knowledge and I want to use it as one of my strengths."
One of the main objects on display that hold personal meaning for the artist is titled My Grandmother's Cabinet.
Ari said the artwork meant so much to him as he used his late grandmother's art deco glass cabinet as its main material. "My grandmother used the cabinet as her "cabinet of curiosity." She kept her most beautiful collection of ceramic, porcelain and glass in the cabinet just for the family and guests to look at and admire," he says.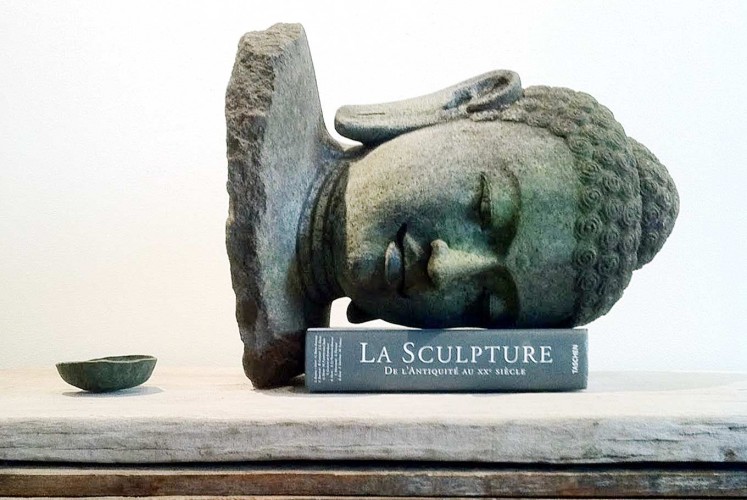 The imitation of the Buddha head as a book holder that Indonesian-born artist Ari Bayuaji created is a symbol of how meaningless the original pieces are if not placed in their rightful place. (Ari Bayuaji/File)
For the exhibition, he placed more than 15 small sculptures inside the cabinet instead. Those sculptures were constructed with parts of different ready-made objects that were put together to create new "exotic" objects inspired by old medicine containers and holy water from different Indonesian islands.
The artist was also inspired by the "Scholar Stones," an important Chinese art form, for his works, Scholar Stones #1 and #2; while for A Place to Pray, he constructed the sculpture with pieces of old objects, such as a Balinese offering plate, stone mortars from Sumatra and broken concrete from Montreal's sidewalks.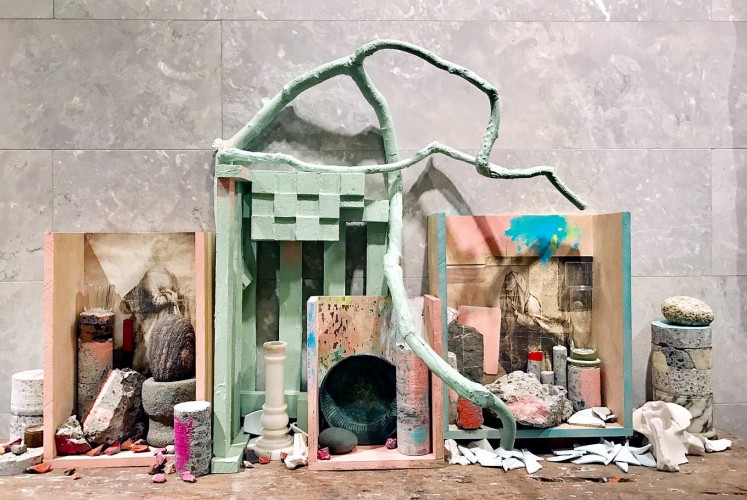 A Place to Pray by Ari Bayuaji (Ari Bayuaji/File)
Another important piece is a book holder inspired by the stone heads of Buddha at Borobudur temple, some of which have been included in the collections of various museums.
"The imitation of the Buddha head as a book holder that I created is a symbol of how meaningless the original pieces are if not placed in their rightful place," he says.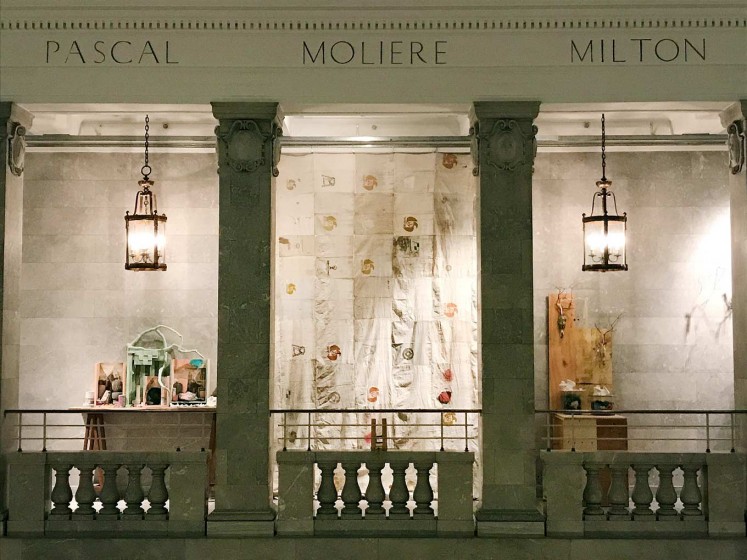 A first: Pieces by Indonesian-born artist Ari Bayuaji are on display at an exhibition organized by the Montreal Museum of Fine Art and Montreal Art Council in Canada. (Ari Bayuaji/File)
The exhibition is being held following his selection for the Impressions artist residency program early last year, with the museum and the council deeming him a visual artist committed to "challenging the Western categorization of fine and decorative arts versus everyday objects by creating works that fall between these two categories, thus giving viewers the opportunity to question their assumptions."
The program granted him access to explore and find inspiration from the museum's extensive collections of some 42,000 works, 4,500 of which are on display in its five pavilions, under the supervision of the museum's Asian arts curator, Laura Vigo. It also opened up the museum's library, archives and even its storage for his research.
Ari said the residency had helped him develop his artistic vocabulary and the forms of expression he employed.
It also allowed him to look at the Western categories of fine and decorative arts and produce works that were situated between design and ready-made — highlighting pieces that once served as household tools and would have never previously been accepted as art objects, in the hope of encouraging a new discussion on how to categorize art and design in the process.
During the residency, he also noticed limited objects from Indonesia at the museum, with those around either of poor quality or lacking background information.
Following his exploration, he created artwork using old objects from different islands in Indonesia. He modified, deconstructed and combined the old objects with new ones to construct his pieces for the latest exhibition.
"Artist in a residency is not just about making art to me. The most important thing is how much I can learn about the culture and how I can build a good relationship with people in the new places," the artist says.
Ari has presented his works at different exhibitions, including "Censor" at the Redbase Foundation in Yogyakarta in 2016; "Hide and Seek" at Galerie Helder in The Hague and "No Place Like Home" in Knsthal Rotterdam, the Netherlands, last year. He also took up different artist residencies, including a three-month program in Sainte-Alvère, France, last year.
This year is another busy one for the artist. He is scheduled to join a group exhibition at Woodbury University Gallery in California, the United States from Jan. 26 to end of February. He will also take up a month-long artist residency at the United World College of Southeast Asia in Singapore next month.
"I believe that art is the imitation of the real things in life. When I create artwork I always try to inject some emotions in it. It is like the way theater imitates 'violence' in a beautiful play to touch the audience's heart. I want my work to remind a person of something that touches their heart."