Asian authority takes action on NZ property scheme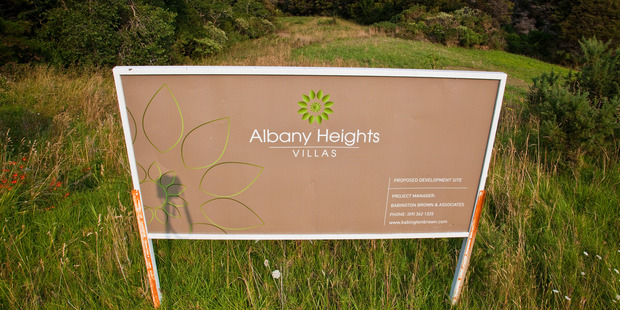 In a warning to Asian property investors about the perils of buying in New Zealand, a Singaporean state authority has taken action over Auckland's troubled Albany Heights Villas project.
Singapore's Council for Estate Agencies fined Real estate agency SQFT Global Properties of Orchard Row, Singapore, S$10,000 ($10,166) and its real estate agent Paleenia Wong Mui Wah was fined S$6000 ($6100) for their actions which resulted in Singaporeans buying into the scheme and losing money.
An investor was told that the $65,000 he paid to buy an Albany Heights Villa unit "would be kept safe in a law practice's trust account for the construction … and that the developer, Albany Heights Villa, would not be able to use the money in the trust account for other purposes.
"The representation turned out to be false as the developer took money from the trust account without any construction having started on Albany Heights Villas.
"The investor has not been able to recover the money. Wong had thereby failed to act reasonably towards the investor in the sale and marketing of Albany Heights Villas," the authority said.
In the decision issued in December, it then issued a warning to Singaporeans about buying overseas property.
"Buying a foreign property is a big investment. Given the complexities and risks involved, consumers should find out and understand pertinent information such as the foreign country's rules and restrictions on property purchases and ownership, whether the property has obtained approvals from the authorities, taxes payable, pricing and terms and conditions of the purchase, the foreign property market condition, currency exchange risks, etc.
"Consumers should exercise due diligence before entering into any agreement to buy foreign properties.
"They should not rely solely on the advice from representatives of the foreign developer," it said.
In 2013, New Zealand's Serious Fraud Office said it had received a complaint about the Albany Heights subdivision, meant to be part of the answer to Auckland's housing shortage.
Three-bedroom townhouses from as little as $375,000 were marketed in a city where at the time the average house price was more than half a million dollars.
Albany Heights was a scheme for 124 townhouses in its first stage alone.
More Property
Read full Singaporean decision here: