Asuka Takita: Veterinarian embraces life on the African plains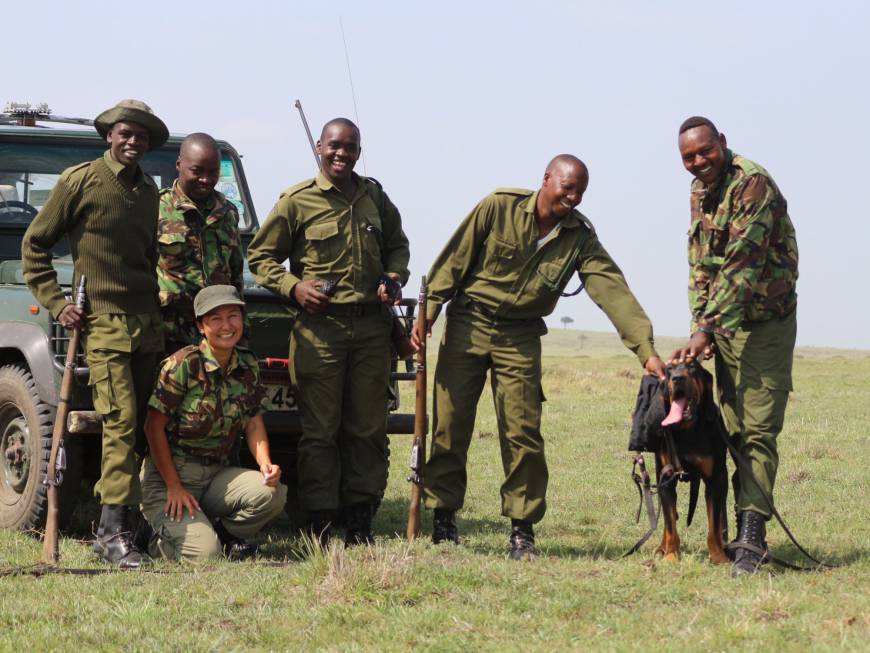 It was another 3 a.m. start for Asuka Takita on March 7 and, bleary-eyed, she jumped into her jeep and set off on another journey to where the wild things are. "In the afternoon I could not keep my eyes open during work," Takita later revealed on her Facebook page, "so I decided to take a 30-minute power nap next to another guy who was having his siesta. He was still fast asleep when I woke up."
Takita insists that she is not in the habit of taking forty winks next to strange men, but this was no ordinary guy. In fact, he was a lion.
The king of the jungle is among the many acquaintances of Japan-born Takita since she made Kenya her home almost a decade ago. Then, she took up the post of veterinarian at the Mara Conservancy, a nonprofit company contracted by Kenya's Narok County to manage a 510-square-kilometer portion of the Maasai Mara game reserve known as the Mara Triangle.
Prior to that she had spent time in the East African nation through a study program while an undergraduate at Skidmore College in New York, where she focused her studies on zoology.
"I ended up working as a naturalist for a year in one of the lodges in the Maasai Mara and fell in love with the place," says Takita, 41. "I did go to Botswana after Kenya for another semester and loved it, but really didn't feel the connection as I did when I was in the Mara."
After graduating from college in the U.S., she returned to Africa once more, enrolling in a five-year veterinary medicine degree at the University of Nairobi.
But the Mara called, and she returned there as a volunteer before taking on her current position.
Ironically, little of Takita's job actually utilizes her skills as a vet. Only government-employed Kenyan vets in the wildlife department can officially treat wildlife and so Takita's main duty for the past eight years has been implementing and supervising a special task force: the anti-poaching canine unit — a team of six tracker dogs and eight handlers trained to track down traffickers of ivory, elephant carcasses and other bush meat and firearms.
With the reserve being located close to an international border — it is contiguous with the Serengeti National Park in Tanzania — it long has been vulnerable to poachers, she explains.
Poachers often use snares to catch their prey — usually wildebeest, zebra and Thomson gazelles, though its indiscriminate nature often leads to lions and elephants becoming collateral damage.
Since the inauguration of the tracker dog system, poacher arrest rates have increased, though the process can be deadly, she says. "The first time our dogs went on an armed robbery deployment, one person was executed and two others were critically shot," says Takita, who is fluent in Ki-Swahili and English.
As the handlers tracked the armed poachers in the pitch dark, they passed through forests and plains full of dangerous wildlife. "The ranger team eventually caught up with the thugs and arrested them," she says. "There have been numerous such tracking incidents, but that sticks in the mind due to the horrendous outcome."
Lenient laws and the prominent involvement of local militia and international crime syndicates often have hampered Takita's efforts, especially when it comes to the ivory trade.
As a result, she has tried to reduce demand for ivory in Asia, especially in China, but also in Japan, where numerous cultural artifacts continue to employ the controversial material. In 2012, she co-founded Tears of the African Elephant, which aims to raise awareness of the ivory issue through mainstream and social media and, in Japan, a storybook titled "Lema the Tuskless Elephant."
It's only natural that the ivory trade should be a bone of contention for Takita, as elephants were one of the first animals she fell in love with as a child.
Her interests in wildlife expanded when she was 6 and her family moved to Singapore, the home of Asia's first zoo that discarded cages in favor of a more natural environment and a place she would visit weekly to satisfy her growing fascination with wildlife.
This was nothing compared with the passion she has developed for the Mara since that first visit 18 years ago, though she admits that her life there has not always been a stroll in the bush.
"Everything is a struggle and takes so much time to accomplish if you compare to a first-world setting," she says, adding that while her ethnicity has never been a hindrance to her job, the male-dominated world of anti-poaching in Africa occasionally has.
Nonetheless, despite the pitfalls, she admits to being absorbed in her work with the tracker dogs.
"I have both the tracker dog unit and ivory/firearm detection dog unit, but it's the tracking that I enjoy the most because I get to go through the bush with the dogs," she says, adding that the dogs can trace a poacher's footprints for up to 30 kilometers. "Tracking work in the African bush is pure adrenaline and you are always dealing with lots of unknown in the bush, such as the wildlife and poachers."
Although many of her adult years have been spent outside her home country, Takita admits to still missing Japanese food, but that is where any hint of home sickness comes to an abrupt halt.
Feeling a need to reconnect with her roots she returned to Japan when in her 20s, but struggled to blend in. It was an experience that left her feeling even more alienated from her birth country. "Japan is too xenophobic and Japanese in Japan are not very accommodating toward Japanese-looking people with a different outlook on life," says Takita. "It would be much easier if I was a foreigner in Japan."
Over the past year, Takita's work has been made considerably easier by the introduction of cutting-edge tracking technology employing thermal imaging cameras, the testing of which she has been actively involved.
Yet, while such developments would seem to point to a bright future for Takita and her team of rangers, she is cautious when asked about her future dreams.
"No one here thinks about things that will happen in 10 to 20 years," says Takita, who has also launched several community projects in Kenya, including a mass vaccination drive in 2007 to counter a widespread problem with rabies and canine distemper virus that resulted in the deaths of an estimated 1,000 dogs.
"Such a concept only exists in a country where stable living conditions, political security, and so on are guaranteed to exist in 10 to 20 years," she says. "Africa doesn't have that luxury. In most cases, I don't even know what I'll be doing in a month's time."
Profile
Name: Asuka Takita
Profession: Veterinarian, wildlife management
Hometown: Fujisawa, Kanagawa
Age: 41
Key moments in career:
1981 — Moves to Singapore
1996 — Becomes a resident naturalist on the Maasai Mara, Kenya
2008 — Runs an anti-poaching canine unit in the Mara Triangle
Words to live by: "Why not just give it a go"
Strengths: Being independent, innovative, and not getting deterred by any issue; being tolerant and flexible