Australian grandmother accused of drug trafficking cleared in Malaysian court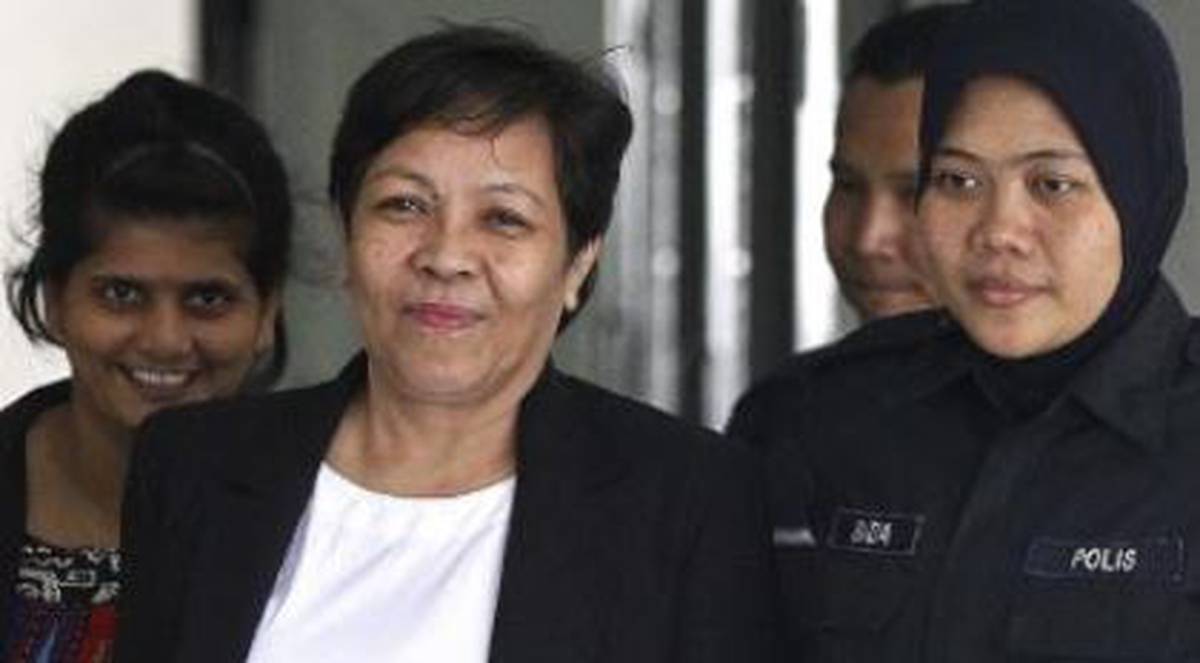 The lawyer for a Sydney grandmother facing drug smuggling charges in Malaysia has secured an acquittal for his client.
Maria Exposto, from Cabramatta West, arrived at around 5:30pm AEST to hear the court's verdict after she was caught with 1.5kg of crystal methamphetamine, also known as ice, at Kuala Lumpur International Airport on December 7, 2014.
Exposto will reportedly be deported immediately.
The mandatory sentence is death by hanging for anyone found guilty of carrying more than 50g of an illegal drug. When the drugs were found in 2014 she reportedly said she had "never seen drugs in her life".
The mother of four was en route to Melbourne from Shanghai, on a stopover in Kuala Lumpur, after her lawyers say she had fallen in love with a person claiming to be a US serviceman.
Mrs Exposto was married at the time but her relationship with her husband was getting "a bit sour" when her online boyfriend asked her to marry him in September 2013.
The romance was an online scam and when Mrs Exposto landed, customs officers discovered the drugs stitched into the lining of a backpack after noticing an existence of something "green" during scans of her luggage.
The search by Customs officials was voluntary at the time and Mrs Exposto opted to give her bags up for a search.
When officials looked closer, they noticed the stitching inside did not match that of the backpack and when they ripped it open, they found grey packages inside, customs official Mohd Noor Nashariq told the Shah Alam High Court last year.
The 54-year-old's lawyer says she was tricked into trafficking drugs by a person she met online and was only handed the black backpack at the last minute by a friend of her boyfriend, unaware the drugs were inside.
[Captain Smith] would sing to me a few times a day and send love poems as well.

SHARE THIS QUOTE:
The man apparently identified himself as "Captain Daniel Smith", and claimed to be a US soldier stationed in Afghanistan. Mrs Exposto testified a friend of Mr "Smith" asked her to take it to Melbourne from Shanghai as a last-minute request at the airport.
The Aussie mum thought she was in Shanghai to lodge documents for her online boyfriend's retirement form service in the US army.
"He [Smith] made me feel loved, he made me feel wanted," Exposto told the court, adding that the alleged US serviceman would send her photos of himself.
"Smith would sing to me a few times a day and send love poems as well."
According to the ABC's Southeast Asia correspondent Adam Harvey, "if acquitted of drug trafficking Maria Exposto will immediately face an appeal from prosecutors. If she's convicted she'll be sentenced to death and defence will then appeal".
In 1986, Australians Kevin Barlow and Brian Chambers were hanged in Malaysia after being found guilty of trafficking heroin.
They were the first Westerners to be executed under the country's renowned anti-drug laws which were introduced in 1983.
"There are probably thousands, mostly women, who have been conned into similar situations. Captain Daniel Smith is one of the many scammers," Defence lawyer Muhammad Shafee Abdullah told reporters.
The Malaysian Government has agreed to scrap the mandatory death penalty for drug traffickers but the changes have not yet been approved in time for Mrs Exposto's case.
Malaysia imposes the mandatory death penalty for other crimes, including murder and terrorism-related offences.
Neighbouring Singapore passed legal reforms in 2012 abolishing mandatory death sentences for some drug trafficking and murder cases.