Bahrainis hold Jordan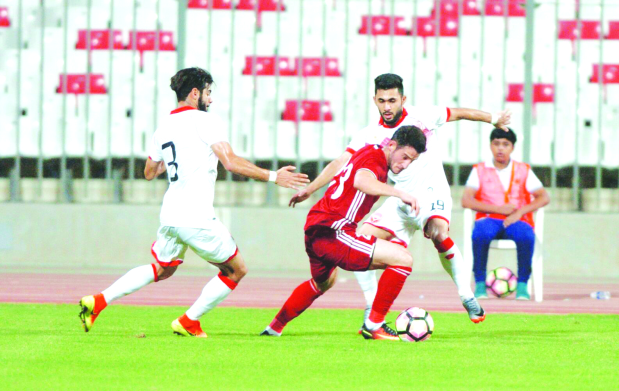 Bahrain held Jordan to a goalless draw in an international football friendly match played last night at Bahrain National Stadium in Isa Town.
The match is part of the home team's preparations for the Asian Cup 2019 qualifying stage, where they will take on Chinese-Taipei in Group 'E' to be held on September 5 in Bahrain.
The Bahrainis are leading their group in the Asian qualifying stage with four points from two matches following a draw with Singapore and a win against Turkmenistan.
Bahrain coach Miroslav Soukup started the match with goalkeeper Sayed Mohsin Ali, along with Sayed Redha Isa, Abo Baker Adem, Waleed Al Hayyam, Ahmed Abdulla, Kumail Al Aswad, Abdulla Abdo, Sayed Dheya Saeed, Ali Madan, Jamal Rashid and Mahdi Abduljabbar.
The first half saw no serious chances to score for both teams who were defending most of the time, and they appeared getting effected by the humidity of the weather.
Soukup made some substitutions in the second half, but the situation did not change. The national team only had one chance to score in the 90th minute when Abdulla Yousif sent a powerful shot that went near the bar.
Soukup selected 29 players for the preparation stage, namely Sayed Mohammed Jaffar, Jamal Rashid, Waleed Al Hayyam, Abdulla Abdo, Ismael Abdullatif, Abdulla Yousif, Hisham Mansoor, Ahmed Moosa, Ali Habeeb, Ashraf Waheed, Sayed Ridha Isa, Abdulkareem Al Fardan, Jassim Al Shaikh, Ali Madan, Ahmed Abdulla, Kumail Abdulla, Abo Baker Adem, Hassan Madan, Hussain Ali, Sayed Mujtaba Alawi, Ali Hassan Saeed, Mahmood Mukhtar, Sami Al Hussaini, Mahdi Abduljabbar, Sayed Mohsin Ali, Ahmed Bu Ghammar, Hamad Shamsan, Kumail Al Aswad and Sayed Dheya Saeed.
You Might Like