Brazil's beef exports recovering strongly: 1.91m tons forecasted in 2018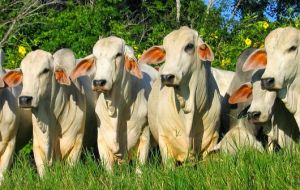 Brazil's beef exports will return close to a record high net year, encouraged by revived growth in the cattle herd, and the industry's success in avoiding lasting bans from importers over a slaughterhouse scandal.
Brazil will export 1.91m tonnes of beef in 2018, a fourth successive year of recovery, and returning shipments to 4,000 tonnes from the record high recorded in 2014, the US Department of Agriculture's Brasilia bureau said, in its first forecasts for next year.
The increase reflects in part the continued recovery in the country's herd from a 2013-14 low, when drought sent slaughter rates to a record top, indeed fuelling the surge in shipments to an all-time high too.
"Rains are expected to improve the availability of pasture conditions during the 2017-18," the bureau said, flagging too the availability of subsidised loans for pasture improvement, and the prospect of "lower feed costs" thanks to strong Brazilian corn and soybean harvests.
However, the bureau flagged too the strong recovery in Brazil's beef shipments, after being initially sent tumbling when police revealed in June that they were investigating alleged corruption which was, for instance, seeing beef fraudulently labelled as fit for export.
"South Africa, Iraq, Iran, Malaysia, Myanmar and Singapore not only resumed beef imports from Brazil, but mutual negotiations between these countries and the Brazilian government are centred in the eligibility of new Brazilian plants for exports," the bureau said.
"Other negotiations to open market access for Brazilian beef are concentrated in Thailand and Taiwan."
The bureau added that its "trade contacts are optimistic" too that exports to the key growth market of China "will continue to increase in 2018 after the significant increase in the number of beef plants authorised to export to" the country.
In fact, while the police operation – called "carne fraca", or "weak flesh" – initially prompted a wave of bans by importers on Brazilian beef, only 0.5% of the country's processing capacity was actually caught up in the scandal, Rabobank said in a separate report.
"With considerable effort invested in providing transparent information to Brazil's importers, the negative impacts on exports began to dissipate early in the July-to-September quarter."
Brazil's beef exports in July ended up 20% above year-before levels, with those in August the highest in nearly three years.