Brexit: Singaporean bank considers Luxembourg base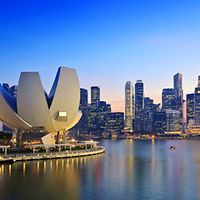 Singapore's second-largest bank, Oversea-Chinese Banking Corporation (OCBC), is considering setting up a new subsidiary in Luxembourg following Britain's votes to leave the European Union (EU), the Luxemburger Wort understands.
OCBC's private banking arm, Bank of Singapore, which runs its European business from London, is understood to be eyeing a presence in the Grand-Duchy, which would allow it to continue selling its services across the EU after Britain leaves the bloc in 2019.
It would be the first time a Singaporean bank has set up shop in the Grand-Duchy, sources said, although other locations are thought to be under consideration, and any move to Luxembourg remains uncertain until the bank has officially applied for a license.
The Wort understands that Bank of Singapore Chief Executive Bahren Shaari is in Luxembourg and will meet Prime Minister Xavier Bettel on Wednesday.
Shaari is also expected to meet with Luxembourg's financial regulator, the Commission de Surveillance du Secteur Financier (CSSF).
OCBC and the prime minister's office declined to comment.
Luxembourg is already home to 141 banking institutions, according to a PwC report this week, and has been particularly successful at wooing Chinese banks, which represented almost 8% of banks in the country at the end of 2016.
However, since the Brexit vote, Luxembourg – despite traditionally being a private banking and fund management centre – has had more success attracting specialty insurers interested in new EU bases.
OCBC is the second-largest bank in Singapore by total assets, according to its website, and is listed on the Singaporean stock exchange.
It employs more than 29,000 employees globally.
Bank of Singapore, which serves high-net-worth individuals and their families, was launched in January 2010 following the purchase of ING Asia Private Bank and its merger with OCBC Private Bank.
Headquartered in Singapore, the private bank's key markets are Asia and the Middle East.
It has offices in Hong Kong, Dubai and Manila, as well as London.
(By Hannah Brenton, hannah.brenton@wort.lu, +352 4993 728)
Get the latest news by signing up to our newsletter, following us on Facebook or Twitter.