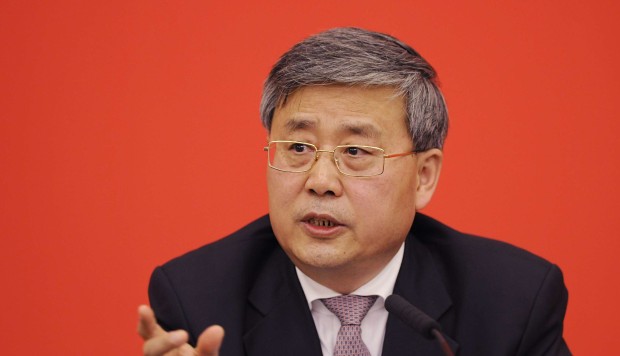 One of China's top officials most supportive of a free market has returned to Beijing to head the country's banking industry watchdog, according to media reports, to oversee a huge industry plagued by rising bad loans and thinning profits.
Guo Shuqing's new post would rank him at the same level as a government minister, triggering speculation that he may have been promised a higher role in a future reshuffle of China's financial regulatory system.
Guo , 60, has served as Governor of Shandong province for the past four years and was at the China Banking Regulatory Commission on Friday to take up his role, according to the financial news service Caixin.
His appointment has not been officially confirmed.
The current head of the regulator, Shang Fulin, 66, is to take up a post at China's main political advisory body, according to Caixin.
China's stock market regulator vows to 'capture' more tycoons
Guo's job will give him a central role in implementing President Xi Jinping's plans to shake up the country's financial industry. China's securities and insurance regulators have already pledged to take action against "big crocodiles" – speculators accused of manipulating financial markets.
"Guo is one of China's few outstanding financial technocrats … experienced and strict. He is also open and internationally minded," said John Wong, a professorial fellow at the East Asian Institute at the National University of Singapore.
"He should play a positive role in stepping up the much needed financial sector reform for China's next phase of development."
Chen Zhiwu, director of the Asia Global Institute at the University of Hong Kong, said Guo's appointment may be part of preparations to merge the three current regulators for banking, securities and insurance into one to cover the whole of the financial sector.
"Guo is a scholar and a senior official. He's a quick learner. He'll be the key person to solve China's financial problems," said Chen.
There has speculation for some time that Guo may in the future replace Zhou Xiaochuan, who has headed the central bank for more than 14 years and is close to retirement.
Guo has extensive experience to prepare him for a top position overseeing the economy.
He designed economic reform plans in 1980s, assisted in the management of the foreign exchange market and the People's Bank of China and was a former chairman of the China Construction Bank.
He led its restructuring and listing on the stock exchange before becoming securities regulator in 2011.
Earlier rumours that he might get the top job at the central bank were scotched in 2013 after Zhou's term was extended and Guo took on the governor's role in Shandong.
China regulators warn that 90 pc of peer-to-peer lenders could fail in 2017
He has largely shied away from commenting publicly on financial regulatory issues since then, but has appointed many financial officials working in Beijing to posts within his province.
"As governor, the number two figure after the provincial party boss, he did not get the chance to fully play to his full abilities over the past four years," said Yi Xianrong, a professor of finance at Qingdao University and a former researcher at the Chinese Academy of Social Sciences.
"It's a pity for Shandong that such a capable official is to be shifted away. It could be transitional role before his eventual promotion as central bank governor," he said.
Guo will have to deal with a series of problems in the banking sector, particularly amid the explosive growth of the shadow banking businesses.
Financial regulators have pledged touch action against "barbarian" insurers and stock market "crocodiles" and promised to unify standards for asset management businesses and properly regulate peer-to-peer lending platforms.
China's muddled regulatory battlefront against stock market 'monsters'
"His appointment will be a great help for China to push forward the reform of financial regulatory systems, especially the establishment of macro prudential assessment framework," said Guo Tianyong, the director of the Research Centre of the Chinese Banking Industry at the Central University of Finance and Economics.
The Chinese central bank introduced the assessment system last year to look more closely into financial institutions' books, including wealth management funds.