China's most wanted fugitive official returns home after decade on the run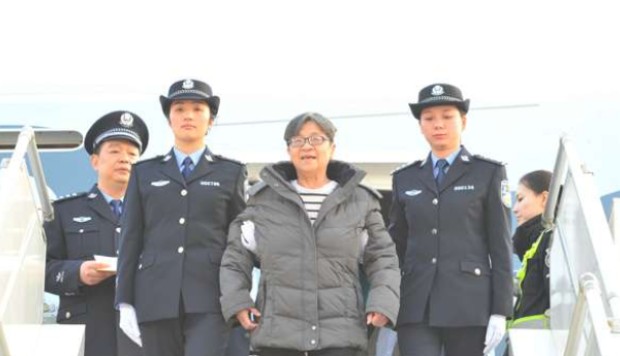 China's most wanted corruption fugitive returned to the country on Wednesday after 13 years on the run, according to the Communist Party's graft-buster.
Yang Xiuzhu, 70, arrived in Beijing on a flight from the United States in the afternoon, the Central Commission for Discipline Inspection said on its website.
Yang was at the top the Interpol Red List of China's 100 most wanted alleged corrupt officials and economic criminals.
Fugitive businessman returns to China after 15 years on the run overseas
"The return of Yang Xiuzhu is a major victory in our cross-border pursuit of corrupt criminals," the CCDI said.
It sends a strong signal that we will bring the criminals to justice even if they flee to the ends of the earth
CCDI statement
"It sends a strong signal that we will bring the criminals to justice even if they flee to the ends of the earth."
Yang is accused of taking about 250 million yuan (HK$290 million) in bribes when she was deputy mayor of the booming city of Wenzhou, Zhejiang province.
Prosecutors came across her alleged crimes during an investigation into a property developer in Wenzhou in 2003, the commission said.
Yang fled mainland China that year and has since lived in Hong Kong, Singapore, France, the Netherlands, Italy and the US. She applied and failed to gain asylum in France and the Netherlands.
In 2014, Yang was arrested in the US when she tried to enter the country on a counterfeit passport.
She applied for political asylum there while detained on immigration charges.
But Beijing's attempts to extradite Yang were hampered by the absence of a treaty between China and the US, the CCDI said.
Chinese police to extradite two fugitives from France in second repatriation
Beijing could only press Washington to deport Yang by handing over evidence of her alleged corruption and money laundering activities in both countries.
Chinese officials visited her many times to persuade her to return voluntarily in return for leniency, the commission said.
Yang said initially she "would rather die in the US" but, during the visits, changed her position to "I may go back", the CCDI said.
US warns China over undercover 'Fox Hunt' for corrupt Chinese officials
In July, Yang withdrew her political asylum application and decided to "accept the punishment from Chinese law enforcement unconditionally".
The anti-graft agency said Beijing would continue to work with Washington to pursue Yang's offshore assets.
Yang was one of the alleged fugitive corrupt officials pursued in Operation Fox Hunt, a campaign launched by President Xi Jinping after he came to power in 2012.
The campaign was later expanded into a full-scale Operation Sky Net, which involved various government agencies, including the police and central bank.
By September, 363 fugitive officials had been netted in the campaign, and 37 of the 100 on the Red List had been caught.