'Chinese heroism films have (huge) market potential'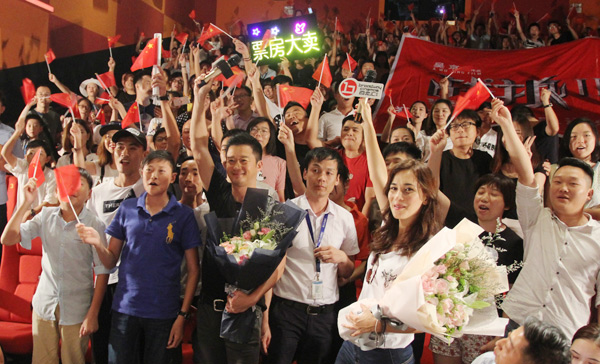 Wu Jing (third from left, front row, holding a bouquet) and cast of Wolf Warrior II meet the audience at Broadway Cinema in Wuhan, Hubei province, on July 29. PROVIDED TO China Daily
CHANGCHUN - Record box office receipts (of more than 4.5 billion yuan or $672 million). Sold-out cinemas. Standing ovations. A new Chinese action film has grabbed the heart of the nation.
Wolf Warrior II, released at cinemas nationwide on July 27, has surpassed Stephen Chow's Chinese fantasy comedy The Mermaid and topped China's all-time box office sales, raking in the record moolah by Aug 13.
The film premiered simultaneously in Australia, New Zealand, Singapore, Malaysia and Britain.
The film earned over 423 million yuan in China on Aug 6 alone, the second most by a single film on a single day in China, following The Fate of the Furious on its second day of screening.
Wolf Warrior II tells the story of a former Chinese Special Forces operative's adventure in Africa's wartorn regions occupied by insurgents and mercenaries.
The total revenue of the film is estimated to reach 5.15 billion yuan, which will exceed the previous all-time box office record of the world's largest film market by more than 1.7 billion yuan, according to Maoyan, a major film database in China.
"My blood literally boiled for more than two hours, and my heart was pumping with pride," said Wang Qiushi, a resident from Changchun, capital of Northeast China's Jilin province. "To get a ticket, I went to a remote cinema in the city, but it was still very hard to find."
People have to book tickets in advance at night and on weekends, said Sun Yeguang, general manager of Changying Cinema in Changchun.
"The film currently accounts for at least 60 percent of all films shown at Changying Cinema," Sun said. "There was a lack of a major blockbuster in July, but Wolf Warrior II really saved the day."
Sun said many of the audience cried while watching the film and gave standing ovations after the show.
Kang Mengwen, a Beijing resident, said that he thought a domestic film on themes such as war and history would be dull, but the film genuinely blew him away.
"I used to study overseas, and I know exactly how important it is to feel protected in foreign countries," Kang said. "When I heard the captain in the film shout 'Fire!,' I cried because I feel that our country can protect us when we are in danger."
It is not the first time a domestic film about heroism has become a hit.
In 2014,The Taking of Tiger Mountain, a film about a 1940s Chinese spy, garnered 800 million yuan at the box office. Last year, action film Operation Mekong, based on a true story set against the backdrop of the Mekong River Massacre, where 13 Chinese sailors were murdered by members of a Myanmar drug trafficking ring, generated 1.1 billion yuan at the box office.
"Wolf Warrior II has proved yet again that Chinese heroism films have market potential," Sun said.
Many people have said that the film came out amid a waning sense of there being "true heroes" in a Chinese film.
One Beijing resident said that many films today are filled with xiaoxianrou, or "small fresh meat," a phrase referring to handsome men under 25, who have seen consistent commercial success but receive little critical acclaim.
"Wolf Warrior II is about hot-blooded heroes, courage and uprightness, which are quite impressive," a moviegoer said. "We don't lack great heroism stories in China; we just need more people who can make good films about these stories."
Huang Haikun, editor-in-chief of Movie View magazine, said, "One impressive thing about the film is the fight scenes and stunts."
Many actors in the film, including Wu Jing, the lead actor and director of the film, sustained injuries as they filmed their own stunts instead of relying on body doubles and special effects. This not only tested the abilities of the actors but significantly increased the film's budget.
"Behind every shot of the film was a lot of effort," Wu said.
Born in the 1970s, Wu once won national competitions in martial arts before moving into kung fu and action films.
Experts say that one of the reasons behind the Wolf Warrior phenomenon is China's rising film industry.
By the end of May, China had more than 45,000 film screens across the country, while the United States had 43,531.
"Wolf Warrior II benefited from the rise of local commercial cinemas," said Shi Chuan, with the Shanghai Theater Academy. "China has the highest number of film screens in the world, which lays a solid foundation for new box office records."
The summer vacation is usually a booming season for the film industry, which also contributed to the film's success, Shi said.
According to the film's overseas distributor, the film surpassed The Mermaid and Monster Hunt in Malaysia to become the highest grossing Chinese-speaking film in its debut week.
In Australia and New Zealand, the film's box office was second only to the latest installment of the Spiderman franchise.