Cibulkova storms to WTA Finals title
2016-10-31 08:54:06 GMT2016-10-31 16:54:06(Beijing Time) Agencies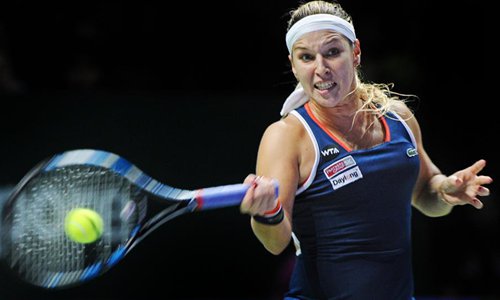 Dominika Cibulkova of Slovakia competes during the WTA Finals match against Angelique Kerber of Germany at Singapore Indoor Stadium, October 30, 2016. Cibulkova won 2-0. Photo: Xinhua
Dominika Cibulkova pulled off a stunning upset over Angelique Kerber to win the WTA Finals on Sunday, beating the newly crowned world No.1 in a dramatic 6-3, 6-4 final in Singapore.
Runner-up at the 2014 Australian Open, Slovakia's Cibulkova turned the tables on Germany's Kerber a week ­after losing to her in the round-robin stage to capture the biggest title of her career, sealing it with a fortuitous net cord after nervously blowing her first three match points. "This is a big moment for me. It's the biggest moment in my career," ­Cibulkova said at the presentation.
Kerber went into the final as the overwhelming favorite to win after taking this year's Australian Open and US Open titles but the 28-year-old was powerless to stop her diminutive opponent, whose shock win capped an inspired return to the game's elite that saw her named as this season's WTA Comeback Player of the Year.
Ranked as low as 66th in the world in February after struggling with injuries in 2015, Cibulkova only snuck into the WTA Finals, restricted to the world's top eight players, when she won this month's Linz Open in Austria.
She was facing an early exit when she lost her first two round-robin matches but suddenly turned things around, and won her last one. She only qualified for the semifinals on a countback when Kerber did her a huge favor by beating Madison Keys in straight sets and fought back from a set down and a service break in the decider to win a nail-biting semi against Svetlana Kuznetsova.
Oozing with self-belief after making the quantum leap from another promising player to the woman who dislodged Serena Williams at the top of the world rankings, Kerber had done everything right last week, giving up just set one in the four matches she played en route to the final. The left-hander had won each of her last five matches with Cibulkova, but did not bank on her playing the match of her life, hitting winners from every part of the court, eliciting huge roars and gasps from the crowd.
Cibulkova squandered three golden opportunities as her nerves started to fray, but regained her composure and was rewarded for her aggressive approach with a slice of luck, hitting a ferocious forehand that clipped the tape and landed on the other side of the net just as she fell to the court in disbelief at her achievement.