Coming soon to Tamil Nadu: Yogi Adityanath
'It would be interesting to see how Yogi Adityanath is received in Tamil Nadu, where he is due to end his Ram Rajya Rath Yatra in Rameswaram on March 23,' says Aditi Phadnis.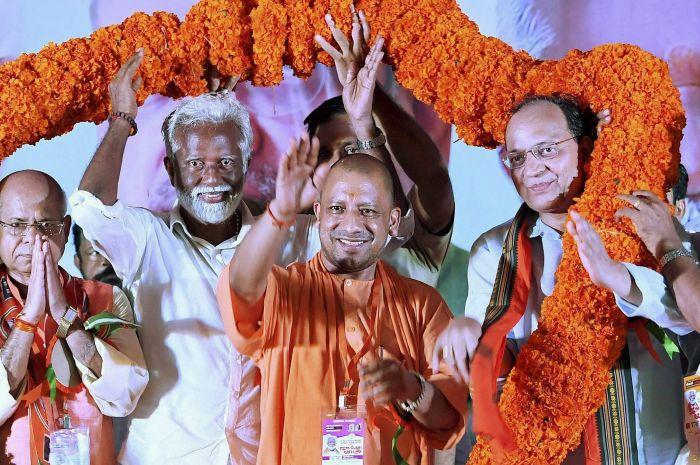 IMAGE: Uttar Pradesh Chief Minister Yogi Adityanath, BJP Kerala President Kummanam Rajasekharan to his right, and other party leaders at a rally in Kannur, Kerala, October 5, 2017. Photograph: PTI Photo
Rajinikanth, actor and now politician, launched his political party on January 1. It is now more than 20 days old. So far, he has created a Web site and mobile app for registered and unregistered fan clubs. These are thought to be his core supporters.
His slogan? 'Do good, speak and only good will happen.'
Right.
He has also shared the stage with Kamal Haasan (in Malaysia for a event for actors called Nadigar Sangam) unleashing a frenzy of speculation among fans about their future plans together and separately (Kamal Haasan had also expressed strong views about politics and is considered close to the Dravida Munnetra Kazhagam, especially its leader M Karunanidhi).
So Tamil Nadu politics is on a roll.
Rajini has spoken in race and nationality-neutral terms. He wants his party to work towards ending corruption; and good governance.
In a state where politics is dominated by pushback to Hindi-Hindu-Hindustan, the future course of politics in Tamil Nadu promises to be exciting.
Here's why. Politics in Tamil Nadu has been cerebral — possibly more so than many other states in India.
It has taken a sharp, strong position on issues like language, culture, caste and identity.
True, governments have not always put their money where their mouth is: M G Ramachandran's political devotion to the subaltern classes as seen in his films did not extend to the budgets his government presented — direct taxes such as land tax, agricultural income tax and urban land tax fell progressively whereas indirect taxes kept going up during his 11-year rule, including on alcohol, especially arrack and toddy consumed mostly by the poor. This is a point made eloquently by M S S Pandian, the author of brilliant studies on MGR.
But the discourse has been about the lives of subalterns.
Similarly, weighing in on his background and knowledge of the language, Karunanidhi has built upon and contributed to the richness of the debate around the Tamil nationality.
Being Dravidian doesn't mean you are less Indian. But if you can speak Tamil, you are a different kind of Indian.
In October last year, the Bharatiya Janata Party's state unit demanded that dialogues in a Tamil film Mersal that criticised demonetisation and GST be censored.
H Raja, the national secretary of the party, pointed to the hero, Vijay's Christian faith, attracting heavy pushback on social media.
'Vijay is a practising Christian. He should have said (in the film) 'build hospitals before churches'. But he says 'build hospitals before temples'. It is an attempt to provoke Hindus,' Raja alleged.
He also posted the actor's voter ID on Twitter with his full name Joseph Vijay and captioned it 'Truth is Bitter'.
The film has a scene where Vijay says Singapore has a GST of 7 per cent and yet provides free medical services, whereas in India you pay 12 per cent GST for medicine, while there's no GST on alcohol.
Later in that scene, Vijay also talks about the death of children in a hospital in Gorakhpur and power outages at a hospital in Pondicherry.
The film grossed Rs 1.7 billion in the first week. It was a sellout success.
For those in Tamil Nadu, the criticism of Mersal is only one in a series of attacks on Tamil-ness.
Every day brings new evidence of the discovery of Tamil culture.
The latest? Carbon dating of charcoal found at the Keezhadi site in Sivaganga in February 2017 establishes that the settlement there belonged to 200 BC.
The excavations thus proved that urban civilisation had existed in Tamil Nadu since the Sangam age.
To impose a Delhi diktat that wants to outlaw jallikattu via ordinance, sees speakers of the Tamil language as Christians and Muslims and generally negate Tamil identity is hard for people to accept.
Little wonder then that in the R K Nagar assembly by-election, the BJP candidate polled even fewer votes than those who voted NOTA.
Is Tamil Nadu approaching a post-Dravidian era with Rajinikanth talking about spirituality in politics and putting his faith in doing good, speaking and expecting only good to happen? Hard to say just yet.
But for a real test, it would be interesting to see how Yogi Adityanath is received in Tamil Nadu, where he is due to culminate his Ram Rajya Rath Yatra in Rameswaram on March 23.