Container Opeartors Postpone Strike: Huge loss for businesses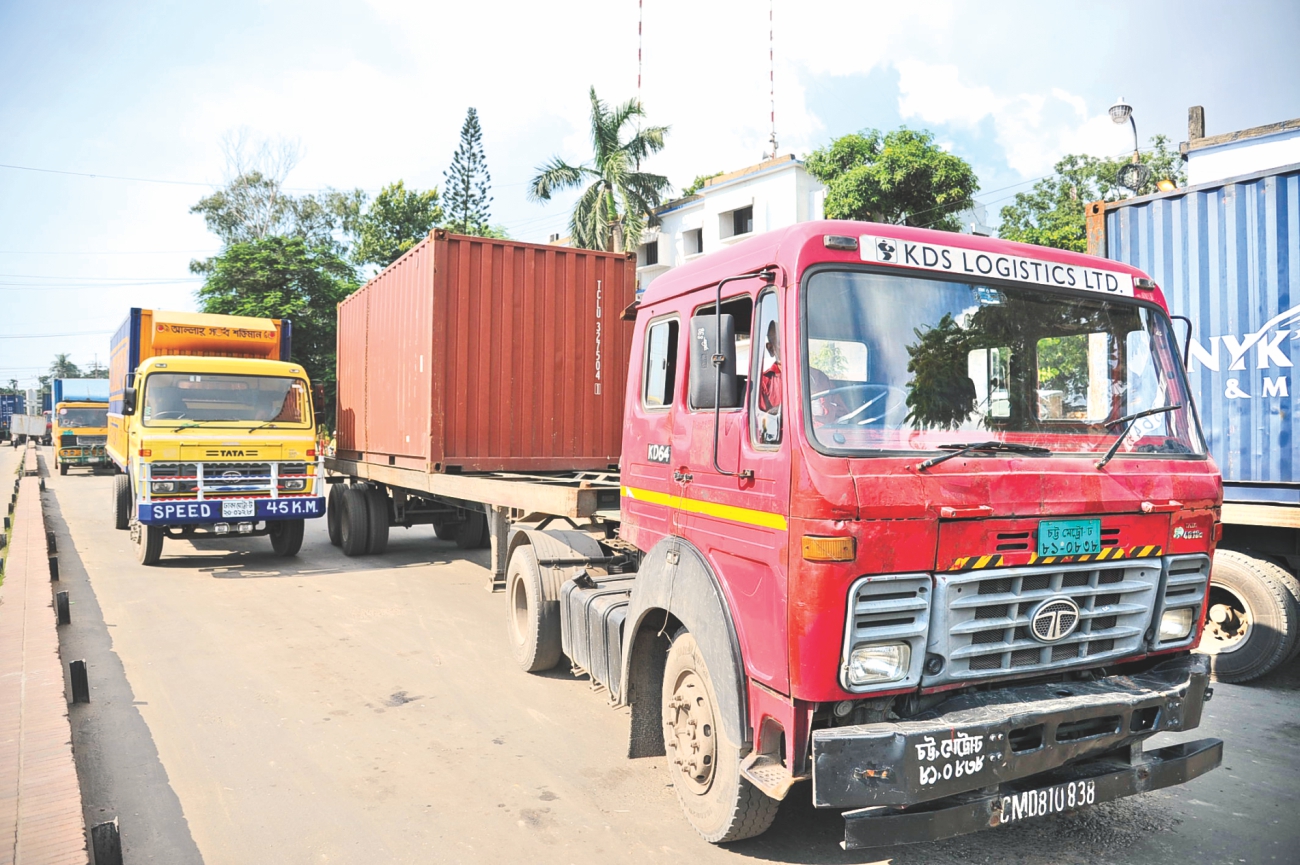 The strike by the owners and workers of prime movers and trailers was postponed yesterday but it has already caused the export and import industries a huge loss.
Although it is too early to figure out the exact amount of the loss, exporters, importers, vessel operators and private inland container depots, among others, have to face it manifold.
Abu Bakar Siddique, member secretary of Prime Mover Trailer Malik Sramik Oikya Parishad, said they postponed the indefinite strike until October 4 following a meeting with Chittagong Metropolitan Police (CMP) Commissioner Iqbal Bahar Chowdhury around 12:30pm.
The parishad had gone on an indefinite strike on September 26, protesting harassment by the staff of the Road Transport and Highways Division on Dhaka-Chittagong highway.
Siddique said the CMP commissioner assured them of allowing a 14-wheel prime mover to carry maximum 42 tonnes of weight on highways till October 4.
An inter-ministerial meeting is scheduled to be held on that day to discuss the issue.
Meanwhile, three more vessels — MV Saigon Bridge, Hansa Castella and MV Smiley Lady — left the Chittagong Port yesterday, without taking in 1,875 TEUs (twenty equivalent units) of export containers, said port sources.
With these, 13 vessels left the port for nearby ports — Port Kelang of Malaysia, and others in Singapore and Sri Lanka — in the last five days without taking in a total of 4,575 TEUs of export containers.
Vessel operators incurred losses amounting to around $9.15 lakh as they lost the freight charge.
The average freight for one such loaded container cost $200 to reach the nearby ports.
Shahed Sarwar, executive director of K Line Bangladesh Limited, said their vessel, MV Saigon Bridge, left the port yesterday morning with only 45 TEUs of loaded export containers while they had a booking for 750 TEUs.
"We lost freight charge worth $114,000. Besides, we had to keep the vessel at the port for an additional day and that cost us another $15,000," he said.
The export sector, mainly the readymade garments factories, are the worst sufferers.
Premier 1888 Limited, a leading terry towel manufacturer at Chittagong Export Processing Zone, missed shipments of 15 TEUs of readymade goods bound for its USA-based buyer.
Murad Ali Chowdhury, senior manager of the manufacturing firm, said they would now try to buy some time for a new shipment.
If their firm failed to convince the buyer, it would have to go for an air shipment, he said, adding that a shipment through air costs the company $25,000. By sea, it is just $3,000.
Delivery of imported loaded containers from the port also remained stopped during the strike, causing disruption in production.
Premier 1888 Manager Ali said their two such containers remained stuck at the port for the last five days.
The production work at his factory was badly disrupted for shortage of raw materials, causing the factory a daily loss of $10,000.
Usually around 1,000 TEUs of loaded import containers are delivered from the port a day. The importers have to pay the port $6 for each container as storage charge.
There was no activity at the inland container depots (ICDs) for last the four days either and the ICDs would have to bear a huge loss, said sources.
SM Nurul Hoque, former director of Federation of Bangladesh Chambers of Commerce and Industry (FBCCI), said the strike tarnished the country's image among the foreign buyers.
He also urged for arranging immediate soft loans for exporters so that they could deliver their shipments by air.