CRSC to take on foreign rivals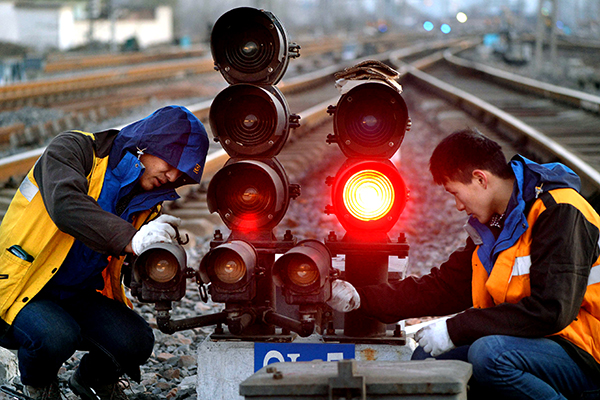 Technicians test new signal systems at a train station in Xinxiang, Henan province. [Photo/Xinhua]
Consortium to bid for Singapore-Malaysia high-speed railway project contract
China Railway Signal and Communication Co, the country's railway control systems provider, has established a consortium with other players to compete with foreign rivals to build the Singapore-Malaysia high-speed railway, said its senior executives on Tuesday.
CRSC Chairman Zhou Zhiliang said the company sent a team to Singapore on Monday to join with other partners, including China Railway Rolling Stock Corp, the country's railway vehicle and equipment exporter, as well as other railway service and infrastructure providers in Singapore.
They will submit the functional introduction of high-speed trains, terminus station construction plans, noise and vibration data, and tender documents for various construction periods to transportation authorities in both countries earlier next year.
The Chinese consortium will challenge Japanese competitors including Hitachi Ltd and Mitsubishi Heavy Industries Ltd, Germany's Siemens AG and Canada's Bombardier Inc during the bidding process.
CRSC has so far participated in more than 10 high-speed and regular railway projects in the global markets, including the Jakarta-Bandung high-speed railway in Indonesia, the Moscow-Kazan high-speed railway, and the China-Thailand railway and Hungary-Serbia railway projects.
"The interest rate hike in the US and the depreciation of the yuan will be helpful for China to supply more railway projects and trains in overseas markets," said Zhou.
"We will raise our international business proportion from less than 10 percent to more than 30 percent during the 13th Five-Year Plan (2016-20).
The company previously served as the major player in technical application and innovation for railway and urban transit train control systems in China, and it has established a complete technical and standard system-the China Train Control System-to manage high-speed train operations.
"It will be tough to compete with Japanese companies in the Singapore-Malaysia high-speed rail project, but we have the advantage in product quality, mature operational experiences, package prices, strong services and financing ability," said Fu Jianguo, CRSC vice-chairman.
Eager to enlarge its overseas sales, CRRC, its partner to produce trains, has already built a manufacturing facility and maintenance centers in Malaysia in 2015, with a service range covering most Southeast Asian nations.
The Singapore-Malaysia bullet train project will cut travel time by land between Kuala Lumpur and Singapore to 90 minutes, compared with more than four hours by car.
The 350-kilometer high-speed railway, first proposed in 2013, is considered a game-changer rail line connecting the two Southeast Asian nations.
With more than 16,000 employees, the company's sales revenue surged 38.2 percent to 23.95 billion yuan ($3.5 billion) in 2015.
"Widening the international sales and construction project network can help Chinese rail equipment, infrastructure and service providers enhance their localization abilities, as well as gain support through local employment," said Zhang Xiaojing, director of the Institute of Economic Research for China and ASEAN at the University of International Business and Economics in Beijing.