Dharavi: Shop for quality leather goods at cheap rates
Written by AARYAMAN SHAH | Mumbai |
Published:August 27, 2017 4:58 am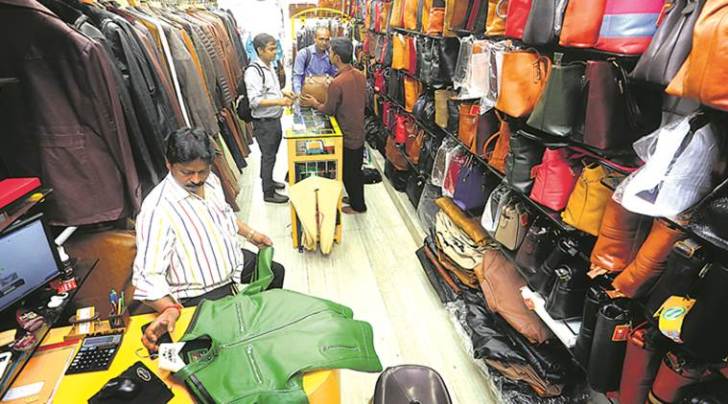 Leather market in Dharavi. (Source: Express Photo/Dilip Kagda)
Few people think of Dharavi as a tourist's paradise, but the leather shops on the 90-feet road and the adjoining Sion-Bandra Link Road are some of the few places in Mumbai that are a paradise for tourists. There are about 250 shops where you can buy leather goods, ranging from wallets and purses to jackets and shoes.
"Many tourists come here because the leather here is cheaper, and most importantly, the leather sold here has a quality which is unmatched when compared to many leather shops in Mumbai and elsewhere in India," says Radhika Shegaonkar, 38, who works at NR World Holidays, a travel agency in Airoli. She adds, "In fact, we give gifts made of leather to our clients, and we come here for the quality and price of the leather, despite shops closer to us which could provide the same. We also recommend to our clients, who are both Indian and non-Indian, to visit the place."
The leather shops are world-renowned and get orders from all around the world. The tourists are from several countries in Europe, Africa and America and they either look for a souvenir or for an essential item they could buy at a lower cost. "Yes, we get a lot of tourists who buy our products, especially because it is customised and because most retailers, including us, manufacture the goods ourselves and can make it as good as a branded product for about quarter the price. In fact, just recently a woman from Singapore ordered a bulk of ladies purses made from sheep leather," says Rabbani Sheikh, 30, from Leather Field, a leather shop.
"Additionally, because a lot of tourists would come here for the Dharavi tours, they would also pop in to our shops and buy goods," says 47-year-old Mehfooz Sheikh from New Choice, another leather shop. "Yes, this my first visit to Mumbai and we had finished the Dharavi tour, and we decided to pop into one of these many leather shops and the prices were mind-bogglingly low! We have bought enough goods for our entire family!" says Jamal Malik from Italy. Unlike many established shops, many of the leather shops here allow bargaining.
"Yes, a lot of clients bargain here, specially locals and Indian tourists who would do it more rigorously. However, with the GST being implemented the scope for bargaining has reduced," says Ajam Ansari, 53 from Shaheena Stores. "Our business is down by almost 80 per cent. The share of tourists in my overall sale had dipped to 10 per cent from what used to be 50 per cent a few years a back.
The tax of 28 per cent is phenomenally high which has reduced business of all people in the surrounding area. In fact, while foreign tourists keep coming as the goods are still cheaper here than in the countries they come from, sales to Indian tourists have dipped," says Rabbani Sheikh. He adds, "I hope this is a temporary phase. It would be a shame for Mumbai to lose such a unique tourist spot."
For all the latest Cities News, download Indian Express App