DIRETTA Formula 1, Gp di Russia, Ferrari in pole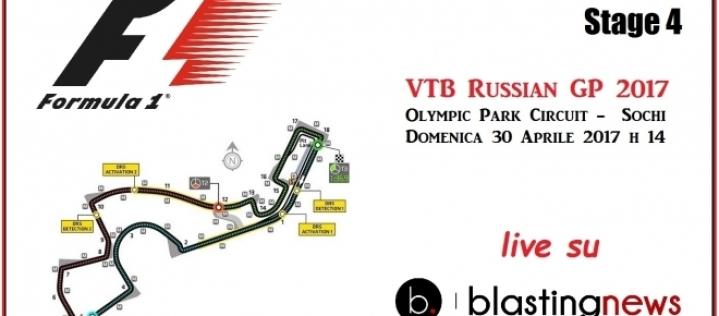 H 10 Intanto arriva una notizia ufficiale in ottica 2018. La Sauber sarà motorizzata Honda dalla prossima stagione.
Ferrari in prima fila
Dopo lo straordinario successo di Sebastian Vettel nel gran premio del Bahrain, il circus della #Formula Uno torna in Europa e lo fa ripartendo dal tracciato russo di Sochi, sede delle Olimpiadi invernali nel 2014. Considerata da sempre una pista pro Mercedes, è stata invece la #Ferrari, ancor di più, a dimostrare che quest'anno è la rossa la vettura da battere..
Giro di pista sul circuito di #Sochi con #PS4#F1#Formula1#RussianGPhttps://t.co/mLKAgecMRz

— Ciccio Mariello (@Ciccio_Mariello) 29 aprile 2017
Vettel in pole
Addirittura Sebastian Vettel è riuscito dove sino ad ora nessuno era riuscito, strappare la pole position alle frecce d'argentoche sin qui avevano dimostrato di avere qualcosa in più al sabato ed invece in questo sabato, sono state completamente estromesse dalla prima fila, considerato che Kimi Raikkonen ha strappato il secondo tempo sul giro..
PROVISIONAL CLASSIFICATION (END OF Q2) One-two Finnish 😀 #Quali#RussianGP 🇷🇺 #F1pic.twitter.com/PDiaVR2fKR

— Formula 1 (@F1) 29 aprile 2017
Domani (#Dirette dalle ore 14 italiane, diretta su SkySportF1) ci sono tutti i presupposti per una super gara, in particolar modo con le monoposto di Maranello tentate di andare in fuga e centrare così il terzo successo dell'anno dopo aver trionfato anche a Melbourne nella gara inaugurale. Davvero un weekend storto invece per Lewis Hamilton, mai completamente a posto con la sua vettura e nuovamente battuto in qualifica dal compagno Valtteri Bottas che si piazza terzo e sarà il più diretto inseguitore delle due rosse.
WATCH: Onboard with Sebastian Vettel as he takes pole at the #RussianGP 🇷🇺

47th pole of his career and his first since 2015 pic.twitter.com/lAGlhzvO5M

— Formula 1 (@F1) 29 aprile 2017
Le qualifiche
Dichiarazioni importanti che ben delineano i sentimenti contrapposti dei piloti dei due team in lotta; Bottas è stato il più veloce in Q2 e ha fatto credere che potesse puntare nuovamente alla pole, ma la Q3 della Ferrari è stata semplicemente stellare: "Mi sento sulla luna" la dichiarazione di un raggiante Vettel. Dal suo canto, il finlandese della Mercedes risponde con un "la domenica è l'unico giorno che conta" un misto tra delusione e speranza. Ma il vero sconfitto del sabato è Lewis Hamilton che non ha cercato scuse: "Non ero abbastanza veloce"e così, per la prima volta da Singapore 2015, Vettel torna in pole ma soprattutto non c'è nessuna Mercedes in prima fila. Per tornare invece alla prima fila in griglia tutta rossa occorre addirittura riavvolgere il nastro fino al 2008, quando al Gran Premio di Francia a Magny Cours, l'allora campione del mondo Kimi Raikkonen centrò la pole affiancato da Felipe Massa, che quell'anno perderà il titolo all'ultima curva dell'ultimo giro dell'ultimo gran premio, quello di casa, ad Interlagos, quando Timo Glock con le slick sotto il diluvio si fece infilare da Hamilton che si laureò così campione del Mondo per la prima volta al suo secondo tentativo.