Divers find remains of all missing sailors in USS McCain crash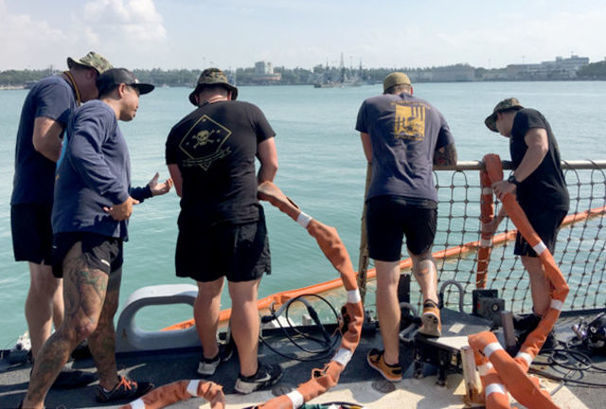 The U.S. Navy said Monday that it had recovered the remains of all 10 sailors missing after a collision involving the USS John S. McCain and an oil tanker near Singapore last week.
The U.S. Navy's Yokosuka, Kanagawa-prefecture based 7th Fleet said in a statement that navy and marine corps divers had recovered the remains. The divers had been searching flooded compartments in the damaged vessel after it arrived at a Singapore naval base in the city-state.
The crash of the McCain and the deaths of 10 sailors had shook the U.S. Navy to its core. It came less than three months after the USS Fitzgerald's June 17 collision with a Philippine-flagged freighter in the middle of the night off the Izu Peninsula south of Tokyo. Seven U.S. sailors were killed in that accident.
The U.S. Navy on Wednesday relieved the commander of the 7th Fleet after the two fatal collisions and two other incidents involving the fleet's vessels.
Vice Adm. Joseph Aucoin, the three-star commander of the fleet, was removed "due to a loss of confidence in his ability to command," the navy said. He was replaced with Rear Adm. Phil Sawyer, who arrived in Yokosuka on Friday.
The McCain, an Aegis-equipped destroyer, and the Alnic MC tanker collided on Aug. 21 as the warship approached Singapore for a routine port call. The collision ripped a gaping hole near its waterline, flooding compartments that included a crew sleeping area.
U.S. Chief of Naval Operations Adm. John Richardson suggested the spate of incidents involving the Pacific Fleet — including the Fitzgerald collision, which he called "very similar" to the McCain accident — had prompted him to also announce a comprehensive review that would examine the training of U.S. forces deployed to Japan.
The U.S. Navy has yet to release an explanation for the cause of the collision that involved the approximately 8,900-ton McCain and the Alnic, a 30,000-ton Liberian-flagged tanker used for transporting oil and chemicals.