Duterte says he 'invented ' account number to 'catch' Trillanes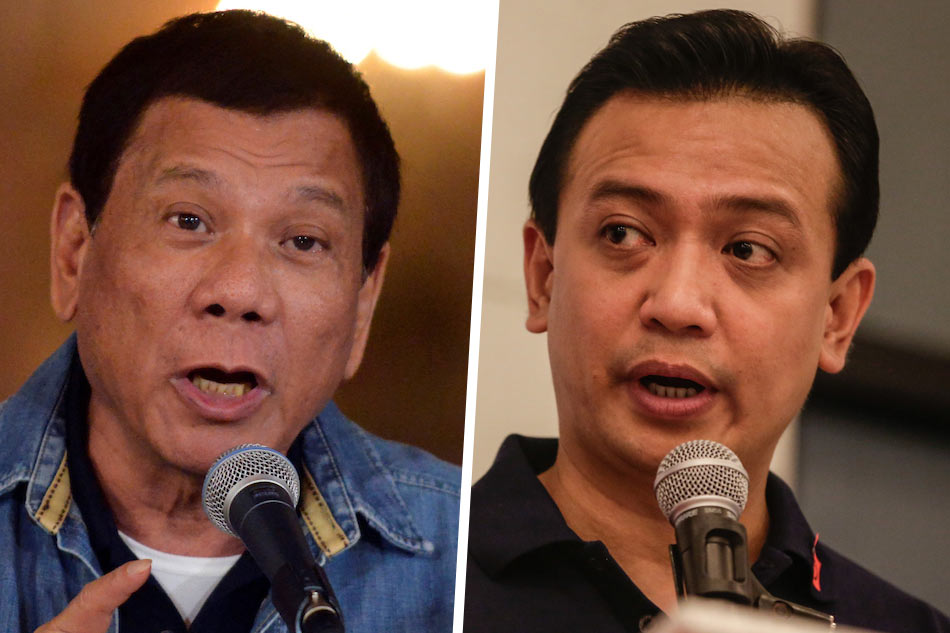 MANILA (UPDATE) – President Rodrigo Duterte on Tuesday said he intentionally gave the wrong number of Sen. Antonio Trillanes IV's alleged bank account in Singapore hours after the lawmaker proved he had no such account. 
In a television interview, Duterte said he modified the number of Trillanes' supposed bank account at the Bank of Singapore to "catch" the senator for lying. 
He had exposed his fierce critic's alleged overseas bank account to show he had undeclared wealth. 
Duterte had said in an interview last week that Trillanes' account at the DBS Bank was under the number 178000296012. On Tuesday, the President said he gave an incorrect one on purpose.
"Binawasan ko ng number, imbento lang," Duterte said.
"Diyos ko Trillanes, when you lie, you put another lie to cover this lie… patong patong na iyan."
Duterte then said Trillanes' alleged real account number is "11780-00281-60-2."
Sought for comment, Trillanes said he was glad the President admitted that he lied. 
"Buti naman umamin siya na sinungaling siya. To begin with, nanalo siya base sa propaganda at kasinungalingan. Sana naman maliwanagan na ang mga kababayan natin na naloko at patuloy na niloloko sila ni Duterte," he said. 
The President had on Friday alleged that Trillanes kept "193,000" of an undisclosed currency in a DBS bank account in Singapore. 
He made the allegations as a retort to Trillanes' claims that his eldest son, Davao City Vice Mayor Paolo Duterte, and son-in-law Manases Carpio, husband of his daughter Davao City Mayor Sara Duterte, were involved in illegal drugs and corruption at the Bureau of Customs. 
In a bid to debunk Duterte's claim, Trillanes visited the DBS Bank Alexandra Road branch on Tuesday to prove that the account being linked to him was non-existent.
A DBS teller said there was no such account at their bank. 
Trillanes tried but failed to get a certification from DBS because he was not a client. 
The opposition lawmaker then went to the Raffles City Tower to check business listings for the "Hongkong Shanghai Bank," where he allegedly concealed an account with a balance of some SGD 278,000, per documents being circulated on social media. 
He found no listing for the supposed bank. 
Trillanes last week signed a waiver for 12 bank accounts being linked to him and dared Duterte to do the same. 
The senator claimed Duterte only accused him of amassing hidden wealth to divert public attention following his allegations against the President's son and son-in law. 
Paolo Duterte and Carpio have repeatedly denied the allegations and even faced a Senate inquiry. The President have defended them from Trillanes' allegations, calling his evidence against them "trash." 
During last year's campaign, Trillanes claimed that the President, then mayor of Davao, failed to declare P211 million in 17 accounts.
— With a report from Sherrie Ann Torres, ABS-CBN News