Expressing friendship through art
The 50 years of diplomatic relations between Indonesia and Singapore has culminated in a celebration in the form of a month-long art exhibition at the World Trade Centre 2 Building in Central Jakarta.
Combining prominent and emerging artists the exhibition titled "Rising 50: The Contemporary Art of Singapore and Indonesia" sees Singapore's Chua Ek Kay, Kumari Nahappan and Robert Zhao team up alongside Putu Sutawijaya, Kinez Riza, Irfan Hendrian, Naufal Abshar and Kendra Ahimsa.
Together they illustrate the importance of artistic exchanges between nations, showcasing their own styles and stories using a diverse range of mediums to create the seventeen works on display.
Besides traditional oil on canvas, they also play with materials and styles such as pop art, digital illustration and shredded paper collages.
Read also: Cross-cultural aesthetic dialogue
"We have selected great artists with their own identities and stories… [their work] is instantly recognizable" curator Deborah Iskandar said.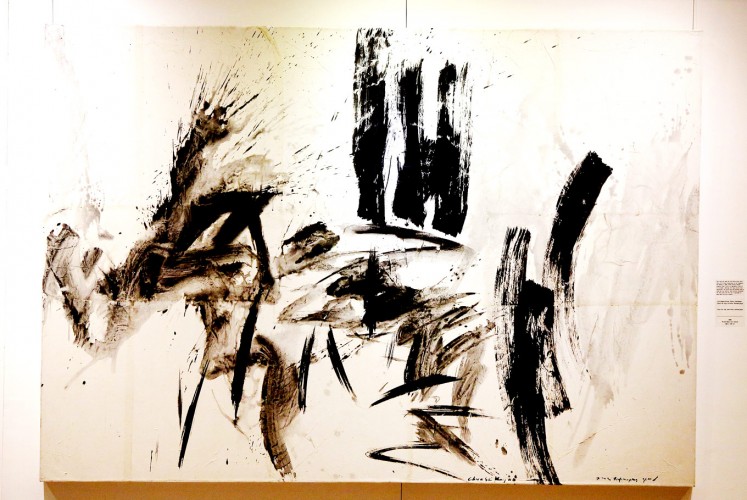 Collaboration piece between Chua Ek Kay and Putu Sutawijaya ( 2006 ) by Chua Ek Kay and Putu Sutawijaya. (JP/Seto Wardhana)
This is certainly true of the centerpiece selected for the exhibition, Collaboration piece between Chua Ek Kay and Putu Sutawijaya ( 2006 ).
Chua was a pillar of Singapore's abstract expressionist movement and is often called the great 'bridge between Eastern and Western art' for his utilization of traditional ink painting techniques in Western abstract styles. He died in 2008 of cancer, making the artwork his final collaborative piece.
Singaporean artists Nahappan and Zhao used Indonesia as a source of inspiration for their works. Meanwhile, three Indonesian artists, Naufal Abshar, Kendra Ahimsa, and Irfan Hendrian, already had an early connection with the neighboring country as they all studied at LASALLE College of the Arts in Singapore.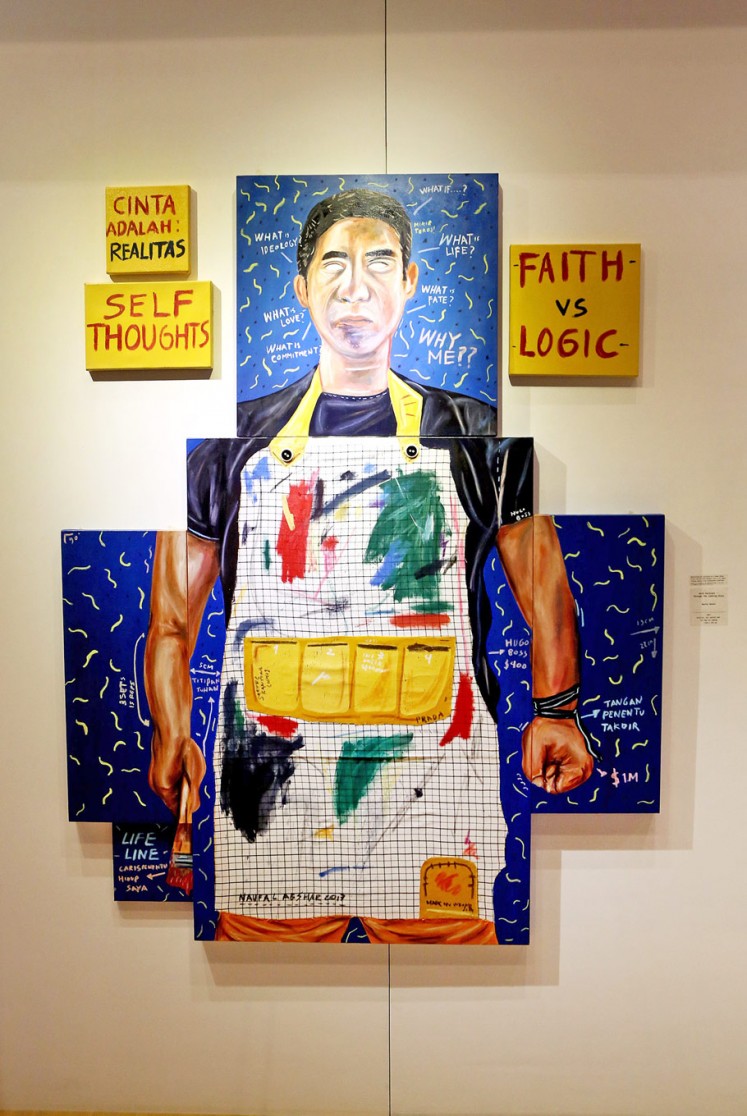 Through The Looking Glass (self portrait) ( 2017 ) by Naufal Abshar (JP/Seto Wardhana)
Naufal is an award winning artist that draws on his own life experiences to make commentaries on the places and things he is exposed to, in this case it was Singapore.
In Merlion, he looks back on his youth spent in Singapore and paints a satirical, but lighthearted, commentary on the very essence of 'Singaporeaness' using their iconic Lion. Visitors can't help but share a smile with the laughing Lion as his close-eyed super-wide grin exposes a whimsical side of the usually stoic and dead-eyed figure.
Naufal's iconic 'HAHAH' letters also appear on both his Merlion and Golden Age artworks.
Read also: Three local artists to look out for at the Indonesia-Singapore 'Rising 50' exhibition
"Golden Age is a message of love and partnership. Showing that there's no such thing as coincidence […] its fate and destiny that this connection exists.' he told The Jakarta Post, adding that the artwork fits perfectly with the theme of 50 years of friendship.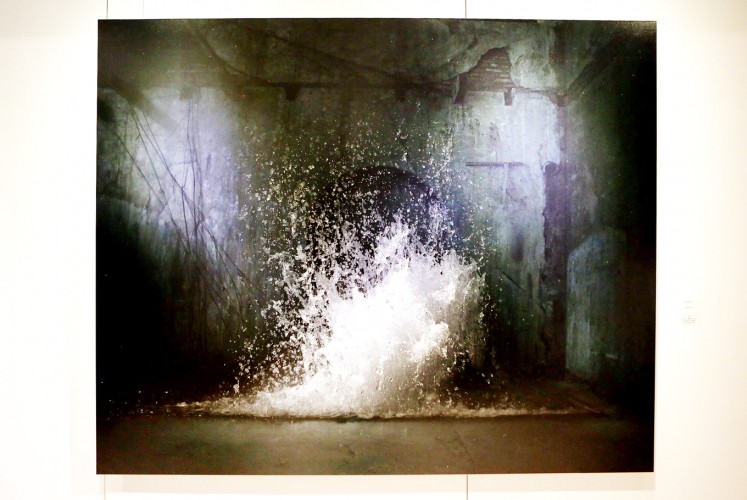 Prelude II ( 2015 ) by Kinez Riza (JP/Seto Wardhana)
The Singapore Tourism Board and PT Jakarta Land partnered together to express the friendship between the two countries, which President Jokowi described as "neighbors by God's will… [but] good neighbors and close friends by choice," during his latest state visit to Singapore.
Looking beyond economics and politics, the ISA Art Advisory curated the exhibition to highlight the more intimate people-to-people interactions between the two countries that are often overlooked.
"These crucial people-to-people connections between Indonesia and Singapore have never stopped, even during political ups and downs […] this exhibit is a great example of this," Singaporean
Ambassador Anil Kumar said.
The exhibition's opening was also attended by socialites and CEOs as well as foreign dignitaries.
From the Ambassador to Georgia to the headmistress of a local school, many were curious to see how Indonesia and Singapore's history would translate into art.
___________________________________________
Rising 50: The Contemporary Art of Singapore and Indonesia Exhibition
Sept.12 — Oct.12
World Trade Centre (WTC) 2 Building
Jl Jend Sudirman Kav 29-31 Central Jakarta
***
The writer is an intern at The Jakarta Post