Fintech talk: Improving banks' competitiveness with fintech
Over the past two decades, Indonesia's financial industry has experienced a shift triggered by the emergence of a new format of services through a merger between financial services and technology (fintech), which has been able to introduce a wide range of solutions to make consumers' lives easier.
Changes in lifestyle and the introduction of affordable technology are key factors behind the rapid development of fintech in Indonesia. Fintech has opened up opportunities for banks to offer a range of financial solutions that are designed to be more innovative, agile and mobile to meet customers' needs.
The development of fintech companies in the Indonesian market has been unstoppable. The Indonesian FinTech Association recorded that the industry had grown by 6 percent in the 2011-2012 period and 9 percent in the 2013-2014 period, before seeing a staggering 78 percent growth in the 2015-2016 period. The figure is predicted to grow continuously in line with untapped market potential in Indonesia.
(Read also: Fintech talk: The emergence of fintech: disruptive or collaborative?)
Answering the challenges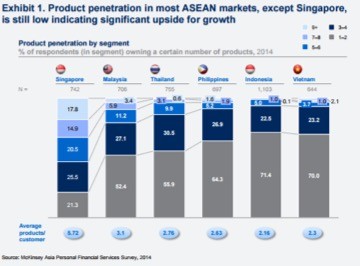 Product penetration by segment in ASEAN markets(JP/File)
Data from McKinsey and Company indicates that every year more than 5 million Indonesian people enter the growing middle-class segment, whose annual income starts at US$3,600. The overall figure is expected to reach 135 million people by 2030. However, according to a World Bank estimate, almost 80 percent of the Indonesian population does not have access to banking services. This situation applies to not only people in rural areas but also those in urban areas.
The Exhibit 1 shows that the average penetration rate of financial products in Indonesia, which stood at 2.16 products per customer, is much lower than that of our neighboring countries, Malaysia, Singapore and Thailand.
In general, the significant costs for acquisitions and customer services have become similar challenges faced by banks to stoke growth. Lenders, for instance, must have many branch offices to reach out to various market segments spread out across different geographical areas.
Fintech, meanwhile, can be a solution for such a challenge, while helping banks to create added values and increase competitiveness through solid customer value propositions, responsive services and higher levels of customer engagement.
New partners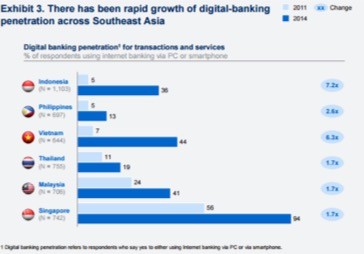 Digital banking penetration across Southeast Asia.(JP/File)
Currently, banks are in the midst of a digital transformation, continually looking for ways to accelerate their access to the market and deliver new services. Market research conducted by McKinsey and Company stated that regional banking institutions that managed to improve their market share have previously invested in digital technology.
The same research also suggested that the proportion of access to digital banking services in Indonesia had grown seven-fold from 4 percent in 2011 to 33 percent in 2014. The growth of smartphone users is predicted to be a major factor that will encourage the rapid use of mobile banking services in Indonesia.
Therefore, banks should see the emergence of fintech start-ups as an opportunity that can help them stoke growth. Some examples of fintech services that will benefit the banking industry are data analytics, which helps analyze customers' habits and needs to create products and services that fit their profile; customized online services, which allow banks to provide online services that fit clients' needs; and cost saving services, which helps banks to improve the efficiency and accuracy of their marketing activities.
As of today, FinTech services that have generally been integrated in banking activities are peer-to-peer lending and payment, block chain for trade finance and online acquisition and servicing.
(Read also: Fintech Talk: Peer-to-peer lending: A new form of financial inclusion)
Capacity building
It is required for banks, fintech start-ups and other financial service providers to jointly improve their capacity and cooperation. They need to strengthen collaboration to guarantee the security of transactions and ease doubts among customers.
International banking networks with long-term visions are constantly looking for ways to accelerate the growth of fintech start-ups.
One successful program is FinLab's Acceleration Program. FinLab will become the center of knowledge and mentoring for selected fintech start-ups to help them enhance business models, improve the quality of the products and solution services, expand access to business networks, investors, experts, relevant activities and, of course, technology.
Meanwhile, regulators will also need to nurture fintech innovations that have been growing rapidly. The introduction of sound fintech regulations is not meant only to protect customers but also encourage fintech players to grow in the right direction as support for the banking industry.

You might also like :