First hurdle the hardest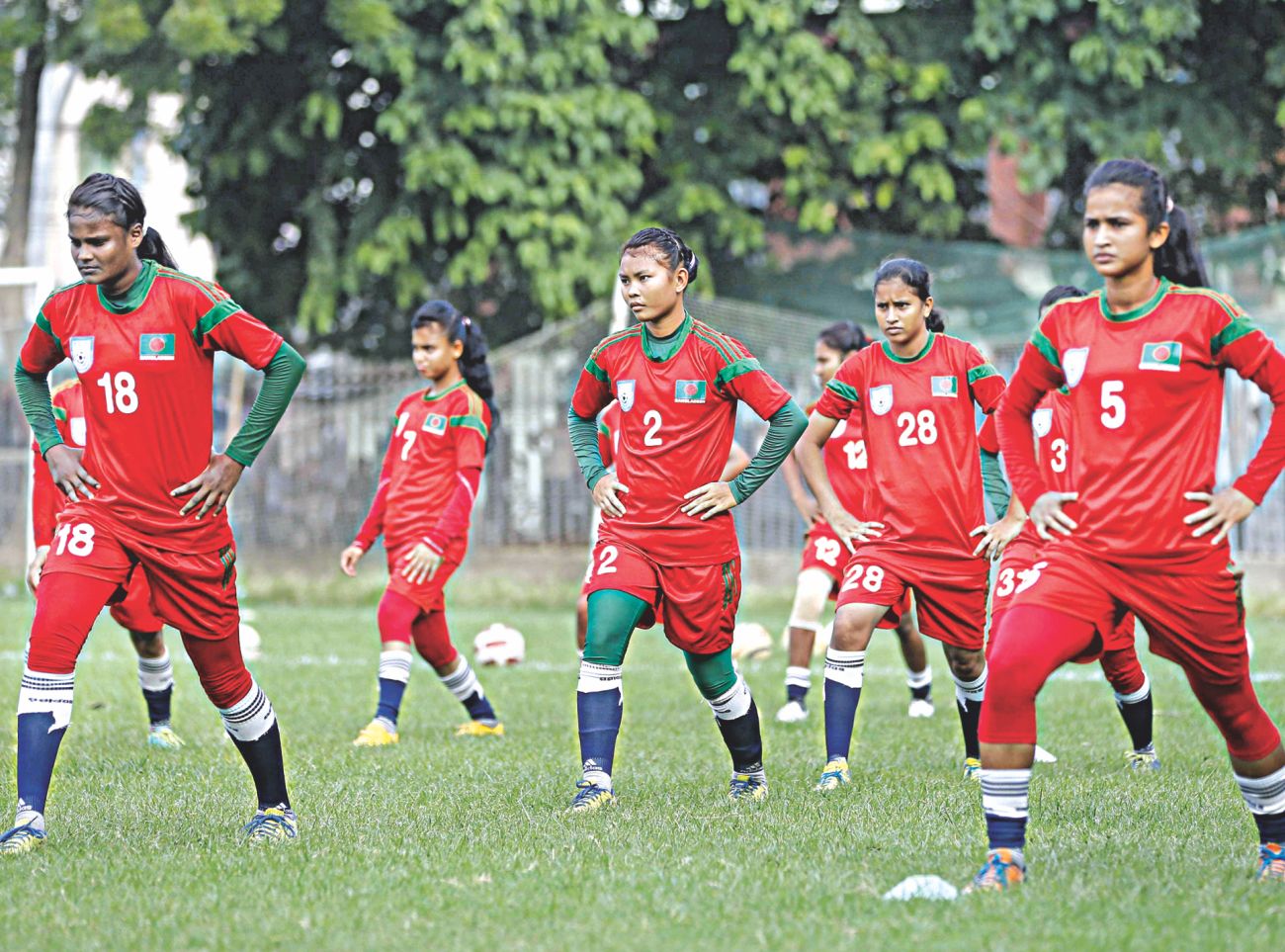 Drawing inspiration from the success of the under-14 girls team in the AFC Girls' Regional Championship, the Bangladesh under-16 women's team will hope to fulfil their dream in the AFC U-16 Women's Championship Qualifiers, providing that they can overcome the toughest hurdle on the first day.
Bangladesh will take on the favourites to top the group, Iran, at the Bangabandhu National Stadium at 6:00pm after the Chinese Taipei vs Kyrgyzstan (11:00am) and United Arab Emirates vs Singapore (3:00pm) matches are held at the same venue on the opening day,.
In the last edition of U-16 Women's Qualifiers held in Dhaka in 2014, Bangladesh — comprising of mostly the U-14 girls — finished third behind group champions Iran and India but ahead of Jordan and UAE.
Interestingly Bangladesh lost to Iran and India by an identical 2-1 margin despite initially taking the lead, while they stunned Jordan 1-0 before posting a massive 6-0 win over UAE.
Two years later, the mighty Iran are again predicted to be a thorn in Bangladesh's side. The hosts will have to make sure not to give their superior opponents any space. The Bangladesh girls have gained a lot of strength over the past two years and with fresh blood injected into the side, they now boast better skills. Some of these girls have already proven their worth in the U-14 Regional Championship by lifting back to back titles.
The Bangladesh U-16 team is comprised of 12 players from the U-14 team that won the AFC Regional championship and have 11 other players who have represented Bangladesh at international level in the past. Most importantly, much of this group of girls have been together for the past two years.
"Iran are a very strong team and they are one of the best teams in the tournament. But we are also ready. It will be a tough match but we will definitely play for victory," said Bangladesh coach Golam Rabbani Choton at the official press conference yesterday.
Meanwhile, Iran coach Shadi Mahini praised Bangladesh for their performance in the last edition and labelled the home side as 'good, energetic and a cool team that are doing really well'.
"We can't tell who will win tomorrow [Saturday]. All of the participating teams came here to win and Iran are not unlike them. We like to win and we want to become champions," said a confident Mahini.
Like Iran and Bangladesh, Chinese Taipei also dream of qualifying for the eight-team final as they have come here with six-months of preparation alongside playing six practice matches in Japan.
"Our target is to qualify for the finals by winning this group and to achieve our target, we have taken a long preparation and played some good practice matches against teams in Japan," said Chinese Taipei Assistant coach Kao Tsai Hu.
However, the rest of teams — Kyrgyzstan, United Arab Emirates and Singapore — have no big dreams. Instead they have come here to learn from the international matches and they are also keen to show their improvement.