Fourth SEA Games gold is 'most special' for Kiefer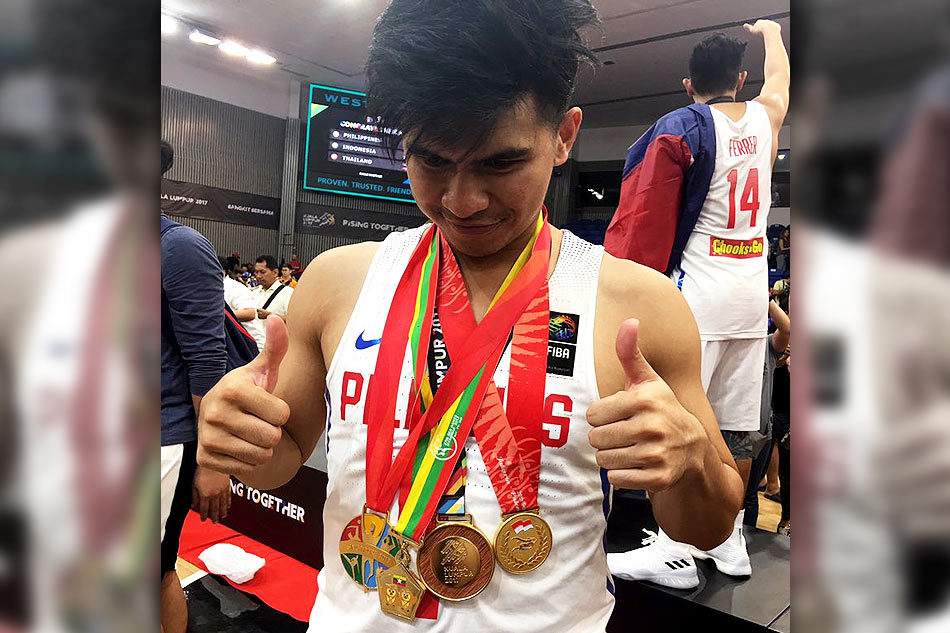 KUALA LUMPUR — Kiefer Ravena was not about to let anyone forget exactly what he achieved on Saturday evening by helping Gilas Pilipinas crush Indonesia, 94-55, in the gold medal game of the 29th Southeast Asian Games at the MABA Stadium here.
After receiving his gold medal and singing the national anthem, Ravena slowly and methodically pulled out three more gold medals that he had carefully tucked into his jersey, and one by one, hung them around his neck.
2011, 2013, 2015, 2017. 🥇 pic.twitter.com/HSdkjqMPNo

— Camille B. Naredo (@camillenaredo) August 26, 2017
Ravena on Saturday set a new record for most basketball gold medals in the SEA Games, breaking a record that he shared with Rommel Adducul. Now 23, Ravena first represented the Philippines in the biennial tournament when he was only 18 years old.
"It gets more special and special and special," said Ravena, who only had seven points in the game but still managed to get a highlight-reel worthy step-back three-pointer towards the end of the contest.
"Fourth SEA Games, fourth gold medal, and it just gets better and better and better," he added. "There are no words, especially if you win together as a team, and play for the national team."
"Every time I play for the national team, it gets better and better and better, so I guess this is the most special one for me."
Other than it being a historic gold medal, there are other reasons that Ravena will treasure his mint from the Kuala Lumpur SEA Games.
For one, it had been a genuinely difficult campaign for the Filipinos.
"Parang lahat ng panalo namin ngayon, medyo pinaghirapan talaga," said Ravena, referring to their close calls against Thailand in the group round and against Singapore in the semis, as well as an eventful victory over Malaysia that saw two of his teammates – including his best friend, Baser Amer – get thrown out of the game.
What Ravena will most remember about his fourth SEA Games, however, is that he won the gold together with a group of players whom he considers his brothers in basketball.
Aside from Amer, Ravena also teamed up with Von Pessumal – his teammate from high school to college – Kevin Ferrer, Mike Tolomia, Troy Rosario, and Ray Parks. Most of his teammates were part of the same recruiting class and had several memorable battles back when they were in the UAAP.
"All the battles that we had since high school and college… it comes full circle," said Ravena. "We played all together for one goal, which is the gold medal."
For more sports coverage, visit the ABS-CBN Sports website.