Fuming over perceived U.S. slight, Duterte says he will set aside South China Sea ruling against Beijing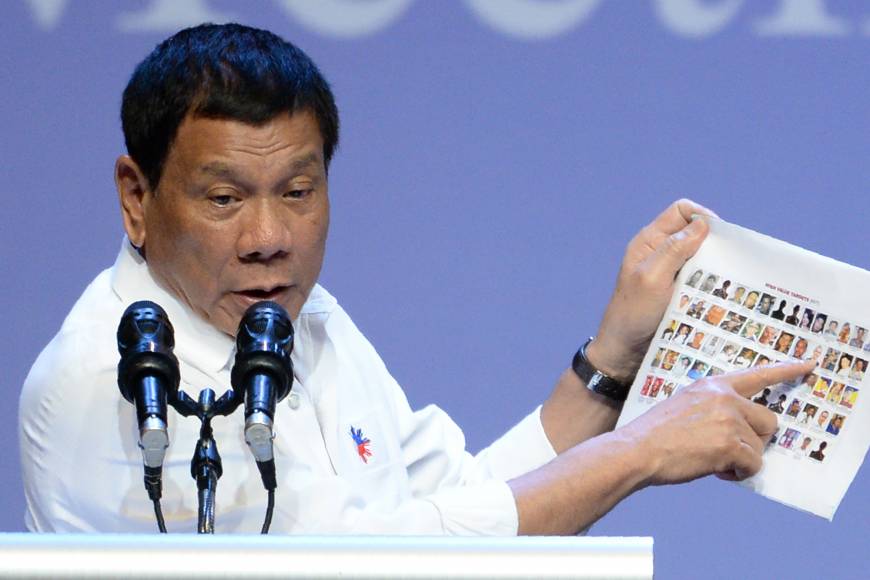 MANILA – The Philippine president said Saturday he would "set aside" a ruling by an international arbitration tribunal that invalidated Beijing's claims to most of the busy South China Sea, because he doesn't want to impose on China.
President Rodrigo Duterte made the remarks when asked in a news conference if a U.S. think tank report that China apparently installed anti-aircraft and anti-missile weapons on its new artificial islands in the disputed waters would affect his perception of Beijing. The Philippines claims the reefs that were turned by China into man-made islands.
Duterte, who took office in June, has taken steps to mend relations with China that grew hostile during the time of his predecessor, Benigno Aquino III, over the long-unresolved territorial disputes. The Aquino administration took the disputes to international arbitration in a move backed by Washington after China seized a disputed shoal in 2012.
"In the play of politics, now, I will set aside the arbitral ruling. I will not impose anything on China," Duterte said.
He explained his position partly by repeating his threat to remove American forces out of the Philippines after the Obama administration criticized his government's bloody crackdown on illegal drugs.
"I will demand that they go out of my country. What's the use of keeping, hosting them when they think we are a bunch of criminals?" Duterte asked. "Go, go out. If you do not believe in us, why deal with us? Son of (bitches)."
Foreign Secretary Perfecto Yasay Jr. said Friday the Philippines won't take any steps against China in response to the report by the Center for Strategic and International Studies late Wednesday that China appears to have installed weapons to guard against missile attack on its seven newly created islands.
Asked if his department plans to issue any statement or ask China to clarify, Yasay said, "We want to make sure that there will be no further actions that will heighten the tensions between the two countries, particularly in the Scarborough Shoal."
He was referring to a disputed fishing area off the Philippines' northwestern coast where tensions recently eased when Chinese coast guard ships allowed Filipinos to fish after blocking them from the area since 2012. China's change of tact came after Duterte met his Chinese counterpart Xi Jinping in Beijing in October.
Yasay told reporters in Singapore, where he and other officials accompanied Duterte on a visit, "there is nothing that we can do about that now, whether or not it is being done for purposes of further militarizing these facilities that they have put up."
"We cannot stop China at this point in time and say 'Do not put that up.' We will continue to pursue peaceful means at which all of these can be prevented," he said.
His remarks differed from Defense Secretary Delfin Lorenzana, who expressed concerns over the CSIS report and said the government was attempting to verify it.
"If true, it is a big concern for us and the international community who uses the South China Sea lanes for trade," Lorenzana said Thursday. "It would mean that the Chinese are militarizing the area, which is not good."
Earlier Saturday, Duterte threatened to terminate a pact that allows U.S. troops to visit, saying, "Bye-bye, America" as he reacted with rage to what he thought was a U.S. decision to scrap a major aid package over human rights concerns.
A U.S. government aid agency, the Millennium Challenge Corp., said Thursday that its board had deferred a vote on a renewal of the development assistance package for the Philippines "subject to a further review of concerns around rule of law and civil liberties."
The U.S. agency has not yet voted to either scrap or approve the aid package, but Duterte unleashed a barrage of expletives-laden tirade upon his arrival in his southern hometown in Davao after back-to-back visits to Cambodia and Singapore.
"I understand that we have been stricken out of the Millennium Challenge. Well, good, I welcome it," Duterte said with apparent sarcasm.
"We can survive without American money," he said. "But you know, America, you might also be put to notice. Prepare to leave the Philippines, prepare for the eventual repeal or the abrogation of the Visiting Forces Agreement," he said, referring to a 1998 accord that governs American forces visiting the Philippines for joint combat exercises.
"You know, tit for tat. … If you can do this, so (can) we. It ain't a one-way traffic," Duterte said, adding, "Bye-bye, America."
The 71-year-old Duterte, who describes himself as a left-wing politician, has made similar threats before and after taking office in June, but he and his officials have walked back on many of his public statements, causing confusion.
While calling Americans "sons of bitches" and "hypocrites," Duterte praised China as having "the kindest soul of all" for offering what he said was a huge financial assistance. "So, what do I need America for?" he asked. He also said Russia can be a very important ally, adding, "They do not insult people, they do not interfere."