Georgian Wine Festival 2017 in Asia

By Mariam Chanishvili


Friday, August 25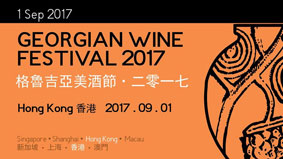 The Georgian wine trend is sweeping Asia with its trendy amber wines, traditional and natural 'kvevri'-made (clay barrel) varieties, and semi-sweet reds.
Georgian Wine Festival 2017 will be held in Singapore, Shanghai and Hong Kong this year.
"Wines of Georgia Asia" in collaboration with Georgia National Wine Agency and Meiburg Wine Media are organizing the festival in order to promote wines and culture of Georgia to Asian wine lovers.
The festival features exclusive sessions for wine industry professionals, wine lovers and the media. People will be offered a chance to meet the winemakers, enjoy a Georgian-style party atmosphere and receive a crystal glass gift set, all led by Debra Meiburg, Asia's first Master of Wine.
Debra Meiburg is an award-winning multi-media wine journalist, wine educator, wine judge and a first recipient of the Master of Wine title in Asia. She noted that Georgia offers a wide variety of Georgian wine to Chinese consumers and the Chinese consumers will be able to select the desired wine from these varieties.
Speaking about Georgian wine Meiburg highlights that "having almost exclusively exported to Russia for the majority of the last two centuries, it has, until recently been a 'secret' from the rest of the world."
Seminars and master classes will be held during the festival. Every guest attending Master class will receive a gift pack.
Georgian Wine Festival 2016 has been a blast of last year. Over 50 Georgian wines and 10 Georgian winemakers attended the trade and public tastings in Hong Kong, Macau and Shanghai.
In spring this year, 27 Georgian wine companies have participated in the 96th China Food & Drinks Fair held in the city of Sichuan province, Chengdu, China. Georgian wines were greatly appreciated at the fair. Representatives of Georgian wine companies met existing partners as well as potential importers. During the fair, new deals were made.
Georgian wine is becoming increasingly popular for Chinese wine market in recent years. With growing exports each year since 2008, China proves to be a strategic export market of Georgian wine. According to the data of 6 months in the beginning of 2017, 3.84 million bottles have been exported to China so far.