Gold smugglers switch routes, Europe on radar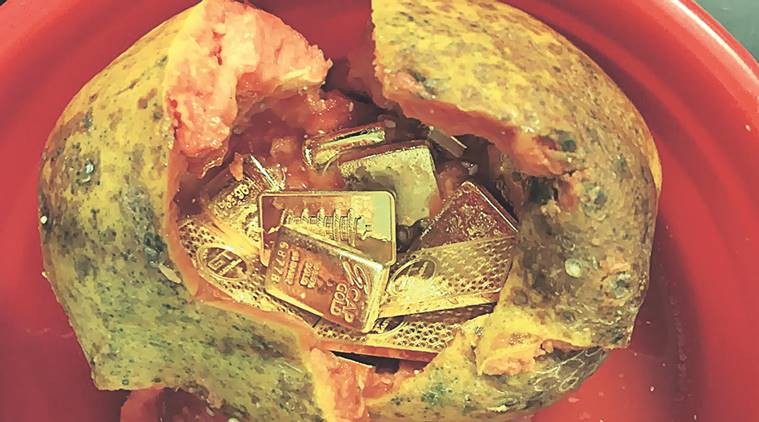 gold biscuits being smuggled inside a fruit (file photo)
Paris, Milan, London, Birmingham and Istanbul are among the new locations on the radar of customs officials at the Indira Gandhi International Airport, after a number of gold smuggling cases originating from these cities came to light this year. Officials said this is a deviation from the earlier route, which originated from Gulf cities such as Dubai and Abu Dhabi and Asian cities such as Bangkok and Singapore.
A senior officer in the customs department told The Sunday Express that in the last three months, they have observed that gold smugglers have "shifted to European cities to evade arrest".
Officials said gold used to be smuggled from Dubai and Singapore due to the difference in rates. "This year, we have seized 214.137 kg of gold worth Rs 59.27 crore, as compared to 180.36 kg gold in 2016," an official said.
Between January and October this year, around 110 kg of gold, worth Rs 37 crore, was seized from smugglers at the airport. In 2016, 110 cases were lodged and 188 kg gold — valued at Rs 48 crore — was seized.
Last month, two senior citizens from Frankfurt were arrested for allegedly trying to smuggle 995 grams of gold worth Rs 25.54 lakh into the country. Customs officials made the arrests based on inputs from its Air Intelligence wing.
On November 2, a man who flew into the capital from London was arrested for allegedly smuggling over 1 kg gold — worth around Rs 30 lakh — concealed in his rectum.
In another case, a 49-year-old French national was intercepted at IGI Airport on December 6 and the customs department recovered 191 gold medallions and a gold bar worth Rs 72 lakh from his possession. Customs officials were alerted to the switch in routes during investigation into a smuggling case registered recently. "We found that smugglers have started using the European route in the last three months," an official said.
"Earlier, all officials at IGIA were asked to monitor passengers coming from Gulf countries and check any attempts at gold smuggling. Now, they have been asked to broaden the scope," an official said."The average profit made per kg of smuggled gold is Rs 2.5 lakh-Rs 3 lakh. There is a variation of rate by 10-16% between these countries and India," the official added.
For all the latest Delhi News, download Indian Express App