Grief and God: Courageous Caitie's parents share story of coping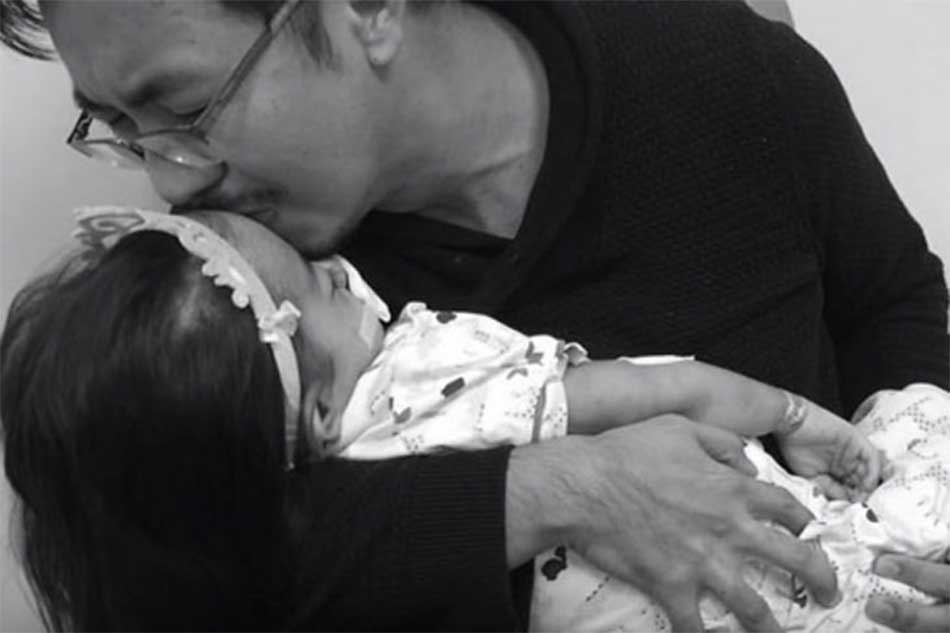 MANILA – Caitlin Lucas was just a toddler when she was diagnosed with a rare form of cancer that affects roughly three people in every one million.
Her parents, Christine and Jayjay, brought her to Singapore after dozens of doctors in the Philippines failed to find what was ailing her.
They shared their plight on social media, and their family's strength and faith touched the lives of many, and the little child became known to many netizens as "Courageous Caitie."
In an interview with ANC's Headstart on Wednesday, Jayjay recalled that he felt angry when they learned of Caitie's disease.
Christine recalled instructing her daughter's doctors to do whatever was necessary for her daughter not to deteriorate further, while whispering a silent prayer to God.
"I don't believe, Lord, that she should be taken away; but if it's your will, I have to surrender because that would be the best for the family and for her," she said in the interview.
While the pair was prepared to shell out whatever money was needed for Caitie's medical treatment, they also wanted to stay by her side. Fortunately, help came knocking through.
"Friends and family really chipped in. God has been good and we were able to survive P13-million, P15-million, and we're debt-free. It didn't happen in one big blow, but every day was being dependent on the Lord," said Christine.
Jayjay said they prayed for a miracle until the last moment in Caitie's battle with cancer, but his daughter passed away on March 31 last year before she was able to undergo a transplant.
Christine recalled that Caitie "wasn't scared of death," and one of the reasons was that she understood who Jesus was.
"We told her that there would be a time when you will not see me anymore, but you might hear me. But if you cannot see me anymore and you cannot hear me, I need you to call Jesus' name. If you cannot see him shout his name and I'm sure he will be there," she said.
After Caitie died, when it would have been natural for them to be angry at God for getting their beloved as anyone would, Christine clung to the belief that there would be time they would be united as a family in a "perfect world."
"You have to accept that we live in a broken world, that you can't expect a perfect life here because it's a broken world so the only thing we can look forward to was that we're going to be together someday in a perfect city, in a perfect world, which is Heaven," she shared.
Until now, they said, there are times when grief visits them, but they found way to make it their "good friend" instead of being overwhelmed by it.
"We embrace it every day so we know the grief really visits us at the moments we don't expect it to, but we can't do anything about it," said Jayjay.
"What helps us is everyday, when it comes, we embrace it, process it again, and then breathe," he added.
Jayjay said he coped with grief all through God's power.
"It's grace every day, because we feel it everyday. Every waking day, it's there; it's forever there, but the difference is we rely not on our strength, but on His strength and everyday, we just remind ourselves about it," he said.
Christine added that they handled the pain by realizing that it's about "less of ourselves, less of what we want, less of what we want for the other person, and just focusing on Jesus."
Instead of being consumed by anger when they marked one year since Caitie's death, Christine said she opted to write thank you notes to people who had been instrumental in their journey.
Although they would never forget the pain, the two received a cause for joy earlier this year when their new baby, Talitha Calea, was born.
Jayjay said Calea came as a surprise, whom they believe is a "restoration."
"We know that she's really not direct replacement, but she's her own different person also. So it's a joy to discover again—having a baby, teaching her, being a parent again," he said.
Christine said Calea's birth signaled a new beginning for her, too.
"When I gave birth to her, it was just refreshing to have another baby around, a new life. I guess family just gives new meaning to living. It was pretty exciting to be a mom," she said.