Hamilton sees some tough battles ahead
By:
Reuters
|

Published:August 29, 2017 12:18 am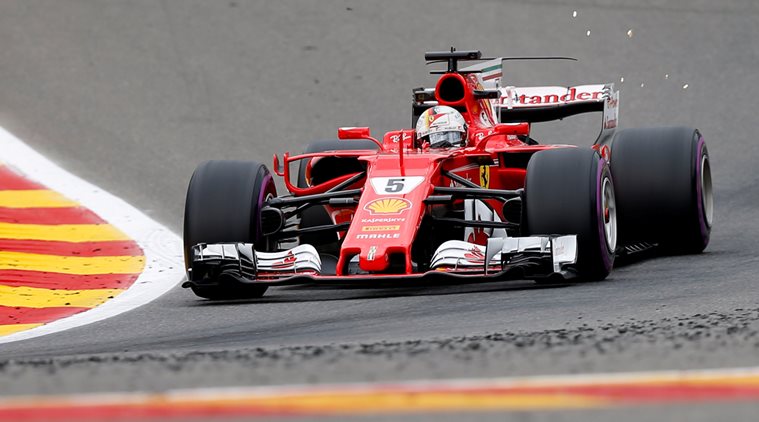 Sebastian Vettel is 14 points clear of Mercedes rival Lewis Hamilton in the current championship. (Source: Reuters)
Lewis Hamilton's Belgian Grand Prix victory at the weekend means the Mercedes driver can take the lead in the Formula One world championship with another victory in Italy at Ferrari's home Monza circuit on Sunday.
The Briton is not about to breathe a sigh of relief, however. Spa, the sport's longest track and one of the fastest, was no afternoon cruise for the triple world champion even if he won from a record-equalling 68th career pole position.
Ferrari's championship leader Sebastian Vettel was always right on Hamilton's tail, unable to pass but waiting for a mistake that might give him a chance, and Monza will be another flat out blast.
After that comes Singapore, a city track that should favour Ferrari and hence help Vettel to gain the upper hand again in a season that looks likely to remain open all the way to Abu Dhabi in November.
Vettel currently has a seven point lead, the difference between a victory and second place, with Hamilton ahead 5-4 on race wins. Had the quadruple champion won, he would have been 21 points clear.
"Next race we need to get at least those seven points again," said Hamilton. "Following that there are going to be some real difficult races coming up and I don't know whether we are going to be able to keep the Ferrari behind. "People talk about our car being the best, that we have the fastest car, but I think it's very difficult for anyone to truly say that because there are pros and cons between two cars and areas where we are faster and they are faster. And it seems to vary from race to race." Vettel has consistency on his side, with the German finishing all but three of his 12 races so far on the podium while Hamilton has been out of the top three in five grands prix, and a team mate playing a supporting role.
Both title contenders have scored points in every round this season but reliability, or the lack of it, remains an ever-present concern.
For both teams there is also a balance to be struck between developing the current car and switching resources to next year's, to ensure that they do not start the 2018 season on the back foot.
"I hope we have more to come and we need more to come in order to win this thing," said Hamilton. "We might not be the quickest everywhere ahead and I'm trying to figure out in my mind how to apply positive energy to my guys to bring some more magic in these next eight races so that we can win. "It's going to take everything from every single one of us to finish these next eight races and come out on top. Which is how a championship should be."
For all the latest Sports News, download Indian Express App