"Hotelový cestovatel" Josef Kořenský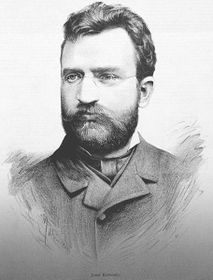 Josef Kořenský"Cestování byla jeho celoživotní láska. Důležité pro něj bylo
i přesvědčení, že pokud jako učitel o něčem vykládá svým
žákům, tak by to měl i na vlastní oči vidět. A to ho ještě více
utvrdilo v tom, že by měl cestovat," říká autorka výstavy
Jiřina Todorová s tím, že první Kořenského cesty vedly Evropou. Byly
ale pouze jakousi předehrou k jeho "cestě kolem světa".
"Říká se, že byl první novodobý cestovatel, který uskutečnil
cestu kolem světa. Pro svou myšlenku nadchnul i společníka,
zámožného statkáře Karla Řezníčka. Musel si na to šetřit sám,
získával peníze od mecenášů, institucí a dostal příspěvek i od
ministerstva kultu a vyučování."
S Vojtou Náprstkem a potom i jeho ženou se také domluvil na tom, že
bude nakupovat na cestách předměty pro muzeum.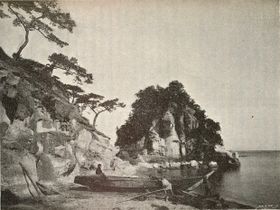 Z knihy 'Žaponsko'
V roce 1893 se mohlo vyrazit směrem Spojené státy americké a odtud pak
do Japonska, Indie a Egypta.
"Když se vrátili, tak Vojta Náprstek, který velmi rád svým
přátelům chystal různá překvapení, tak jim 14. března 1894
uspořádal večírek na přivítanou. Knihovna byla vyzdobena ve stylu
indicko/čínsko/japonské svatyně. A další kamarád, malíř Karel
Štapfer namaloval obraz, na kterém Josef Kořenský učí gejši zpívat
Kde domov můj."
Všechno už vyfotil někdo dřív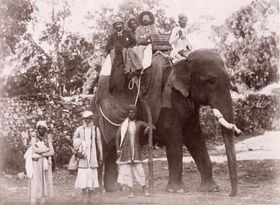 Josef Kořenský, photo: Národní muzeum
Z cesty vznikla dvojdílná knížka a proběhla i řada přednášek.
Kořenský měl jako cestovatel jedno specifikum, nad kterým se možná
stojí zamyslet v dnešním světě přeplněném fotkami se šikmou
věží nebo Braniborskou bránou.
"Je zajímavé, že na rozdíl od jiných cestovatelů Kořenský
nefotografoval, ale fotografie nakupoval. Navštěvoval totiž už známá
a dnes bychom řekli turisticky atraktivní místa – města,
přírodovědné nebo archeologické pamětihodnosti- cestoval po samých
turistických centrech, která už byla mnohokrát vyfocena a nebylo
potřeba je fotit znovu. Jeho přátelé Enrique Stanko Vráz a Alberto
Vojtěch Frič, o něm říkali, že je hotelový cestovatel."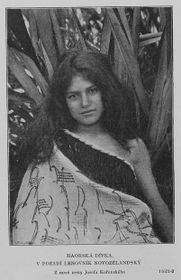 Maorská dívka, z knihy 'Obrazy z jižní polokoule'
U jedné velké cesty nezůstalo, Kořenský se vydal později také
"k protinožcům" a i toto putování zachytil v knížkách.
Nezapomínal ani na své povolání a jeho jméno dodnes nese pražská
základní škola, někdejší měšťanská škola dívčí, kde byl
ředitelem. A právě jeho žákyně byly také první, kdo viděl
exotické předměty, které vozil z cest. Vystavoval je totiž ve škole,
aby se dívky vzdělaly a rozšířily si obzory. Učitel se v něm prostě
nezapřel.