Hungary offers world-class mobile internet speed, research finds
Hungary's mobile internet infrastructure is among the best in the world – precisely, based on the speed it offers it is ranked third-fastest behind South Korea and Singapore, according to OpenSignal research. On the other hand, 3G/4G coverage is not quite so spectacular – the country finished at the 46th place based on the latter, which suggests there is still room for improvement.
South Korea boasts the fastest mobile internet in the world, with 41 Mbit/sec actual speed measured on users' phones (as opposed to the theoretical maximum speeds measured by service providers), OpenSignal's August global survey revealed. Singapore ranked second best with 31 Mbit/sec.
And here is the good news: Hungary came third with 26 Mbit/sec actual download speed.

Obviously, this is a nice surprise; on the other hand, Hungary lags way behind the world's top-ranked countries in terms of geographical coverage of 3G or more advanced mobile networks, ranked 46th globally.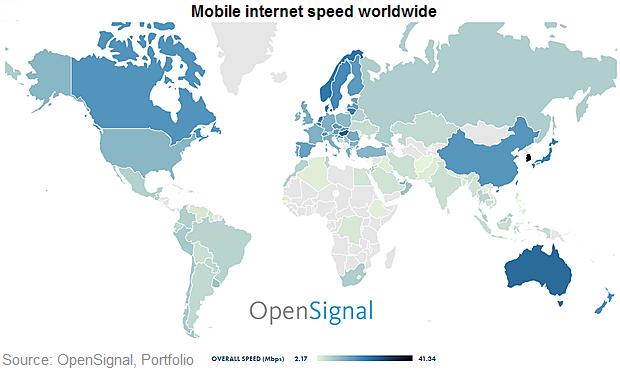 South Korea took the gold in respect of geographical coverage as well, with 98.54% of the country's entire area – practically, 3G or faster mobile internet is available no matter where exactly you are in South Korea. This compares with 85.31% in Hungary, according to the survey findings; based on local experience the shortcomings are typically felt in rural, more sparsely populated areas. Among Hungary's neighbours, only Croatia ranked higher at 40th place. Even highly developed Austria ranked only 61th, obviously due to its alpine regions.
The OpenSignal survey also collected data on how much time users in various countries typically spend on WiFi instead of using mobile internet. The rate was highest in the Netherlands (70%), China (63%) and New Zealand (62.9%); Hungary ranked 32nd with a rate of 53%. OpenSignal uses data from a freely downloadable network speed testing application, used by millions worldwide.