Indian badminton to lose helping hand Handoyo
Written by
Shivani Naik
| Mumbai |

Updated: December 26, 2017 8:27 am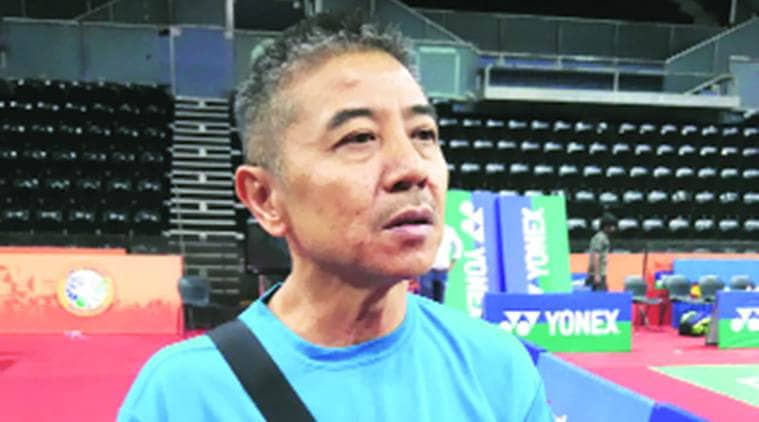 One of the earliest results to come under coach Mulyo's watch was at the All England Championships, when HS Prannoy beat Chinese Qiao Bin. (File Photo)
Indian badminton is likely to lose the services of Indonesian coach Mulyo Handoyo, after the legendary mentor faced a tough choice to return home and be with his family or continue in India, according to those in the know. Handoyo is credited with putting in place a training system that yielded immediate results in 2017 especially in men's singles that saw a total of 5 Super Series titles in the calendar year.
Handoyo left India a few days back saying he would be talking to the family, given his young teenage son and wife were struggling to adjust to living in India for long periods, and his preference to be closer to home. "It's been a challenge for his family since he has a 13-year-old kid. They came down a few times but were not keen on moving base completely," according to those close to the development. Handoyo could not be reached for his comment.
There is speculation however, that Handoyo also wasn't entirely happy with his remuneration in India, and was considering a better offer from Singapore. Top-level expertise comes at a premium and there were many countries in east and South East Asia competing to gain from his knowledge. India's administration had also not kept pace with the manifold upgrades required, when both domestic coaches and international ones needed to have exponentially increased to shepherd India's growing flock.
The Indonesian credited with the success of Olympic legend Taufik Hidayat, was zeroed in by India and roped in after much effort same time last year, and had immediately set out to revamp the singles training system. He had laid significant emphasis on greater physical conditioning, and within a year, India's men's singles players had delivered results. The year saw Srikanth play five SS finals, B Sai Praneeth win his maiden title at Singapore and HS Prannoy breaking into the Top 10 on back of some sensational wins against top names.
One of the earliest results to come under coach Mulyo's watch had been at the All England, when Prannoy beat Chinese Qiao Bin – in a 81 minute win that would herald a big year for the bigger built man. "In training he has changed our normal routine. He's ensured that the mind is fresh," Prannoy had said back then.
Hands-on training
His hands-on training included introducing two sessions of longer hours – instead of the erstwhile shorter bursts. This was to get Indians to be mentally prepared for longer, drawn out battles with special stress on closing out strongly. When Prannoy beat Olympic champ Chen Long at Indonesia, he had stated that though the Chinese was a challenge because he was relentless, Mulyo's training had come in handy. "In the last set, I was not getting tired. Physically I felt very sound and confident. That was important," he had said. Training with Mulyo meant longer back-breaking sessions. "Everyday he pushes us. But that's what's getting us the big wins in Super Series," Prannoy had added.
Perhaps the biggest beneficiary was the talented K Srikanth, who had to his credit two SS wins before his clutch of titles this year, but had struggled to get his career on track bogged down by the pressure of expectations. It was his mental tenacity built over the course of the invisible yet long training sessions that showed when he beat Chen Long for the Australia title on a slowish court. "These conditions you can't really attack, it's a bit slow, you have to be prepared for a long match. In all the breaks I had the advantage, (coach) Mulyo told me to keep it going, not to make simple mistakes and allow him back into the match," he had said.
Sindhu's consistency, as well as Sai Praneeth's brief flickering burst in Singapore, had Mulyo's stamps over them.
The Indonesian had also put down a program for Kashyap to follow, while Saina Nehwal had been excited to work with him in what was seen as the part-reason for her shift back to Hyderabad. 2018 is a massive year in terms of top-notch international competition, and should Handoyo decide to end his term with India, national coach P Gopichand will have to look afresh for someone to shoulder the increasing burdens of dealing with at least a dozen promising singles careers.
For all the latest Sports News, download Indian Express App