Iran increases share in saffron market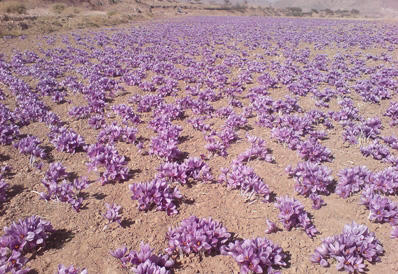 By Trend
Iran increased its saffron exports by 35 percent year-on-year during the first nine months of the current fiscal year (started March 2017), Gholamreza Miri, deputy head of Iran's National Saffron Council, said.
He said the country exported over 147.2 tons of saffron in the 9-month period.
Saffron is known as a luxury addition to various foods, including soups and curries, pilaus and paellas.
Miri in an interview with Mehr said that saffron's price in the market of Iran, which is the world's largest saffron producer, is between 30.5 million rials and 48 million rials (each USD makes 36,500 rials based on official rate).
Over 172 tons of saffron, worth $246.7 million were exported to 47 countries, including the US, in the last Iranian fiscal year (ended March 20, 2017), 32.3 percent more in terms of volume, year-on-year.
The UAE, Hong Kong, Spain, Italy, Germany, Australia, UK, Bahrain, Belgium, France, Oman, Singapore, the US, Philippines, Kuwait, Iraq, Canada, Poland, Japan and Taiwan are the main buyers of Iranian saffron.
Iran produces over 300 tons of saffron per year. Annually, some 80 tons of saffron are consumed domestically.
Last fiscal year, saffron cultivation area in the country increased from 88,000 to 95,000 hectares.
Some 95 percent of Iran's saffron is cultivated in the two northeastern provinces of South Khorasan and Khorasan Razavi.
The global saffron trade stands at about $8.2 billion per year, according to Peyman Yousefi Azar, an official with the agriculture ministry.
—
Follow us on Twitter @AzerNewsAz