Israeli security company offers solution to safeguard home valuables against burglary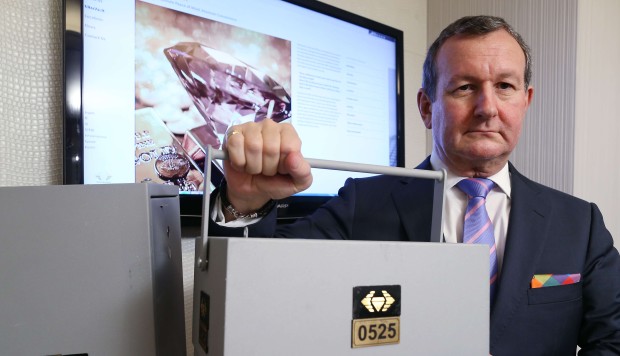 Hong Kong's recent string of high profile burglaries has sparked demand for safe storage of valuables such as gold bars and jewellery, prompting one company to develop an on-call safe deposit box service known as Ultra-Vault.
Malca-Amit, a company which specialises in safe depository services, launched the new service in September, targeting wealthy clients in Hong Kong and Singapore, according to company president Nigel Paxman.
"There has been strong demand for mobile vault services in both Hong Kong an Singapore since the launch," Paxman said. "It is so successful that we have decided to expand the services to London, New York and Tokyo at the end of this year or early next year."
Paxman told the Post as his office in Tsim Sha Tsui that the main idea is to provide a flexible security solution similar to a safe deposit box, but one that is not subject to the restrictive opening hours and fixed locations of banks.
The security boxes, of which three sizes are available, are delivered by an armed security vehicle to locations specified by the customer. Delivery can be arranged around the clock as long as advance notice is given. Insurance protection is available via London-based Lloyd's.
Paxman said recent high profile break-ins in some of the city's most affluent districts have helped to raise awareness of the need for secure storage. Posh residential areas, including The Peak, Shouson Hill, Deep Water Bay, Repulse Bay and Kowloon Tong, have all been targeted in recent months. Among the victims, Hong Kong Exchanges & Clearing chief executive Charles Li Xiaojia's home at Tai Tam was burgled in October.
HKEX chief executive Charles Li's luxury home burgled in latest high-profile break-in; jewellery worth HK$850,000 stolenme-burgled-latest
In September the home of billionaire American businessman Jim Thompson in Deep Water Bay was burgled.
Malca-Amit is known for operating the city's largest gold storage facility at Hong Kong International Airport and provides secure transportation of gold, diamonds and other jewellery for many retailers and manufacturers.
The Israeli company, founded in 1963, switched its headquarters from London to Hong Kong in 2008.
"Our company has been doing transportation of gold and diamonds services since 1963 and it is a natural expansion for us to offer the vault services," Paxman said.
He added that the service was ideal for items such as diamonds, jewellery, and physical gold. The company limits the amount of cash that can be stored under the system at US$50,000. He added that the service complies with anti-money laundering regulations.
"There are increasing number of customers who like to have convenient access to physical jewellery, watches and gold bars while they want a safe place to keep it," he said.
"Traditionally, many wealthy clients would put these valuables at the bank's safe deposit boxes. However, globally, there is a shortage of safe deposit boxes. Singapore has no new supply, while in Hong Kong customers face a wait list of several years. Many banks are not interested in offering these services as they want to focus on financial services," he said.
Malca-Amit's gold vault in Hong Kong opened in 2012 and can hold 1,000 tonnes of gold – equivalent to about 22 per cent of the amount of bullion reportedly held in the US government's depository in Fort Knox, Kentucky.
Paxman said the security boxes can be stored at the company's airport facility or at other secure sites it operates around the city. The security boxes utilise a double-key system, a convention that was carried over from the security systems used at banks.
Haywood Cheung Tak-hay, the honorary permanent president of the 105-year-old Chinese Gold and Silver Exchange Society, said some small gold jewellery traders could benefit from the service.
"There are many small jewellery retailers needing such storage services. But the best part would be the delivery as that would be safer for these businessmen if the gold bars and jewellery would be delivered to their homes or offices," Cheung said.
Joshua Rotbart, managing partner of J. Rotbart & Co, a Hong Kong-based firm specialising in investments in gold and other precious metals, said the services would be useful for his clients.
"Our high-net-worth clients would find the product to be very attractive in terms of the high level of security, the personalised service and the product's global reach," Rotbart said.