John Kerry is Against Provocation in the Asia-Pacific Region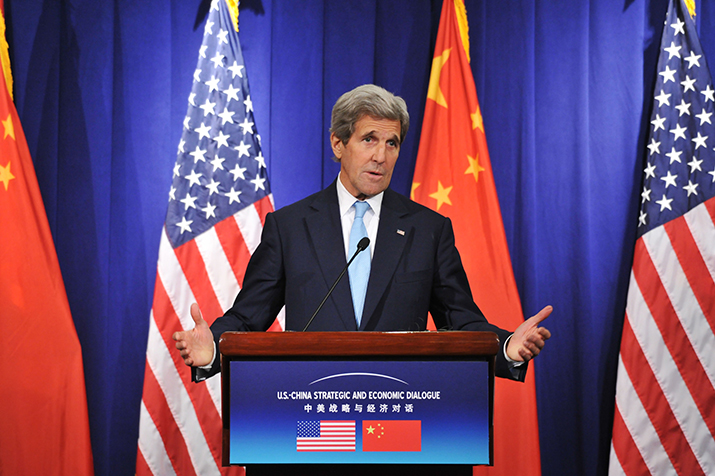 John Kerry (BEIJING REVIEW/WEI YAO)
U.S. Secretary of State John Kerry (WATCH VIDEO), referring to the Asia-Pacific region, has said that it's important that "no claimant – none, not any country – engage in unilateral actions that could be deemed by somebody else to be provocative and therefore problematic." 
Kerry has called for traditional historic freedom of navigation and overflight to be respected in the area.  
The Secretary made the comments on June 7 during the China-U.S. Strategic and Economic Dialogue, which took place in Beijing. Chinese President Xi Jinping had opened the dialogue the day before, saying that China and the United States needed to increase their communication and coopation over Asia Pacific affairs.  
"The vast Pacific should be a stage for inclusive cooperation, not an arena for competition," said Xi. "The two countries may work together to foster a circle of common friends that is inclusive rather than exclusive, and both countries should play such a role that they will build and maintain prosperity and the stability of this region."  
The comments come against statements made by the U.S. Defense Secretary Ash Carter on June 3 claiming that "China's actions in the South China Sea are isolating it at a time when the entire region is coming together and networking." Carter, speaking at an annual security summit—the Shangri-La Dialogue in Singapore, added that, "Unfortunately, if these actions continue, China could end up erecting a Great Wall of self-isolation." 
Greg Austin, professor at University of New South Wales Canberra, told Xinhua on June 8 that construction activities in the South China Sea "are an exercise of sovereignty by China on the territories it had laid claim on and China has the right to do so." 
On June 6, Kerry affirmed that the United States wants to be clear that it is looking for a peaceful resolution to the disputes in the South China Sea. "We are not a claimant. We have taken no position on any of the claims of any claimant. The only position we've taken is let's not resolve this by unilateral action; let's resolve this through rule of law, through diplomacy, through negotiation. And we urge all nations to find a diplomatic solution, rooted in international standards and rule of law." 
Law on NGOs 
On April 28, a new law adopted by China's top legislature declared that overseas NGOs must secure approval from Chinese authorities before they can operate in the Chinese mainland.  
According to a report by Xinhua, the new law stressed that they should not undermine the country's unity, security or ethnic solidarity nor harm the interests of the state, public or the legal rights of citizens and other groups. In addition, NGOs will be banned from engaging in or sponsoring commercial and political activities or illegally engaging in or sponsoring religious activities. 
Moreover, all overseas NGOs will be put under the supervision of the police and provincial government departments to prevent the stealing of state secrets, spreading rumors, sponsoring political activities, or "any activity that harms state security and interests."  
In a press statement released on the date of the new law's inception, Kerry had expressed concern that the new law on the management of foreign NGOs inside the Chinese mainland would have negative impacts on people-to-people ties between China and the United States as well as on the development of civil society. 
Kerry also said at the time that the final version of the new law "creates a highly uncertain and potentially hostile environment for foreign non-profit, non-governmental organizations and their Chinese partners that will no doubt discourage activities and initiatives." 
In statements at the recent dialogue, though, Kerry said that from what he had heard directly from President Xi was that "China intends to remain open, to stay open, to open up even more than it is today, and that it does not see that these laws [on NGOs] are going to be applied in any way whatsoever that affects the ability to open up and to do business and for people to feel confident about what they're doing here." 
Kerry claimed that the United States has to show some patience to see how the law will be interpreted in the future. "We could not have registered our concerns more directly or forcefully, and I think we have to see what happens in the days ahead," he said, adding that he thought it was not insignificant that the president of the country spoke very directly to what he wants to see happen in its application. 
On the dialogues  
This was the 8th round of the annual China-U.S. Strategic and Economic Dialogues, which was originally established in 2009 by U.S. President Barack Obama and the then Chinese President Hu Jintao. Analysts have said that the dialogues are an important part of the relationship shared between China and the United States. 
At the press conference at the end of the dialogue, Kerry said that he found the time he had spent in Beijing to be extremely constructive. "I think it was the most productive of the four Security & Economic Dialogues that I've taken part in, and I think it did a good job to help set the stage for a very productive G20 and a very productive meeting between our two presidents when they come together in a few months." 
Although there are some differences of opinions between the two countries, Kerry claimed that both are trying to find a thoughtful and constructive way to manage them. "We are looking at the big picture because we think that the big picture is what many people want two important nations like ours to focus on, not to be dragged down into squabbles that lend more sense of disarray or chaos or failed leadership to a world that already has enough challenges."