Joined at the skull: rare among twins, separation rarer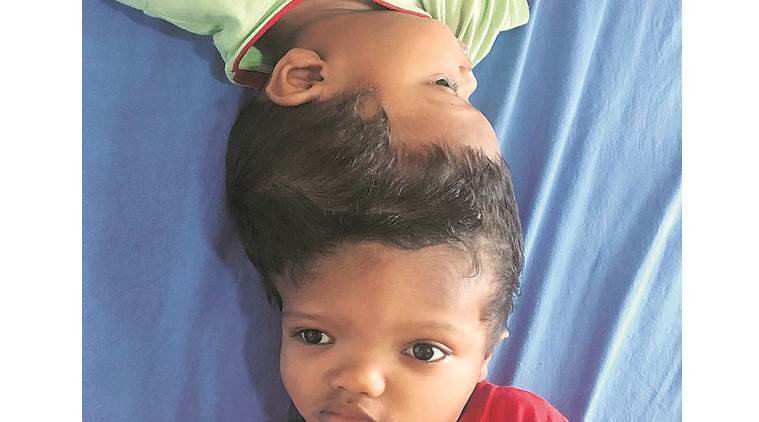 Two-year-old Jagannath and Balram of Odisha
What is unusual about the ongoing surgery on conjoined twins at AIIMS?
Two-year-old twins Jagannath and Balram of Odisha are craniophagus twins, or twins conjoined at the skull. It is very rare: Out of every 3 million children, only one is a conjoined twin; and out of all conjoined twins, only 2% are craniophagus twins.
To what extent are the Odisha twins conjoined?
In one twin, 70% of the brain is infused; in the other, 30% is infused. They are joined at the top of their heads with their bodies at 180 degrees to each other. This is called vertical craniophagus.
So, there are other kinds?
Vertical craniophagus is one of four ways twins can be joined at the skull. In occipital craniopagus, the twins are joined at the back of the head; in frontal craniopagus, they are joined at the forehead; in parietal craniopagus, they are joined at the side of the head.
How far is surgery possible?
To decide whether or not separation surgery is possible, doctors assess factors such as whether the twins share vital organs and are healthy enough to withstand surgery. Of all conjoined twins, 50% die either at birth or within 24 hours, surgery is feasible only on 25% of the survivors, and the rest continue to live with the condition, says Dr Deepak Gupta, professor of neurology at AIIMS, and part of the team conducting the country's first craniopagus surgery. He says two pairs of Indian craniopagus twins — Vani and Veena in Hyderabad ; and Sara and Farah in Patna — are living without separation.
And how far is surgery successful?
There is a less than 20% chance of survival among craniophagus twins who undergo separation surgery, says Dr Gupta. Across the world, there have been 60 craniophagus separation surgeries since 1952.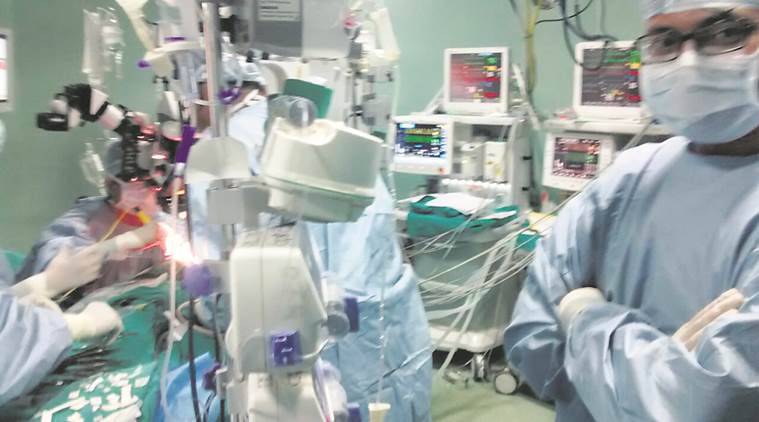 Operation in progress at AIIMS.
How recent was the last successful one?
In June this year, in Children's Hospital of Philadelphia. Doctors separated 10-month-old twins who were joined at the top of their heads. It took a 30-member team 11 hours. It was the 23rd time that surgeons at the hospital had separated conjoined twins, but the first craniopagus pair, according to the Charlotte Observer.
There have been other recent successes. Between 2003 and 2005, two pairs of craniopagus twins were separated by independent US teams in Dallas and New York. In 2011-12, a team of British and Sudanese doctors successfully separated Sudanese girls Rital and Ritaj through four surgeries. During the same period, however, a pair of 29-year-old craniopagus twins from Iran died on the operating table in Singapore in 2003.
What is Indian doctors' experience with conjoined-twins separation surgery?
India has not yet conducted a craniopagus separation surgery. AIIMS has, however, successfully separated conjoined twins — girls Chhoti and Moti in 1988, then Shilpa and Shaily in 2013. Both pairs had been joined at the abdomen.
How have doctors progressed with the Odisha twins?
They had to be made fit for surgery in the first place. Initial investigation had revealed a lot of brain fusion, lumps in the neck, chest infection and malnourishment, says AIIMS director Dr Randeep Guleria. From July 14, when the twins were admitted, a team of specialists built up the twins' nutrition levels and made them anaesthesia-fit. Their collective weight is just 20 kg and the blood volume is low, so the team is conducting a stage-by-stage operation.
And the surgery?
The first stage has been carried out — from 8:45 am Monday to 6:30 hours Tuesday. Doctors say they have successfully separated a "significant portion" of the brain. Dr Gupta says a new bypass technique was used for the first time in India. "The twins will require one to two more operations within three months for final separation. Surgical planning was done in such a way that lives of both children could be saved and at the same time giving minimal side effects," Dr Gupta says.
How are they doing?
"The twins are doing relatively well after surgery and are being selectively ventilated," says Dr A K Mahapatra, chief of the neurosciences centre at AIIMS, who heads the team of 40 doctors. "Surgery was uneventful and there was no major blood loss or intraoperative problem. Both children are still united at head as before from outside. However, a significant portion of their brain was separated and a new venous bypass channel has been created in them."
What next?
In the second stage, actual separation will be undertaken. In the final stage, the reconstruction of the head will be done by a team of plastic surgeons.
Recent surgeries
2003: Ladan and Laleh Bijani, 29, from Iran die on operating table in Singapore
2003-05: Two pairs of craniopagus twins separated, one in Dallas and other in New York, by independent teams of surgeons
2011-12: Sudanese girls Rital and Ritaj through 4 surgeries by British and Sudanese doctors
2017: In June this year, 10-month-old craniophagus twins separated at Children's Hospital of Philadelphia
For all the latest Explained News, download Indian Express App