Kartini Masa Kini Jadikan Filantropi 'Millennial Lifestyle'
Singapura – KBRI di Singapura memberikan penghargaan terhadap 10 orang 'Kartini masa kini'. 10 wanita yang kesuksesannya jadi inspirasi dalam berbagai hal ini punya pesan-pesan khusus di tengah acara peringatan hari Kartini di Singapura.
Penganugerahan Women Empowerment Awards hasil kerjasama KBRI di Singapura dengan majalah Her Times ini digelar di ballroom Marina Mandarin Singapore, Jumat (21/4/2017) Acara ini masih dalam rangkaian Rising 50, peringatan 50 tahun hubungan kerjasama bilateral antara Indonesia dan Singapura. Acara dikemas dalam gala dinner nan meriah.
Women Empowerment Awards ini melibatkan juri yang merupakan tokoh-tokoh dari Indonesia dan Singapura. Para juri yang memberikan penilaian adalah Ilham Habibie, Candra Darusman, Michael Goutama, Kris Wiluan, June Goh, Rachel ENG, Koh Soon Boon, Margareth Sembiring, Annie Song. Peraih penghargaannya sebagai berikut:
Her Times Philanthropy Award: Founder CT ARSA Foundation Anita Ratnasari Tanjung; Founder D.S Lee Foundation Della Suantio Lee
Her Times Excellent Award: Executive Chairman and Group Chief Executive Officer Hyflux Ltd, Olivia Lum; Founder Angelina Suparto Law Corporation, Angelina Suparto
Her Times Achievement Award: CEO Singapore Health Services ,Prof Ivy NG; Founder and CEO YCAB, Veronica Colondam
Her Times Enterpreneur Award: CCEO Sintesa Group, Shinta Widjaja Kamdani; Executive Chairman and Executive Director KOP Ltd, Ong Chih Ching
Her Times Youth Award: Founder of Digital Fashion Week, Charina Widjaja; CEO of The New Savvy Anna Haotanto
Setelah mendapatkan penghargaan itu, para 'inspiring women' ini memberikan kata-kata mutiara dalam rangka peringatan Hari Kartini dan apa saja harapan ke depan dalam kaitan pemberdayaan wanita dan lainnya. Founder CT ARSA Foundation, Anita Ratnasari Tanjung, yang mendapatkan award untuk Her Times Philanthropy menilai perjuangan RA Kartini harus dilanjutkan.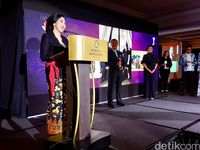 Foto: Elvan Dany Sutrisno/Detikcom
"Kita harus meluruskan cita-cita dari Kartini. Pendidikan itu adalah key. Wanita harus inspiratif, inovatif, dan ada spirit of enterpreneur. Dan saya kira the key wanita maju itu adalah education," kata Anita saat memberikan sambutan setelah menerima Her Times Philanthropy Award.
Bersama suami tercintanya, Chairul Tanjung, Anita mendirikan CT ARSA Foundation 11 tahun lalu. Tujuan utamanya untuk memutus mata rantai kemiskinan melalui pendidikan yang berkualitas serta optimalisasi kesehatan bagi masyarakat Indonesia yang kurang mampu. Yayasan ini pertama kali memulai langkahnya dengan mendirikan Rumah Anak Madani di Deli Serdang untuk membantu anak-anak korban tsunami Aceh pada 2004. Rumah ini merupakan cikal bakal dari SMA Unggulan CT Foundation di Medan yang kemudian diresmikan pada 2010.
CT ARSA Foundation juga punya program mobil sehat dan mobil pintar. Mobil sehat berisi dental unit bekerja sama dengan dokter gigi yang tergabung di PDGI dan rumah sakit yang mau bekerja sama. Dengan mobil sehat ini dokter gigi jalan ke kampung-kampung untuk memberikan layanan kesehatan bagi orang tidak mampu. Bersama dengan ulang tahun ke-11 CT ARSA Foundation pada November 2016 lalu, juga telah diluncurkan Mobil Iqro. Inspirasinya datang ketika Anita Tanjung mengunjungi pemukiman pemulung namun mereka tidak menjalankan salat saat mendengarkan adzan. Pendidikan karakter juga jadi perhatian utama CT ARSA Foundation. Anita Tanjung juga membawahi 20 PAUD dan ke depan akan mendirikan PAUD di seluruh Indonesia.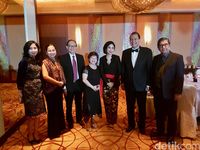 Foto: Elvan Dany Sutrisno/Detikcom
"Jadi kita punya wadah CT ARSA Foundation, CT itu Chairul Tanjung, ARSA itu Anita Ratnasari. ARSA dalam bahasa sansekerta artinya happiness, thats mean kita berbagi kebahagiaan kepada orang yang membutuhkan. Intinya memutus mata rantai kemiskinan dengan pendidikan berkualitas," kata Anita.
Anita pun kemudian menyampaikan harapannya agar apa yang ia lakukan diikuti oleh para millennial. Supaya makin banyak orang yang menyadari pentingnya membagikan kebahagiaan kepada orang yang membutuhkan
"Saya ingin philanthropy became millennial lifestyle, giving is cool, trendy," pungkasnya sembari tersenyum.
(van/jor)