Liliyana Natsir, Indonesia's badminton mixed doubles queen
Indonesian duo Liliyana Natsir and Tontowi Ahmad have brought home their gold medals from the badminton mixed doubles final at the 2016 Summer Olympics in Rio de Janeiro, Brazil, where they defeated Chang Peng Soon and Goh Liu Ying of Malaysia.
Landing in Jakarta on Tuesday, the champions were cheered alongside fellow Indonesians Sri Wahyuni Agustiani and Eko Yuli Irawan, both silver medalists. "We thank you all. We are grateful to be home after two days of travel [from Rio]," Liliyana said at a press conference. Riding in an open-top, double-decker bus, they were paraded to the Sports Ministry complex before visiting the State Palace on Wednesday morning to meet President Joko "Jokowi" Widodo.
Born on Sept. 9, 1985, in Manado, North Sulawesi, Liliyana decided to leave school for badminton at the age of 12. "I was confused when I had to choose between the two," said the youngest daughter of Beno Natsir and Olly Maramis. "But I decided if I wanted to be a serious badminton player, then I would have to sacrifice my studies. Besides, you can study anytime, but there's a narrow window to be an athlete."
Her badminton career began in 1997 when she was accepted to the Tangkas badminton facility in Jakarta. After spending five years at the club, she chose to join the national training center where she partnered with Eni Erlangga. She had yet to win any titles in women's doubles.
(Read also: Nova Widianto and Liliyana Natsir: Committed to excellence in badminton)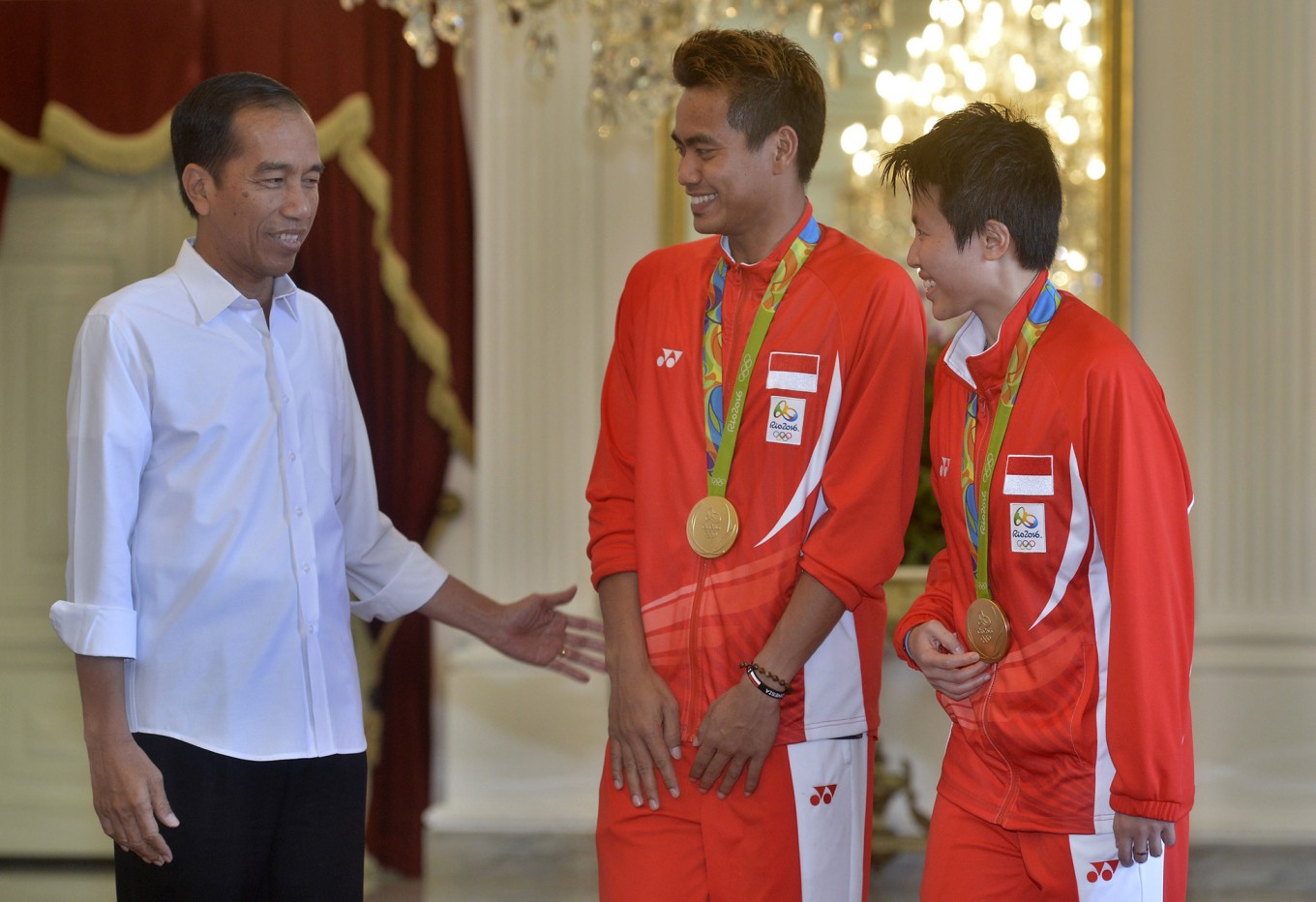 President Joko Widodo (left) with 2016 Olympic gold medalists Tontowi Ahmad (middle) and Liliyana Natsir (right) at the State Place on Wednesday.(Antara Photo/Yudhi Mahatma)
In 2004, Liliyana teamed up with coach Richard Mainaky and mixed doubles partner Nova Widianto. "She's tough. She has naturally difficult and deceptive strokes," Nova said about Liliyana. The duo soon became the country's top players. They won on their debut at the 2004 China Open against Olympic champions Zhang Jun and Gao Ling, then again at the Singapore Open a few weeks later. The pair reached the world's top rank in 2006, securing their title by winning a number of superseries followed by a silver medal at the 2008 Beijing Olympics.
However, Nova had to step down prior to the 2010 Asian Games in Guangzhou, China. Tontowi Ahmad, who was younger than Liliyana, took his place. "Towi and Nova are different in character. With Nova, in silence we understand each other, while with Towi, we prefer to talk things through," said Liliyana. "I hope Towi understands that whenever I shout at him on the court it's just because it is my nature to talk loudly, as I come from a family of Manadonese."
Liliyana is known for being serious on the court. Tontowi admits that Liliyana is a galak (stern) partner. "But [her sternness] can be my motivation. It is positive for me," he told kompas.com.
(Read also: Parents grateful, expect Owi/Butet to enjoy long holidays)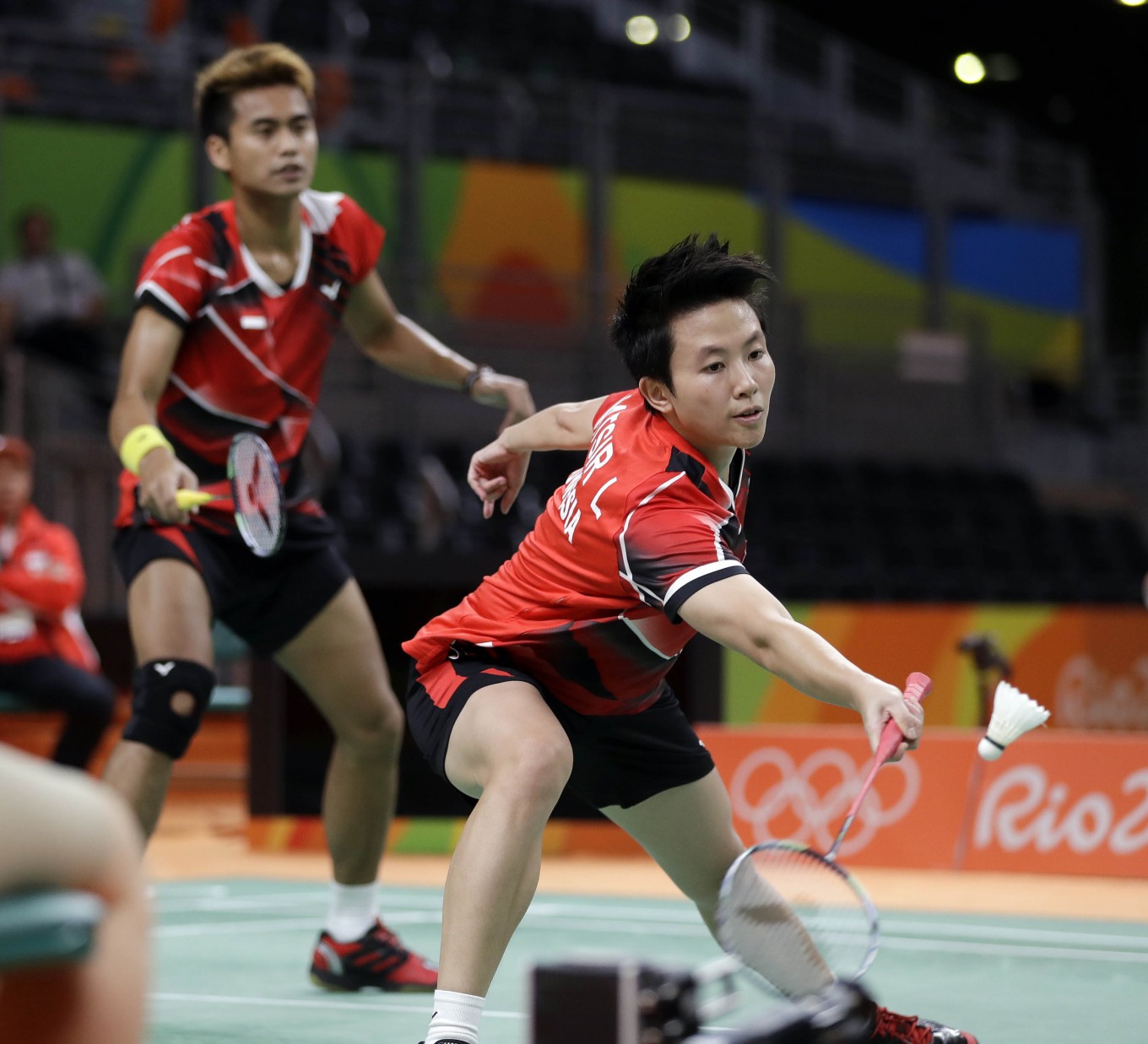 Liliyana Natsir, right, and Tontowi Ahmad, left, return a shot to Malaysia's Chan Peng Soon and Goh Liu Ying during the badminton mixed doubles gold medal match at the 2016 Summer Olympics in Rio de Janeiro, Brazil, on Aug. 17.(AP Photo/Kin Cheung)
The pair brought new hope to Indonesia as they won in the preliminary rounds of the 2010 Asian Games before exiting in the quarterfinals. However, a year later and after successful consecutive wins at the India Open, Malaysia Open and Singapore Open Superseries, the pair climbed the world ranks to number two.
The duo later won at the All England Open in 2012, though failed to bring the bronze-medal home after losing to a Danish pair in the semifinals at the 2012 London Olympics. Although, they sure made a great comeback at the recent Rio Olympics.
Liliyana has reportedly stated that Rio will be her last Olympic Games, but coach Richard Mainaky has given an assurance that she will still make it to the 2018 Asian Games in Jakarta. (kes)
You might also like :