Local firms still can't invest abroad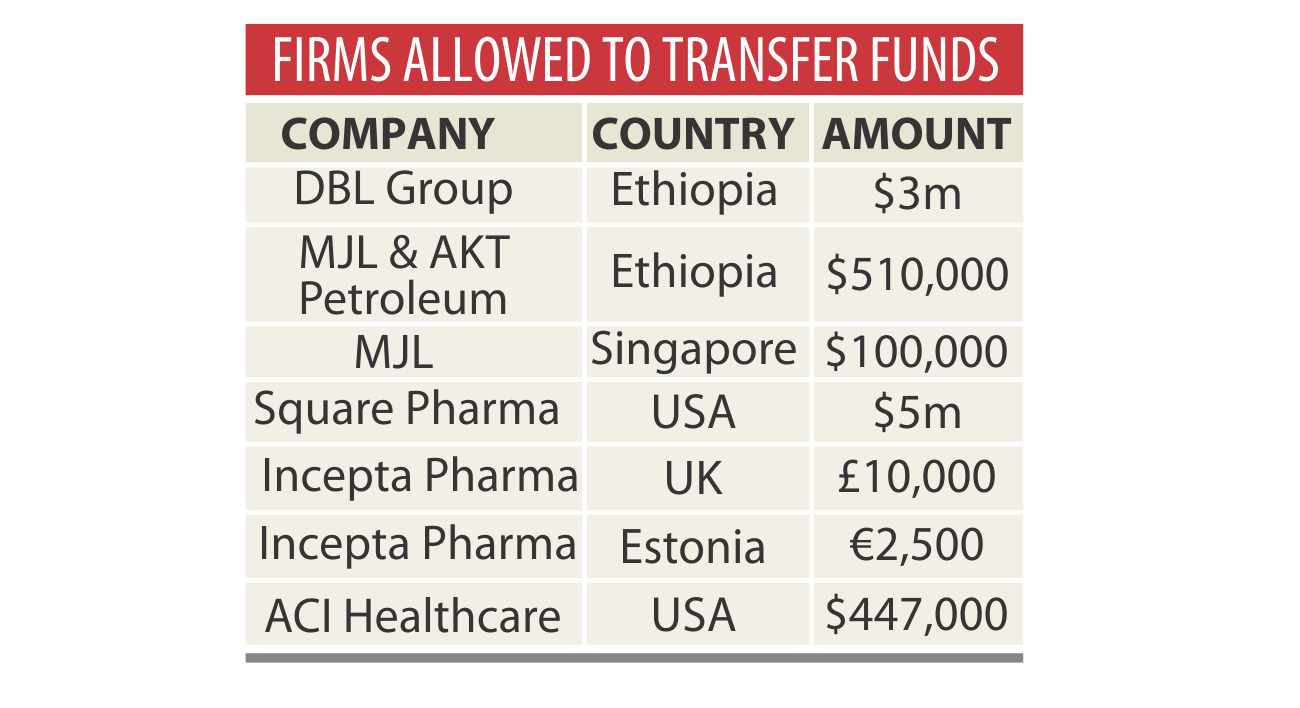 The central bank has not allowed any Bangladeshi national to invest fresh capital abroad, meaning the money reportedly deposited with foreign banks in various countries was siphoned off illegally.
In Bangladesh, capital accounts are not convertible, but some foreign investment from the exporter retention quota is considered on a case-by-case basis, said Anwarul Islam, deputy spokesperson of the central bank.
As of now, Bangladesh Bank has granted permission to five companies to invest abroad from their export incomes.
The five companies, three of which hail from the health sector, have invested $9.1 million in six countries between 2013 and March 2016, according to the BB.
ACI Healthcare Ltd got the permission to invest $447,000 for production and marketing of oral solid dosage in the US.
Incepta Pharmaceuticals Ltd will set up a subsidiary of its own in the UK, investing £10,000 and €2,500 for building a joint venture investment company in Estonia.
Square Pharmaceuticals got the permission to invest $5 million for expansion of its business in the US.
MJL Bangladesh Ltd received permission to invest $547,000 for expansion of its business in Myanmar and to form a subsidiary in Singapore.
The International Monetary Fund has advised Bangladesh to make capital accounts convertible by liberalising foreign exchange rules further.
But the government has been maintaining a rigid stance on this though the country's foreign exchange reserves have been robust.
At present, the central bank is sitting on about $29 billion of reserves, enough to honour import bills for nine months.
Typically, maintaining foreign exchange reserves equal to six months' import bill is deemed adequate. But still the reserves are not enough to let companies invest abroad, said an official of the finance ministry.
"The finance ministry does not think that Bangladesh is ready to adopt capital account convertibility," he said.
As a result, the permissions the BB gives for investment abroad through legal channels are few and far between.
On the flipside, illicit capital flight from Bangladesh is rising every year.
For instance, Bangladeshi citizens' deposits with various Swiss banks rose 36.02 percent year-on-year to Tk 4,283 crore (506 million Swiss francs) in 2014, according to the Swiss central bank.
Illegal capital flight from Bangladesh surged 33.78 percent year-on-year to $9.66 billion in 2013 through trade misinvoicing and other channels, according to the Global Financial Integrity, which works to curtail illicit financial flows via research, promoting pragmatic solutions, and advising governments.
The recently leaked Panama Papers also put some well-known political and corporate leaders under the spotlight after their names cropped up in connection to offshore entities bearing roots in Bangladesh.
Some Bangladeshi nationals and entities had names that are identical or similar to those mentioned in the leaks of the International Consortium of Investigative Journalists.
The Panama Papers did not contain any information about how much money they have invested or in what type of industries.
However, the Bangladesh Financial Intelligence Unit of the central bank, which deals with money laundering activities, is investigating the names that cropped up in the leaked papers.
BFIU officials said if anybody mentioned in the list had dual citizenship they would be treated differently, as they might have transferred their legal income.
But if they are holding only Bangladeshi citizenship and have resorted to offshore investment for tax dodging purpose, their names will be referred to the National Board of Revenue, said officials.
If the issue is related to corruption the names will be sent to the Anti-Corruption Commission.
Last month, the parliamentary standing committee on the finance ministry also asked the central bank to investigate the allegations and submit a detailed report to the committee, Abdur Razzaq, chairman of the standing committee, told The Daily Star.