Local governments' devotion to 'Belt and Road' initiative accelerates overseas business expansion
By Wu Yan, Xing Xue and Zhang Guangzheng from People's Daily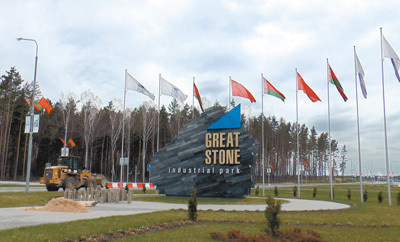 Local governments' participation in the "Belt and Road" initiative will help domestic businesses become stronger and expand their overseas expansion, said members of a trade delegation from Central China's Hunan Province to Belarus and Serbia.
Countries along the B&R route such as Belarus warmly welcomed the initiative in a hope to ride on China's rapid growth, delegation members told the People's Daily on their flight to the two countries.
The engagement of local governments in the B&R initiative is in line with China's calling to construct the route in a way led by government, participated by businesses and supported by the public, they added.
The delegation, headed by Du Jiahao, Party secretary of the CPC Hunan Provincial Committee, paid a visit to the two countries to seek industrial cooperation within the framework of B&R initiative, a grand blueprint put forward by Chinese President Xi Jinping in 2013. Other members included mayor of Changsha, Party secretary of CPC Zhuzhou Committee as well as chiefs of major enterprises from the province.
The provincial leaders planned the tour in last August, but the delegation's head changed to mayor of Changsha at last moment. Meanwhile, the Belarusian side did not lower reception formality and its President Alexander Lukashenko received the delegation according to the planned schedule.
"Such a high-profile reception by Belarusian President, which is rare in diplomatic occasions, shows his strong willingness to cooperate with Chinese enterprises," said delegation members, adding that it bolsters Hunan's confidence to encourage its companies to invest in Belarus.
Hu Zheng, CEO of the China-Belarus Industrial Park Development Co., hailed the construction of the park as a representative project of China-Belarus cooperation along "Belt and Road" route.
The birth of the park, according to Hu, can date back to as early as March 2010, when Xi, then Chinese vice president, visited Belarus.
During his trip, Xi agreed with Belarusian President Alexander Lukashenko's proposal to build the industrial park. Belarus made the proposal in a bid to learn from the example of Suzhou Industrial Park jointly established by China and Singapore.
Both countries inked the deal on the China-Belarus Industrial Park in September 2011. The park, 25 kilometers from the Belarusian capital city of Minsk and occupying approximately 91.5 square kilometers, is so far the largest overseas industrial park built by China. Its coverage accounted for about one third of Minsk's 300-plus square kilometers territory.
Cooperation with China is high on Belarus' agenda. Lukashenko named the industrial park as "Great Stone", vowing to build the park into a great stone cementing bilateral cooperation.
Amid the reasons that Lukashenko thought highly of Belarus-China cooperation, Hu explained, can be attributed to China's economic strength as well as its development miracle in the past decades since the launch of the reform and opening up policy.
In order to introduce more capitals for Great Stone Industrial Park, Lukashenko, in an executive order issued on June 5, 2012, created one of the most investor-friendly environments by offering a 10-year-free-tax policy for enterprises registered in the park and promising a 50-percent tax cut in the next decade. Furthermore, the land that they have rented can be privatized for as long as 99 years.
During his Belarusian visit on May 12, 2015, President Xi, together with his Belarusian counterpart Lukashenko, witnessed the signing ceremony of bilateral cooperation documents covering politics, culture, economy, technology, education and local affairs. The industrial park was confirmed as a cooperation priority during the visit as well.
In the following two years, more Chinese companies from Hunan and other provinces have played an increasing part in the "Belt and Road" projects in Belarus, Central Asia and Eastern Europe.
Hu said that domestic enterprises used to enlarge their overseas markets by relying heavily on market resources, but thanks to the "Belt and Road" initiative, the companies can also benefit from the direction pointed by governments and their coordination.
Zhou Qinghe, chairman of Chinese rail vehicle manufacturer CRRC Zhuzhou Electric Locomotive, agreed with Hu, saying that the "Belt and Road" initiative offers the businesses promising opportunities.
"We want to share a profit from the cake, but worry about the potential risks," Zhou said, adding that the delegation's visit gives the business circles a chance to go global together.
Besides, the stable political environment and prominent geographic advantages are among the reasons why Hunan chooses Belarus as an investment destination, members said, adding that its location at the border area of Eurasian Economic Union and the EU endows the country a unique strategic position.
In addition, its economic potential, which stays at a similar level with that of China in 1990s, leaves more space for bilateral cooperation, delegates said.
Belarus has good talent resources, industrial basis and research capabilities, but failed to translate those advantages into tangible outcomes in a high-efficient way, Hu said, adding that China's manufacturing and service sectors can play a huge part in this regard.
To better extend overseas coverage under the "Belt and Road" framework, delegates suggested the Chinese companies should find new cooperation space with complementary resources, share their resources for win-win benefits in globalization process, and respect the market rule as well.
Many en-route countries make a bullish bet on the "Belt and Road" initiative in a hope to ride on China's rapid development for an accelerated growth, Hu said.
Local governments' engagement into the proposal will not only help Chinese firms go global, but also open their door wider to the outside world and speed up the pace to transform growth model and restructure economy, he added.
Pic: A "Great Stone" stands at the entrance of China-Belarus Industrial Park. Cooperation with China is high on Belarus' agenda, which indicates that the country vows to build the park into a cornerstone of bilateral cooperation. (Photo by Qu Song from People's Daily)