Magic Leap One: Everything you need to know about augmented reality glasses
By:
Tech Desk
| New Delhi |

Published: December 21, 2017 7:17 pm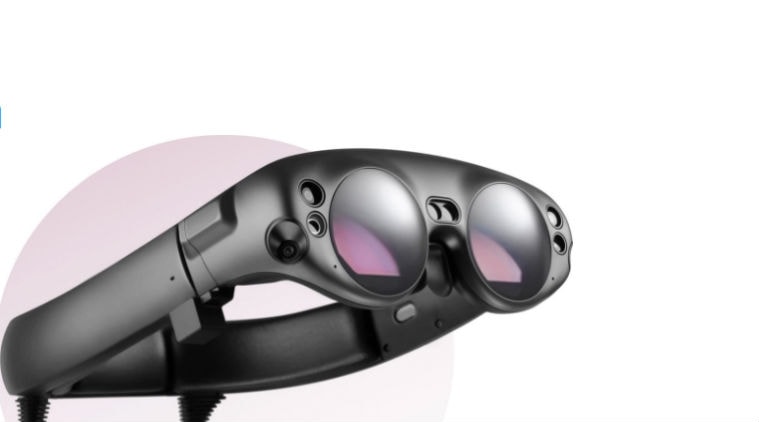 Magic Leap One AR headset promises to blend digital objects with the real world.
Magic Leap, a mysterious augmented reality start-up, has announced its first product. It's called Leap One, an augmented reality-based smart glasses. The device takes advantage of the company's digital lightfield technology, which merges the digital world with the real world. Magic Leap One will release in 2018 in the form of a Creator Edition, though the company did not give any price or release. The Florida-based start-up says the headset can be used by developers to create unique experiences.
There's a still a lot unknown about the Magic Leap One. Here's what we know so far about the advanced augmented reality (AR) smart goggles.
Magic Leap One – Augmented reality (AR) headset
Magic Leap claims it spent years in developing its technology and the hardware. The Leap One is bulkier than an average pair of googles. It isn't as compact as the standard pair of glasses, but it does have a similar form factor at least. Of course, the Leap One headset is loaded with cameras and sensors to accurately map head and body tracking.
While the headset being an integral part, the setup also includes a wireless controller and a Lightpack that you can clip to your belt that houses CPU, GPU, and other key components. Though connected to wires, the disk-like component powers the system, eliminating the need to be plugged to a smartphone or a laptop.
The company has not revealed the specifications of the Leap One headset, but we do know the technology behind the smart glasses. Magic Leap One is powered by the company's digital lightfield technology for showing realistic images. In a webpage the company's explains the technology behind the Leap One:
"Our lightfield photonics generate digital light at different depths and blend seamlessly with natural light to produce lifelike digital objects that coexist in the real world. This advanced technology allows our brain to naturally process digital objects the same way we do real-world objects, making it comfortable to use for long periods of time".
Magic Leap has made a preparatory light-field chip that uses light-field photonics to generate digital light at different depth and blend with natural light to create a lifelike digital object. The headset also supports "Soundfield Audio", which is a platform to calculate how audio should interact with the physical world.
The company claims the Leap One headset will overlay 3D imaginary over real world objects, just like Microsoft's HoloLens which is available for developers at price of $3000 (or approx Rs. 192,070). Magic Leap said on its website that it promises to bring a number of experiences, including 3D web browsing, virtual meetings, shopping, and gaming.
World, meet Magic Leap One. Magic Leap One, meet the world. More at: http://t.co/LbHY82tYUCpic.twitter.com/2iXgyPs21K

— Magic Leap (@magicleap) December 20, 2017
Magic Leap – The $6 billion start-up
Magic Leap is valued at $6 billion, according to CB Insights. The company is backed by top tech behemoths including Google, Alibaba, and Qualcomm, among others. In October, the company confirmed it has received an additional $502 million in funding from a number of investors including Temasek Holding, an investment firm owned by the Government of Singapore. Magic Leap, based in Florida, was founded by Rony Abovitz in 2010. Abovitz is currently the acting CEO of the company. Magic Leap has long been accused for glorifying its augmented reality tech in order to attract billions of dollars in investment.
For all the latest Technology News, download Indian Express App