Menaker: Lulusan PerguruanTinggi Harus Punya Kemampuan Kerja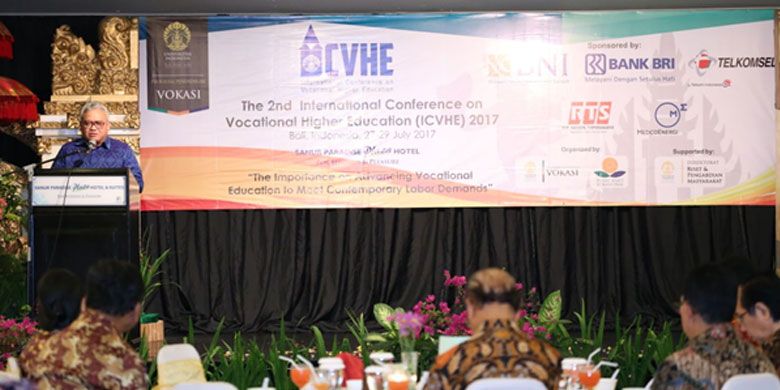 Banyak lulusan perguruan tinggi yang akhirnya menjadi pengangguran. Rupanya, gelar dari pendidikan tinggi saja belum cukup untuk memasuki pasar kerja dan dunia industri.Pasalnya, seseorang dengan gelar dari pendidikan tinggi belum tentu punya kompetensi untuk masuk pasar kerja.
Menurut Menteri Ketenagakerjaan M Hanif Dhakiri, pemerintah perlu punya langkah konkret terkait kondisi  ini. "Langkah konkret yang dapat dilakukan oleh lembaga pendidikan dan pelatihan adalah menyesuaikan program pendidikan dan pelatihan dengan kebutuhan pasar," kata Hanif, yang dibacakan  oleh Direktur Jenderal Pembinaan Pelatihan dan Produktivitas Bambang Satrio Lelono dalam The 2nd International Conference of Vocational Higher Education (ICVHE), Bali (27/7/2017).
Berdasarkan data dari Kemenristekdikti, pendidikan tinggi di Indonesia setiap tahun rata-rata menghasilkan lebih dari 750.000 lulusan. Mereka berasal dari berbagai tingkatan dan siap masuk ke pasar kerja. 
Hanif menuturkan, lembaga pendidikan, khususnya lembaga tinggi, harus melakukan perubahan. "Dari sekadar mencetak lulusan ke arah penguatan substansi yang relevan sebagaimana tri dhama perguruan tinggi," kata Menaker Hanif.
Konsekuensinya,kurikulum dan  proses belajar-mengajar dirancang dan didesain sesuai dengan kondisi riil sosial kemasyarakatan saat ini.
"Konsekuensi dari penggunaan teknologi dalam bekerja, pola kerja atau cara melakukan suatu pekerja di seluruh dunia, cenderung sama untuk satu jabatan," kata Hanif.
Menaker memberi contoh, seorang manajer hotel bintang lima di Indonesia, mempunyai tugas dan pekerjaan yang relatif sama dengan seorang manajer hotel bintang lima di Malaysia, Singapore, negara-negara Eropa, dan negara lainnya.
Diakhir acaraKonferensi internasional ICVHE tersebut, Menaker Hanif menyampaikan apresiasi dan penghargaan kepada Universitas Indonesia yang selalu ikut berkontribusi dalam peningkatan kualitas SDM nasional dengan jaringan kerja yang semakin berkembang.
"Semoga acara ini dapat terselenggara dengan lancar, serta menghasilkan kontribusi positif bagi pengembangan SDM Indonesia," ungkap Hanif.
Sebagai informasi, konferensi internasional ICVHE tersebut  diselenggarakan oleh Universitas Indonesia mengangkat tema "Pentingnya Pendidikan Vokasi untuk memenuhi tuntutan pasar kerja kontemporer".
Konferensi dibuka oleh Rektor Universitas Indonesia Muhammad Anis, yang didampingi oleh Direktur Program vokasi UI Pranowo Hadiwardoyo. Dalam acara tersebut juga turut hadir Presiden Direktur PT Agung Podomoro, Cosmas Batubara serta Tony Chalkley, dari Deakin University Australia.