Milliardær sviner dansk succeskæde: Det er bare underholdning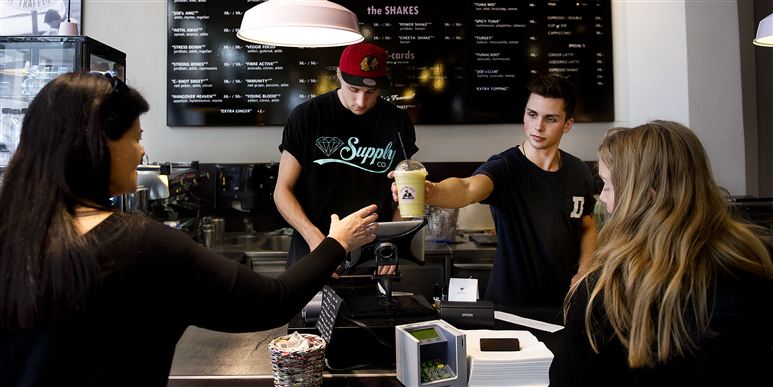 Millardæren og erhvervsmanden René Sindlev sviner konkurrenten Kaspar Basse og juicebarkæden Joe & The Juice til.
– Blendet juice er jo ikke sundt. De bruger ikke nogen økologiske varer, og deres sandwichbrød er farvet brød fra Schulstad. Deres koncept er bygget på noget underholdning, god musik og nogle tatoverede drenge, og det tror jeg ikke, de overlever på i USA, siger René Sindlev til Børsen.
Ordene falder i en artikel i Børsen, hvor René Sindlev fortæller om, da han for fire år siden var i forhandlinger om at købe Joe & The Juice. Forhandlingerne gik dog i vasken.
Kaspar Basse var kun interesseret i at sælge hele sit koncept for 300 millioner kroner – for derefter at kunne købe 20 procent af selskabet tilbage for kun 10 millioner kroner.
Tjente kassen på smykke-salg
René Sindlev blev millardær i forbindelse med salget af smykkefirmaet Pandora, men har nu udviklet sit eget mad-koncept, Dr Smood, og er ligesom Kaspar Basse i gang med at rulle sine forretninger ud i USA.
René Sindlev, der i 2013 blev gift i Cannes med den italienske model Patrizia Macini, flyttede i december til Florida i USA. Herfra udgår café-kæden Dr Smood. Målet er at gå på børsen i New York i 2020.
– Hvis alt holder stik, så er der vel udsigt til, at vi børsnoteres til en værdi på 8-10 milliarder kroner kroner, siger René Sindlev til Børsen.
Joe & The Juice har i dag tre butikker i New York samt en række i blandt andet England, Singapore, Norge og Sverige. Herhjemme findes der mere end 50 Joe & The Juice-butikker landet over.