Missing China mogul returns with US$1 billion for brain research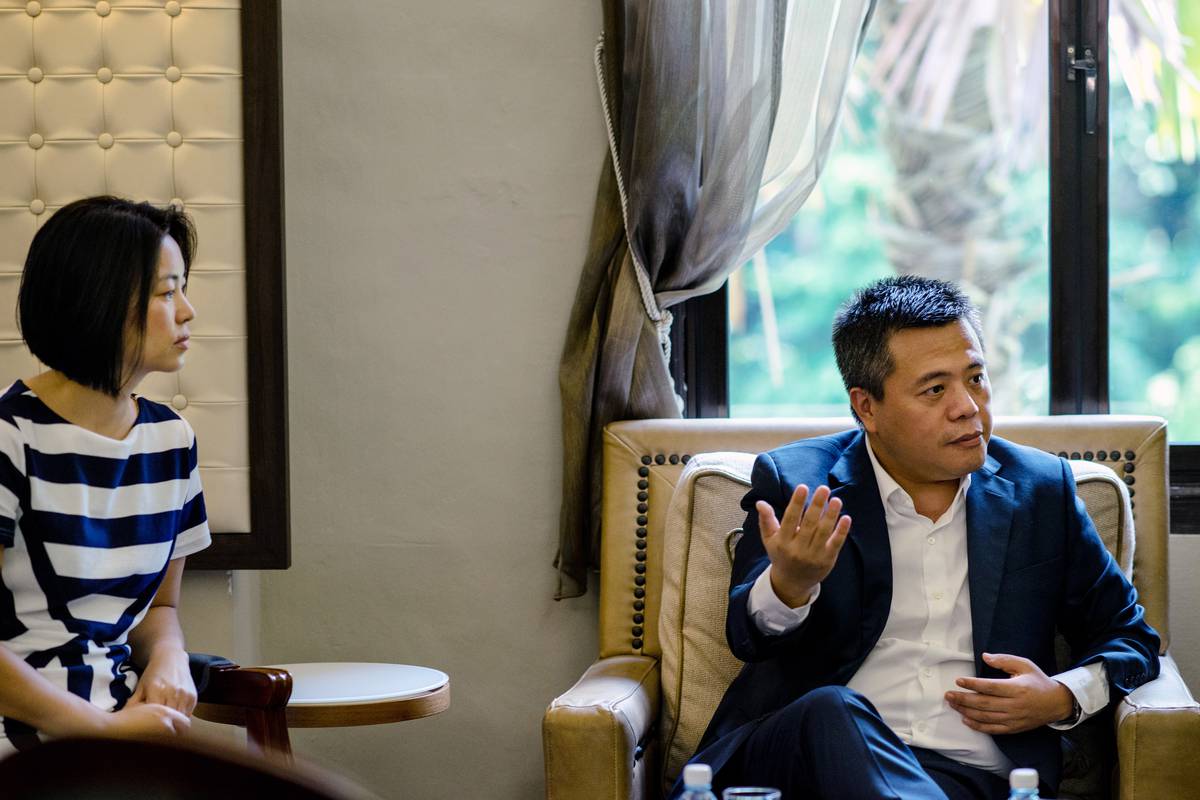 A dozen years ago, the largest internet company in China wasn't Alibaba or Tencent, but game developer Shanda Interactive Entertainment Ltd. Its founder was a young man named Chen Tianqiao, who had become a billionaire at 30.
Chen was more prominent than Alibaba's Jack Ma for much of the last decade — then he disappeared. He left China, dropping out of public view almost completely. He took his Nasdaq-listed company private in 2012.
Chen is finally ready to talk publicly again. Now 44, he's living in Singapore with plans for his next act. During a visit to his office there, he explained what led him to give up his life's work and cede the market to Alibaba and Tencent Holdings, whose founders are now the country's two richest men.
It started with panic attacks in his 30s, then escalated amid the rising stress of competition and government regulations. He eventually decided he had to salvage his own health.
"As I watched the sunset every night, I thought I would never wake up," said Chen, sitting near the painting of a swirling dancer with his wife in a two-story colonial house that serves as their office.
His experience ultimately led him to a new path. The struggles with his own mental condition, combined with his Buddhist beliefs, convinced him to focus on research of the human brain.
He has set aside US$1 billion ($1.37b) for the effort, out of a personal fortune of at least US$2.4b, according to the Bloomberg Billionaires Index. That includes US$115 million that Chen and his wife have already given to the California Institute of Technology to establish the Tianqiao and Chrissy Chen Institute for Neuroscience. The rest will be used to directly fund young scientists and set up Chen University somewhere in the U.S.
The concept for the school is unusual to say the least: It will bring together academics in everything from neuroscience, biology and psychiatry to philosophy and divinity studies, and encourage them to work together. Chen thinks it's time to focus on improving humans' emotional well-being after centuries of effort to increase living standards.
"This will be a university whose mission is to try to answer who we are and where we come from," he said. "For thousands of years, we improved our happiness through changing the physical world. We now have to solve this problem by exploring inward."
Chen was born in the Chinese province of Zhejiang, south of Shanghai, in 1973, and grew up as the country began to embrace capitalism in the aftermath of the Cultural Revolution. He graduated from Fudan University a year early, with a degree in economics. He met his future wife, Chrissy, while the two of them were working at a securities firm. They were married within six months, then soon quit to start Shanda in 1999.
At the time, many Chinese entrepreneurs were rushing to create internet portals. Chen, then 26, went his own way: He created an online gaming company with Chrissy, his younger brother and savings of about US$60,000.
Their first big break came in buying distribution rights to the South Korean role-playing game Legend of Mir II. Revenue surged, giving Shanda enough money to begin developing its own games, including the World of Legend. As online game-playing in internet cafes became a craze among China's teenagers, profit doubled from 2002 to 2003. The company raised US$152m in a Nasdaq initial public offering in May 2004.
Life as a public company proved tumultuous. Shares soared the first year, then plunged the second as fickle users defected to other games. Chen diversified, proclaiming he wanted to become the Disney of China, then doubled down on games and saw his stock rise again. In 2009, he spun off the games unit Shanda Games Ltd. in a US$1b offering — the biggest IPO in the U.S. that year.
"One of the obvious differences between Chen Tianqiao and other entrepreneurs was that he had a very good financial backing and a solid revenue model," said Jixun Foo, managing partner at GGV Capital.
The pressure was taking its toll however. In 2004, while Chen was on a flight from Shanghai to Beijing, he felt excruciating pain in his chest. Convinced he was suffering a heart attack, he rushed to a hospital after landing. The doctors told him his heart was in perfect condition. He was suffering a panic attack.
That afternoon, he sat alone on a bench in China's capital, thinking he'd never do business again. "It was so stressful, so painful," he said. But once he went on medication and recovered, he went back to work.
As Chen's ambitions grew, he expanded into home entertainment. He cut a partnership with Intel Corp. and Microsoft to create a new set-top box that would allow TV viewers to go online, play Shanda games and buy music and films.
But government officials objected. They were reluctant to cede control over television screens to anyone beyond the government, according to Chen. The project floundered. Chen said he could never talk about the reasons for the failure until now. "Some 10 years have passed," he said.
He suffered his second attack in 2009, this time it was more severe and longer lasting. That's when he hit bottom emotionally, so shaky that he often felt like he couldn't move.
"When you are lying down, you cannot sit down. When you are sitting down, you cannot get up. You cannot breathe," he said.
At first, he came to Singapore to take a break. As he watched Tencent, Alibaba and Baidu filling the void he had left behind, he planned to return. But his wife cautioned against it, telling him there were different opportunities ahead.
"Many people spend their whole life to climb a mountain. Maybe you can climb several mountains," she said.
A devout Buddhist who studied ways to transcend suffering, Chen decided to change course for good: The family relocated to Singapore in 2010 and began to withdraw from the business. In 2011, they offered to take Shanda Interactive private for US$2.3b. They later sold off their stock in Shanda Games and Chen resigned from its board.
Shanda ultimately couldn't make the leap to become China's answer to Disney and lost ground in games as players shifted to smartphones.
"It is a formidable challenge," said Serkan Toto, the founder of Tokyo consultant Kantan Games Inc. "Games are a totally different vertical from a lot of things that Disney has been doing."
For three years, the couple explored what they should dive into next. Eventually, they zeroed in on the brain.
The realization that "there is something more important than selfish you started when I became a mom," said Chrissy, seated next to Chen.
It's not all altruism. The Chens see enormous business potential in decoding the human brain. Among other projects, they plan to fund research into debilitating diseases such as Alzheimer's and Parkinson's. They've already backed ElMindA Ltd., an Israeli startup that's developing tools for detecting the early stages of brain diseases.
His Singapore-based investment firm, Shanda Group, has invested in more than 100 advanced technology ventures in China and around the world. Virtual reality is a focus in part because of opportunities to connect the technology with neuroscience. He has backed The Void, a U.S. entertainment company that's trying to create a VR theme park; Los Angeles-based VR game maker Survios; and Iceland's Solfar Studios, a VR travel adventure app developer.
Chen's obsession has rubbed off on his daughters, 13 and 8: They now talk about growing up to be neuroscientists. "I have brainwashed them," Chen says.
He has used his assets to make investments well beyond the cerebral. He is the largest shareholder in peer-to-peer giant LendingClub Corp. and in the rural U.S. hospital chain Community Health Systems Inc. He also holds chunky stakes in Legg Mason Inc. and KKR & Co. He's even bought up more than 700,000 acres of timberland in the U.S. and Canada.
Chen's influence in China endures. Several of his lieutenants have gone on to become stars in their own right, including Daniel Zhang, who was Shanda's former chief finance officer and is now Alibaba's chief executive officer.
Former Shanda employees gather for a reunion every year, an event the founder never attends. This year though, Chen surprised the 1,700 attendees in Shanghai on July 30 with a 10-minute video. Many of them got up to take photos of the man they hadn't seen in almost 10 years.
In the end, Shanda's business couldn't keep pace with the emerging titans of China's tech industry. Alibaba's dominance in e-commerce gave it profits to invest in new business lines and promising startups. Tencent has a similar strategic edge through control of messaging services like WeChat, while Baidu owns the search business. Today, Alibaba's Ma is China's richest man with a net worth of US$43.6b, while Tencent co-founder Pony Ma is worth US$33.2b,
Back in his office in Singapore, Chen says he has few regrets. He applauds Alibaba and Tencent for doing a "very good job," and says he's thankful for the pause he's had in his life. He's ready to move on to his next adventure and leave his 30-something self behind.
"I look at him and think he was a bright young man," says Chen. "But I need to let that Tianqiao stay there and move forward."