Mobike debuts bike sharing in Washington, reflecting latest move in arms race with Ofo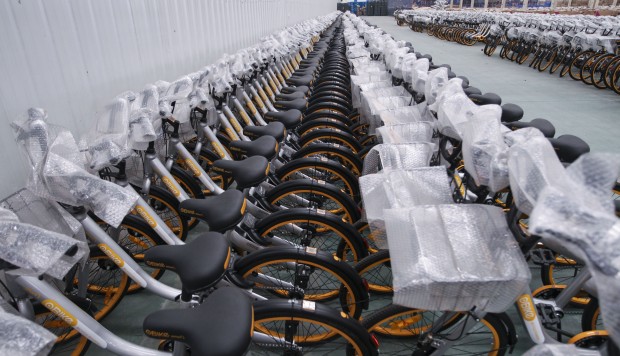 Chinese bicycle-sharing giant Mobike has debuted in the US market with its entry into Washington, a month after rival Ofo launched its services in Seattle as the two companies vie for market share around the world.
"We are thrilled to call Washington DC Mobike's first home in North America," said Hu Weiwei,
co-founder and president of Mobike in an emailed statement. "Mobike is committed to developing a global bike share culture by collaborating closely with cities, and the US capital is key in achieving this."
The US is Mobike's seventh market overseas following debuts in Singapore, Malaysia, Thailand, Japan, Italy and Britain.
Mobike's Washington presence reflects the first of several US cities slated in the company's expansion strategy.
Rachel Song, general manager of Mobike US, said that the company was confident that the "successful pilot [in Washington] will be the first of many partnerships".
Mobike's entry into the US comes on the back of a mobile internet-of-things (IoT) partnership with telecommunications conglomerate AT&T and chip maker Qualcomm last week. With AT&T's 4G connectivity and Qualcomm's IoT modems, coupled with Mobike's app, US users will be able to locate, unlock and pay for rental bicycles.
Ofo, Mobike's biggest Chinese rival, last month debuted in Seattle with 1,000 bicycles for rent at US$1 per hour. Last week Ofo introduced 200 bicycles to the city of Worcester in Massachusetts.
Ofo is also expanding quickly, building on a global platform that currently includes services in Singapore, Austria, Thailand, UK, Japan and Kazakhstan.
The two bike-sharing companies are locked in a race to grab market share around the globe, and have been raising massive amounts of capital to fund their efforts.
In July, Ofo raised US$700 million from investors including Alibaba Group, Hony Capital and Citic Private Equity. The company has a valuation in excess of US$2 billion.
Mobike said it raised US$600 million in June from existing investors Tencent, Sequoia, TPG, and Hillhouse Capital. The company also cited Bocom International, ICBC International, and Farallon Capital as new investors.
Bicycle-sharing has emerged as one of the hottest industries in China, spawning more than 30 bike-sharing start-ups at its peak. Today, more than 100 million people in China have used bike-sharing apps, with companies like Mobike and Ofo operating in over 100 mainland cities.