NBA Finals 2016 Game 7 live streaming: Watch Golden State Warriors vs Cleveland Cavaliers live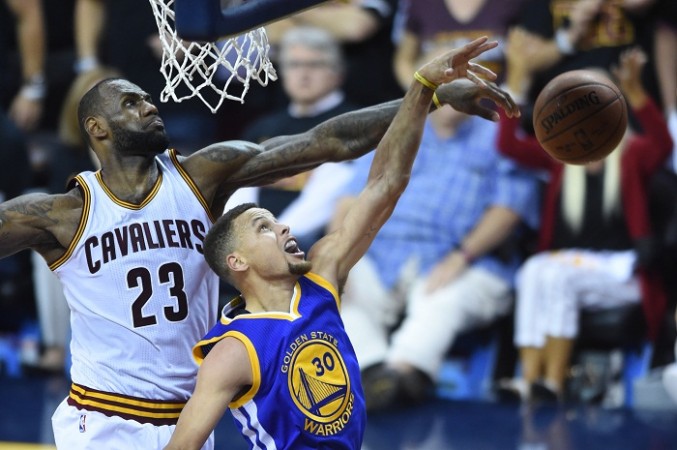 It is "winner takes all" in NBA Finals Game 7 as Golden State Warriors host Cleveland Cavaliers at Oracle Arena in Oakland on Sunday that will decide the 2016 champions as well. The best-of-seven NBA Finals currently stands at 3-3 after a stunning comeback from LeBron James and his Cleveland, who were trailing 1-3 after Game 4. 
The Warriors are keen to defend the NBA title, which they won last season, after defeating Cavaliers, but Cleveland have looked a strong team in the finals this time around. James and his team are looking to become the first team in the history of the NBA finals to win the title going down 1-3.
The Cavaliers have been brilliantly led by James, who has scored 41 points in his last two matches, and Golden State need to find a way to contain him from scoring big points. Even if James shines in Game 7 of the NBA Finals, MVP Stephen Curry will be keen to outdo his opposite number in Oakland.
It is in such crunch matches where star players need to take their game to the next level, and prove their mettle. James and Curry have it in them to shine, but they need help from their co-stars to lift the NBA title. James will depend on Kevin Love and Kyrie Irving, while Curry will look forward to another quality performance from Klay Thompson and Draymond Green.
Though Golden State might have lost back-to-back matches, they can still win the title. Curry believes Game 7 is their final chance.
"We're here on Game 7 with a chance to do it. We've had two chances already and haven't gotten it done, 48 minutes to do it. So if we come up short, we'll all be very, very disappointed. No two ways around that," AP quoted Curry as saying.
Curry also praised James' performance in the final so far.
"He's doing things that are game-changing and helping his team win. He's been more aggressive, I think, shooting the ball. We've had some breakdowns, but he's played well," Curry said.
Though Green, defensively, might have been tight on James, the Cavs' stars emerged victorious in that personal battle. Cleveland coach Tyronn Lue will be desperate to see James and Irving fire on Game 7, as his team looks off-colour when the duo fail to live up to their expectations, which was also witnessed earlier in the NBA Finals series.
Lue hopes that his team can bring smiles on the faces of Cleveland people, who he believes love their sport like no other.
"Just my short time being in Cleveland, just understanding and getting the history of being in Cleveland these last two years means a lot. They're really into their sports. They're really into their teams. This will be very important and very big for the city of Cleveland and for the state of Ohio to bring this home," Lue said.
"I know it's going to be going crazy in Cleveland, so hopefully we can stay the course and bring them a championship home."
There is hardly anything to choose between the two teams coming into NBA Finals Game 7. Both the teams have the ammunition and skills to win the NBA 2016 title, but it might just boil down to nerves in such an important match. The team that manages to handle pressure better in the NBA Final Game 7 could have an edge over their opponent.
Where to watch live
Golden State Warriors vs Cleveland Cavaliers
Venue: Oracle Arena, Oakland
Time 8 p.m. ET, 5:30 a.m. IST, 1 a.m. BST
NBA Finals Game 7 live streaming and TV information
India: TV: Sony Six/HD. Live streaming: Sonyliv
US: TV: ABC. Live streaming:  ABC GO.
UK: TV: BT Sport. Live streaming:  Watch BT Sport.
Philippines: TV: ABS-CBN Channel 2
Singapore: TV: Supersport
International audience: Live streaming: NBA.com.