NZ shares rise led by Tower, Chorus, A2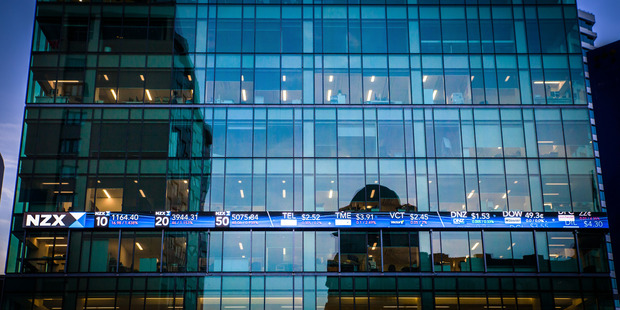 New Zealand shares rose, led by Tower, Chorus and A2 Milk, as the benchmark index's 14 percent slide from its early September highs drew some investors back to the market.
The S&P/NZX 50 Index advanced 31.78 points, or 0.5 percent, to 6,883.25. Within the index, 25 stocks rose, 20 fell and six were unchanged. Turnover was $155 million.
Fisher & Paykel Healthcare was the biggest mover by volume, rising 2.3 percent to $8.34. That follows turnover of 6.9 million yesterday when the stock sank to a 12-month low. Tower, the general insurer sold off in the immediate aftermath of the Kaikoura earthquake, rose 2.7 percent to 75.5 cents and Chorus rose 2.7 percent to $3.88.
The market "was off 10 percent from its highs – time to wade back in," said David Price, a broker at Forsyth Barr. F&P Healthcare had fallen on a broker report highlighting the risks in its intellectual property dispute with American rival ResMed, which it vowed in August to vigorously contest.
"Our view is it's a long, long process, not one year or two years," he said.
A2 Milk extended its gains, rising 2.6 percent to a record close of $2.37. The company told shareholders this week that net profit was $22 million in the first four months of the year, from $3.2 million in the same period a year earlier.
Vital Healthcare Property Trust led gains among property investors, rising 2 percent to $2.04, while Kiwi Property Group gained 1.1 percent to $1.425. Property for Industry rose 0.7 percent to $1.55 and Stride Property gained 0.6 percent to $1.84. Augusta Capital rose 2 percent to $1.02 after posting a 28 percent drop in first-half profit as the listed property investor and fund manager paid more tax, faced higher costs due to the sale of its Auckland Finance Centre, and wrote down the value of its stake in listed property investor NPT.
Moa Group rose 1.3 percent to 80 cents after posting a narrower first-half loss after lifting sales while trimming costs and said it expects to continue driving revenue growth while holding expenses at bay.
Gentrack Group rose 2 percent to $3.52 after confirming a 3 percent gain in full-year profit and announcing a higher final dividend as margins widened. The utilities software developer said pretax earnings are expected to grow 10 percent in 2017.
AFT Pharmaceuticals was unchanged at $3.02 after the Auckland-based drug-maker, widened its first-half loss to $11 million from $5.8 million after ramping up research and development and launching over-the-counter products in Australia and Singapore.