Opinion: Doklam foretold
Written by
D.S. Hooda
|

Updated: August 22, 2017 8:55 am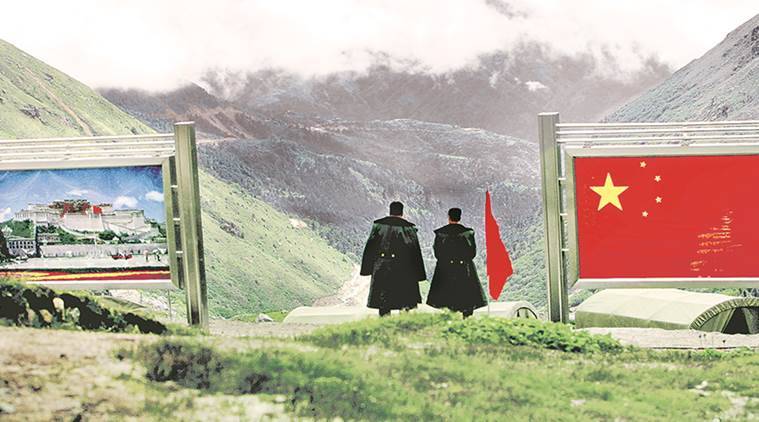 Representational Image
The Doklam stand-off was inevitable. It may be resolved peacefully but it is a manifestation of the larger geopolitical contest that is playing out in Asia between India and China. How do we respond? Economically, it is a no-contest because it is only in 2030 that India will reach the size of China's 2014 GDP. Perhaps the answers lie in geography. Expanding from its peripheries, China has economically secured its borders.
Trade with the five Central Asian republics has risen from $1.8 billion in 2000 to $50 billion in 2013. Northward, the Han Chinese have moved into inner Mongolia and invested heavily in underground metals in Mongolia. About 90 per cent of Mongolian exports go to China. The Chinese population in its Northeast region is also slowly creeping across the border into the Russian Far East. In Southeast Asia, the economies of the Association of Southeast Asian Nations (ASEAN) are closely tied to China. The total trade volume of ASEAN with China is projected to increase to $1 trillion by 2020.
Chinese presence in Afghanistan and its massive investment in the China Pakistan Economic Corridor has enabled China to effectively skirt the Himalayan barrier and come to India's northwest, a region to which India has been historically sensitive because it was the main invasion route into the Subcontinent. Moving into South Asia, China has become the largest trading partner of Pakistan, Sri Lanka, Bangladesh and Myanmar. It is developing the Gwadar port in Pakistan, has taken over the operation of Hambantota in Sri Lanka and operationalised the gas and oil pipelines from Myanmar's Kyaukpyu port to Kunming. However, the Chinese also have major geographical weaknesses in the maritime domain.
Along its Pacific coast, China is hemmed in by Japan, Taiwan, the Philippines and Indonesia. The East China Sea and South China Sea are bitterly contested and there is a strong US Navy presence with its "Freedom of Navigation" operations. China has not been a traditional naval power but clearly understands that it can no longer remain continental. This is reflected in the shift in China's strategy to also encompass "far seas" protection in addition to "near sea" defence. The primary "far sea" is the Indian Ocean, across which flow not only Chinese oil but raw materials sourced from Sub-Saharan Africa. India is also constrained by geography. It is hemmed in from the north by the Himalayas and the west by a hostile Pakistan. East and south are the only natural gateways and that should dictate our strategy.
A serious push has to be given to India's "Act East" policy. The Chinese influence in Southeast Asia looks extremely strong but there are signs of cracks due to a rising anti-China sentiment. Ethnic tensions have led to the Chinese leaving Malaysia. According to the home minister of Malaysia, of the 56,576 Malaysians who renounced their citizenship between 2006 and 2016, 49,864 were Chinese. Tiny Singapore, fearful of Chinese domination, has the highest military expenditure in ASEAN. Infrastructure projects in Myanmar and Thailand have been stalled or delayed on environmental concerns. There are maritime disputes in the South China Sea with the Philippines, Vietnam, Indonesia, Malaysia and Brunei.
With confusion about Trump's strategic focus and uncertainty over the US rebalance to Asia, ASEAN countries are going to look towards India and Japan to provide a counterweight to China. However, to be considered a serious player in this region, India must enhance its credibility. The India-Myanmar-Thailand Trilateral Highway, conceived in 2002, has already missed its scheduled date and is now expected to be completed by 2020. The Imphal-Mandalay bus service, which had a trial run in 2015, has not started because of poor road connectivity. Such instances don't inspire confidence in Indian capability. It could be argued that India stepping into China's area of influence could exacerbate tensions but it is clear that the seriousness of India-China rivalry is a reality and has to be faced. In any event, with China showing little concern to Indian sensitivities in South Asia, there is little need to defer to China.
The Indian Ocean is another area where India and China will vie for supremacy. The Indian Navy needs to be significantly strengthened. We should turn the Indian map upside down and look more towards the Indian Ocean where, unlike China, there is no neighbour to contest Indian supremacy. The three services also need to put aside their differences and provide sufficient resources to the Andaman and Nicobar Command, which will be in the frontline of future Indian strategy.
A flashpoint along the Himalayan border is not impossible. We could see military action but the difficulties of geography rule out a decisive engagement in this area. Of course, the poor infrastructure along the border needs immediate attention if we are not to be distracted in our geostrategic approach with Depsang, Chumar and Doklam type of incidents. The air force needs strengthening, not only with aircraft but radars for warning and a strong air defence cover, both of which are almost absent along the northern borders.
With the establishment of the Strategic Support Force in late 2015 it is clear that the PLA is set on integrating space and cyber tools as an integral part of warfighting. We have to immediately put in place structures and capabilities to counter this threat. An almost total reliance on foreign hardware and software, lot of it Chinese, puts us at grave risk.
All this will require a long-term strategic push and an enhancement in defence expenditure. According to the IHS Jane report of 2015, China's defence expenditure could grow to $233 billion by 2020 while Indian projections are at $64 billion. With major military shortfalls in almost all areas, the current allocations are just not sufficient. India's future global status will be determined by its competition with China. A successful trading relationship cannot overcome the reality of this competition. India must not only secure her troubled borders but also be ready to challenge China in those areas that offer opportunities to us. This will require both a clear geopolitical vision and resources to convert this vision to reality.
For all the latest Opinion News, download Indian Express App